Fans of the Marvel Cinematic Universe got their first taste of "Captain America: Civil War" Tuesday night and subsequently lost their minds.
The trailer promises all kinds of bad-ass action, drama and suspense, all within a world where superheroes are fighting each other using hand-t0-hand combat. Consider us hooked.
TheWrap has broken down some of the most exciting moments from the trailer that have us hoping that May will come even sooner.
See video: First 'Captain America: Civil War' Trailer Pits Chris Evans Against Robert Downey Jr.
Here are five of the best moments from the trailer.
Brawl Between Iron Man, Captain America & Winter Soldier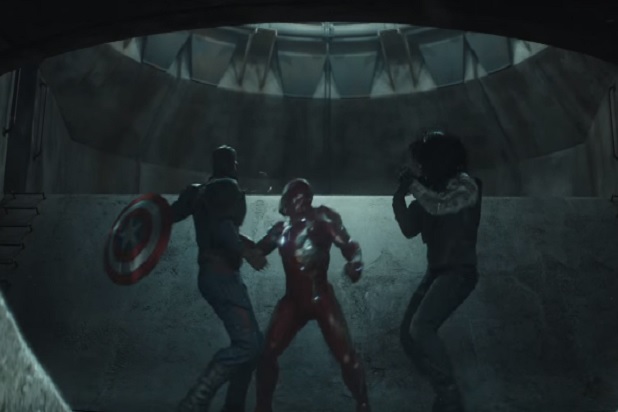 The highlight of the trailer is an epic 2-on-1 brawl between Captain America (Chris Evans), Bucky Barnes (Sebastian Stan), and Iron Man (Robert Downey Jr.). Based on just a few seconds of footage the fight looks beautifully choreographed and will no doubt play a key role in the story.
See Video: 'Fantastic Four' Is Doomed From the Start in New Honest Trailer
Black Panther
We finally got our first live-action look at Black Panther (Chadwick Boseman), a Marvel hero in his own right whose standalone film is still in the works. Until its 2018 release, however, fans will have to make do with his appearance in "Civil War."
Anthony Mackie/Falcon Takes Center Stage
Anthony Mackie has proven himself to be a terrific actor as well as a good addition to the Marvel Cinematic Universe as Falcon. Based on the trailer, he will play a key role on Captain America's team in "Civil War."
Also Read: Anthony Mackie Questions Why 'Black Panther' Needs Black Director: 'They Didn't Get a Horse to Direct 'Seabiscuit"
Captain America Grabs a Helicopter
Captain America is known for his increased strength and speed. But the trailer shows the Captain pulling of a feat that we have never seen from him in the Marvel movies before, namely holding a helicopter in place with his bare hands.
See video: 'The Avengers' Love to Kiss Each Other in 'Age of Ultron' Blooper Reel
War Machine Goes Down
War Machine (Don Cheadle) sides with friend Tony Stark in the fight against Captain America, but appears to pay a dear price for his loyalty. Whether or not War Machine survives after the scene shown above will only be answered when the movie comes out.
"Captain America: Civil War" opens in theaters May 6, 2016.
Also Read: George Lucas Says Space Travel Is 'Our Only Chance of Survival' in Science Channel Special (Exclusive Video)