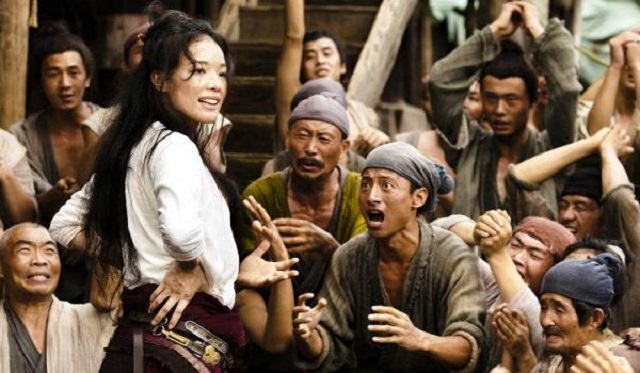 Chinese moviegoers are anxious for a ratings system, according to a new survey that also shows growing frustration with ticket prices and China-made films that are "too conservative" and feature cheesy special effects.
Though China currently has no film ratings system, more than 90 percent of moviegoers would support or accept one, according to a survey of more than 6,000 Chinese moviegoers conducted by Beijing-based data firm EntGroup. Just 2.6 percent were opposed.
"With the market growing so fast, this has to happen at some point," BoxOffice.com editor-in-chief Phil Contrino told TheWrap. "Adults want to go to adult movies, families want to know they're taking their kids to something appropriate."
Also read: Hollywood's Trouble With China? It Has All the Leverage
Recent releases such as Chinese-made "Journey to the West" (pictured above) sparked complaints that the material was too scary for children, said Nancy Wu, director of North American Operations for EntGroup.
"Therefore, we believe an appropriate rating system will not only provide better guidance for parents with young children, but also offer more choices for majority of the moviegoing," Wu said.
It's not just ratings that are problematic for Chinese moviegoers: They're also griping about ticket prices and a lack of compelling Chinese-made films, EntGroup's survey found.
Movie tickets can cost upwards of $16 in the People's Republic depending on location, but more than 80 percent of the 6,000-plus respondents said they felt prices should be under $8.15.
Although domestic movies have become increasingly popular in the last year — "Journey to the West: Conquering the Demons" is the nation's top grosser and "So Young" is drawing big crowds — EntGroup's survey found that Chinese films have some quality control issues.
More than 59 percent of respondents complained that Chinese films had overly repetitive topics and themes; 53.1 percent griped that films were too conservative; and 43.4 percent said the movies suffered from cheesy special effects and poor production values.
"There was an increased volume of domestic films being made, but more of them did not make it to theaters, and they are facing more intensified competition from Hollywood films than ever," Wu said.
In 2012, China produced a total of 893 movies, a record high. Yet only 31 percent were screened in theaters.
When it comes to policing objectionable content, Contrino is convinced that a ratings system would help cut piracy, a major problem in China, because it would leave less to the country's aggressive censors.
"People know that movies like 'Cloud Atlas' and 'Django Unchained' have to be heavily cut in order to get a release in China, and people there would rather see the real thing, so they buy it on the streets," he said.
Also read: 'Jurassic Park 3D' Opens No. 1 in China With $6.3M
"Cloud Atlas," rated R in the U.S., had roughly 30 minutes cut before debuting in January and going on to take in $27 million at the Chinese box office. Quentin Tarantino's violent "Django" had its release delayed at the last minute even after cuts, and took just over $3 million.
China's filmmakers would likely be on board, Contrino said.
"It would give them a lot more freedom to make the kind of movies they wanted to, for the audiences they intended," he said.
The possibility of the government's China Film Group going public with a stock offering could help make a ratings system a reality, too.
With stockholders to satisfy, the agency would feel more pressure to continue the market growth sweeping the country. As TheWrap first reported, the potential for that pressure encouraged the Chinese to settle a luxury tax issue and pay Hollywood studios millions of dollars earlier this month. In theory, anything that would help the market grow, like a ratings system, will be viewed in a new light.
Also read: MPAA Confirms Hollywood Victory in China Box-Office Standoff (Updated)
Last year, China surpassed Japan to become the world's second biggest market for movies. It contributed $2.7 billion in box-office revenue in 2012 alone — a 36 percent jump from the previous year.
Studios are increasingly looking to China and other emerging markets to boost their bottom lines, but the republic is not as desperate for American movies as it was a year ago.
The nation's box office rose 36.2 percent to roughly $1.7 billion during the first half of the year, with Chinese films responsible for more than 60 percent of those receipts. At the same time last year, Chinese movies accounted for just 10 percent of the country's market share.
EntGroup's study also provided a look at who's going to movies in the sprawling country — and how they are making decisions about which films to see. The survey found that a majority of Chinese moviegoers are between the ages of 25 to 35 and are very well educated. Eighty nine percent of moviegoers have received a college education or higher.
To decide what movies to shell out for, 58.9 percent of respondents rely on word-of-mouth recommendations from friends and family, while 43.1 percent base their decisions on television ads and 42.9 percent are influenced by in-theater commercials.