It's beginning to look a lot like Christmas, and those who program TV's holiday schedules need presents too.
But what do you get for the rich broadcast network executive who has everything? TheWrap has a few suggestions below for each channel.
Remember: Give gift receipts.
Also Read: 7 Biggest Reality TV Developments of 2015
Fox
One. More. Winter Hit.
Last season, Fox's hip-hop soap opera "Empire" shocked the world with massive Nielsen numbers, growing week after week to become the top series on all of broadcast television. In response, last year's last place network wisely moved Season 2 up to a September debut, and ordered extra episodes to keep it on the airwaves longer.
Boy could Fox use another "Empire" this winter. Its best shot of a big hit comes perhaps obviously from the return of "The X-Files," which launches on Jan. 24. But, that's a limited series, supposedly. We'll see how it performs, and, perhaps most importantly, who is still alive when it ends. Surely Fox Television Group CEOs Dana Walden and Gary Newman would love to see more Mulder and Scully in their stocking Friday morning.
Also Read: Fox to Air Live Jesus Musical Event 'The Passion' Hosted by Tyler Perry
Go Away, Live-Plus-Same Day
The other thing Fox wants for Christmas is for the rest of us to start ignoring live-plus-same day ratings, just like they do now.
Currently, Fox is tied with ABC at the bottom of the Big Four broadcast barrel, with each averaging a 2.1 rating/7 share season-to-date, per Nielsen's "most current" ratings, which include seven-day delayed viewing where available. Fox is pretty far behind rest of the Big 4 in total viewers, pulling in just 6.4 million per night.
Ironically, if you focus on live-plus-same-day numbers instead, Fox actually breaks the demo tie with ABC, topping it by one-tenth of a ratings point. Might be time to switch back, Fox, instead of hoping we all adopt your New Year's resolution.
Also Read: 'X-Men: Apocalypse': 5 Things Bryan Singer Has Revealed About Sequel Since Trailer Debut
CBS
All-Access Customers Under the Christmas Tree
Subscribers please! More than any other broadcast network, America's most-watched one needed to advance technologically, getting younger and appealing to millennials in the process. Enter CBS All-Access.
For six bucks a month, subscribers can watch live TV, and choose from 7,500 available episodes on-demand. The only problem is, viewers can watch that live TV thing for zero bucks a month still with some trusty rabbit ears, and the oldest-skewing network's archive hardly beckons that hot 34-and-under audience. So, ah, good luck with that.
Also Read: Sumner Redstone's Daughter Turned Down $1 Billion Buyout
More "Thursday Night Football"!
The hot sports property up (sort of) for grabs is the rights to "Thursday Night Football," which are currently shared by CBS and the NFL Network. This is guaranteed live TV ratings, folks, at a time when events matter more than ever. It also allows CBS to shift around other big hits like "The Big Bang Theory" over to Mondays, creating scheduling nightmares for competitors
The NFL is currently accepting bids for next season's "TNF," and every platform with lots of money is likely crunching the numbers as this post is being written and read. With the rights and ratings to count on over the past few seasons, CBS clearly has the most to lose here. Just make it a blank check, CBS CEO Les Moonves, and Santa Claus will bring you what you want.
Also Read: Dick Wolf, Chuck Lorre Open Up About Benefits of Being Fired
ABC
Additional Hours to Magically Be Added to Thursday Primetime
No one (this side of college kids, that is) loves Thursday nights more than ABC. The Disney-owned broadcast network would happily add more to its meaty Shondaland lineup — if the stupid Earth's rotation would just allow it.
Excluding Sundays, primetime runs from 8 p.m. to 11 p.m., and ABC stocks it full of Shonda Rhimes dramas: "Grey's Anatomy," "Scandal," and "How to Get Away With Murder" on Thursday. And if the day part ever were to begin an hour earlier — like it does on Sundays — you bet ABC would have Ms. Rhimes doing her best Dick Wolf impression and shepherding a fourth drama. Unfortunately, even a guy with flying reindeer can't deliver on that.
Also Read: Nicki Minaj ABC Family Comedy Casts Lead
Just a Couple Globes
ABC and Fox are tied atop the broadcast networks for most Golden Globes nominations, with four apiece. For ABC, "American Crime" is up for top limited series, with Felicity Huffman tapped as a Best Actress contender, and Regina King nominated for her supporting role. Viola Davis has her own chance in Best Actress – Drama for "How to Get Away With Murder."
Fox has the following four nods: Taraji P. Henson, Jamie Lee Curtis, Rob Lowe, and "Empire" for top drama. So, essentially, this two-horse race may come down simply to "Empire" versus "American Crime." ABC would love to have that upper hand, filling its mantle the most among broadcast competition. We'll have to leave the Yule log burning until Jan. 10 to find out.
Interestingly enough, the CW was the only broadcast net (not counting PBS) that actually earned a trophy out of the last Golden Globes.
Also Read: Caitlyn Jenner Named Barbara Walters' 'Most Fascinating' Person of 2015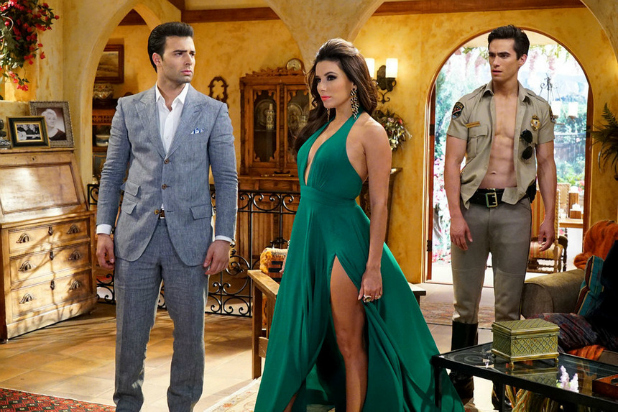 NBC
Come Back, Winter Comedy Preview Audiences
Both "Superstore" and "Telenovela" got nice numbers with their respective preview airings, but they were boosted quite a bit by big "Voice" lead-ins. The America Ferrera vehicle actually fared far better, pulling in a 2.2 rating in the key 18-49 demographic and 8 million total viewers — solid sampling. The Eva Longoria project settled for a 1.4 rating and 5.4 million viewers a week later.
Neither sitcom will have the luxury of following TV's biggest singing competition in January when the two are paired up in the 8 p.m. hour, beginning with "Superstore." We're shuddering a bit for the self starters now, but that might just be because actually winter is finally setting in.
Also Read: 50 Top Basic Cable Channels of 2015: From ESPN to H2
A Crappy CBS Super Bowl Matchup
NBC is currently No. 1 in the advertiser-coveted demo — where it's actually been sitting stably for a while now. Should the network want to stay up top for this season, which could theoretically be its third in a row, it had better hope for a terrible Super Bowl 50 matchup over on CBS.
Unfortunately, even the least-ideal representatives from the NFC and AFC will probably break viewing records, like the big game does every year. And with the highly marketably 50th anniversary in play, it feels a foregone conclusion that CBS will take-over the top slot from NBC. You had a nice run, guys.
At least NBC has the Summer Olympics in 2016, giving it a puncher's chance for another 52-week crown. So carol over that, Bob Greenblatt.
Also Read: How NASCAR Drove NBCSN to Network's Best Ratings Year Ever
The CW
Carry "The Flash's" Torch
The CW is actually the only network up in that 18-49 demo, counting calendar year over calendar year. Much of that is thanks to "The Flash" and the youngest-skewing broadcaster's general DC Comics universe push. Perhaps the most ambitious installment comes in January, as "DC's Legends of Tomorrow" seeks to move the genre forward, instead of focusing on a constant retooling of old franchises across TV and film.
You better believe Mark Pedowitz and company will be pushing this launch hard, and counting down the days until it can try a mega-crossover. Kind of an odd Advent calendar, but one that could be quite tasty.
Also Read: 'MadTV' Cast to Reunite on the CW in January
Nielsen: Hurry-up With Multiplatform Ratings Already!
The CW is a distant fifth in the advertising industries favorite TV demographic; often, it's really seventh when counting the twin Spanish-language networks. Reps from the CW, however, will tell you that they're more interested in the younger 18-34 demo, as well as subsections of that millennial audience.
The only problem is, many of those young consumers don't even own a TV — and if they do, lots still don't prefer it as their entertainment screen of choice. The CW would love to see Nielsen deliver on a truly accepted currency of digestible multiplatform ratings, and this Christmas would be better than next.