Brad Pitt told theater owners on Monday night that he was inspired to make "World War Z" because he wanted to star in a film that his kids not only could see, but would want to see before they turn 18.
Based on the footage that the actor and Paramount Pictures brought to CinemaCon on Monday, his children better have strong stomachs. The roughly 20 minutes that was screened in Las Vegas at the annual trade show for exhibitors was terrifying and intense.
Also read: 'Star Trek Into Darkness' Premieres Footage With Kirk, John Harrison Forming Uneasy Alliance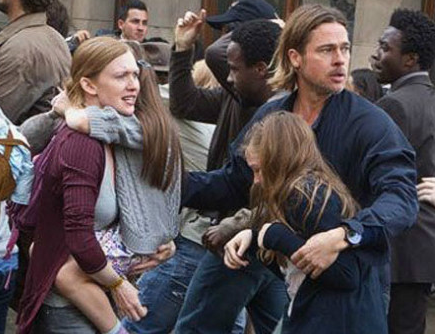 It also demonstrates that Paramount spared little expense in staging the zombie pandemic at the center of the film. That could be risky. After all, "World War Z" arrives in theaters this summer boasting a best-selling novel by Max Brooks, but lacking the name recognition of "Star Trek Into Darkness," "The Hangover Part III" or any of the 17 sequels that will unspool in theaters as temperatures climb.
As if to answer any naysayers, Rob Moore, vice chairman of Paramount Pictures, struck a note of confidence during his studio's presentation, by declaring that "World War Z" was the most anticipated original film of the summer.
That could be corporate hyperbole, but it is safe to say that it is likely the most global in scope. The sequence, Pitt unveiled for theater owners hopped from a traffic-clogged thoroughfare in an American city to Jerusalem to a frightening mid-air confrontation with zombie hordes that should have the same chilling impact on airtravel-phobes as last year's "Flight."
In the sequence set in the Middle East, the walls of the holy city are breached by zombie masses while Palestinians and Israelis flee in terror, while the American showpiece follows Pitt and his family as they dodge explosions, car crashes and a metastasizing collection of zombies.
Here's hoping Pitt's progeny have a healthy tolerance for the undead, because in the in-flight action scenes, the star is forced to toss a hand grenade down an airplane aisle after a zombie stowaway quickly turns passengers into flesh-eating menaces. It's not for the faint of heart.
"World War Z" hits theaters on June 21, 2013. Also known as the date when the Pitt-Jolie household starts having nightmares.