The Coachella festival delivered its usual mix of eclectic sounds, sunny desert ambiance and unnecessary Indian costumes (see: Vanessa Hudgens) after a bone-chilling kickoff on Friday.
To illustrate just how cold it was, around 2:30 a.m. on Saturday, the most popular group in the Coachella Valley didn't even have instruments — it was a team of guys who crashed GenArt's vast ranch party peddling warmth in the form of a giant box of winter hats. With the wind and chlly temperatures, they were inundated with takers. Even one of Jeffrey Best's event producers sported a black-and-white-striped hat as her security threw the ambush marketers out.
That episode capped a cold and rainy first day of the now six-day, two-weekend Coachella music festival. Here's the smartest ways hosts coped with mother nature's cold curveball.
Pete Wentz dressed up his MacBook in a garbage bag to DJ the soggy backyard party at the Hard Rock Hotel Music Mansion in Bermuda Dunes on Friday before heading off to Lexus' tiny dinner in Palm Springs. Young Hollywood, one of YouTube's original content channel partners, relocated from its production suites at the Four Seasons Beverly Hills to take up residence at the house. That's where Bryan Greenberg and Jamie Chung were making the first of several joint appearances over the weekend. While this year Coachella was largely swag-suite-free, Ryka & Avia and Skintimate sponsored the three-day event and got in some low-key gifting.
Hard Luck Candy Vodka rolled out a courtesy shuttle to cart VIPs from Palm Springs to Thermal and back all weekend, earning the goodwill of many, like Whitney Port, who were spared the hassle of sourcing free and safe rides in the valley. The mobile marketing introduction precedes the flavored spirit's actual debut in Southern California later this spring.
Hennessey V.S held the line at their Details at Midnight event Friday, a coproduction with
the men's magazine. Behind the bar? No beer, no vodka — just the cognac. "I'm actually a dark liquor drinker, so I'm good with this," Asher Roth told TheWrap backstage before performing for the fashionable crowd.
"Coachella is the perfect opportunity to expand to people who are looking to find new bands, new loves, and new interests and gives any brand the opportunity to bring in new lovers, new consumers," Hennessey's Jennifer Yu said. At right, Katy Perry turned heads at Details as she arrived late with a surprisingly demure new hair color.
A few miles away at the Guess Hotel, Kat Graham performed through the rain for a small but enthusiastic poolside crowd before everyone sought refuge in the lobby. It was the rare "indoor" Coachella party. By Saturday and Sunday, the lakeside B&B was so crowded that organizers were sending out mass texts advising guests that they were at capacity.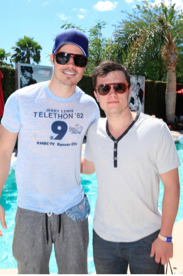 At right, the always confusing Josh Henderson with "The Hunger Games" star Josh Hutcherson at the Guess hotel on Saturday.
Ciroc's geodesic dome drew its own heat-seeking line at
GenArt and Art of Elysium's event late on Friday. Jesse Tyler Ferguson held court inside before being spotted in Coachella's actual VIP section on Saturday afternoon.
Those who couldn't make it into the art installation within the dome sought refuge in a scattering of teepees on the grounds that were so huge, some compared it to a mini-Burning Man. True to that vibe, illuminated loaner bikes were scattered around to move throughout the grounds. While Art of Elysium's events usually encompass awards weeks and galas, "we wanted to do something less black tie," a rep said.
At right, guests chose teepees, overhangs, and anything with a roof or sides over the outdoor lounge, a pop-up of Hollywood club Agency at the GenArt/Art of Elysium event.
Twelve hours and twenty warmer degrees later, Lacoste Live's Desert Pool Party looked like the Coachella everyone knows and loves -actual sun screen,
bathing suits, barefeet, and crocodile signs actually advising guests only to swim in the pool, not the lake. Hours earlier, both would have been fatal.
The fashion brand smartly injected retail in to their highly popular event, baiting guests in to the on-site shop with a free shirt while selling the essentials like beach towels on the side, a rare party-based cash transaction. It worked: They sold out of some towels before 3 P.M.
Below right, Lea Michele and Lauren Conrad at the Lacoste Live and HTC pool party.
HTC gave cell phone power to all 1,500 guests on the grassy estate, HTC or not. Later that night at the Neon Carnival, they showed off their partnership with host T-Mobile on the upcoming HTC One S, which has Coachella headliner Dr. Dre's "beats" brand audio baked in. Despite the party atmosphere, talent like Emile Hirsch actually took the tour.
The new twist on the Armani Exchange and T-Mobile Neon Carnival this year was the
introduction of live music, from Google Play Magnified Artist Ryan Farish. Similar to the multi-day activation at Sundance, Google's music initiative continues to push underexposed musicians under their proverbial magnifier to raise awareness.
Usher made a return appearance to the carnival at the Thermal Airport, as did Gerard Butler and Kellan Lutz. Mark Salling, sporting a black "mandana," danced to the Beastie Boys in a group with his publicist as the night got late.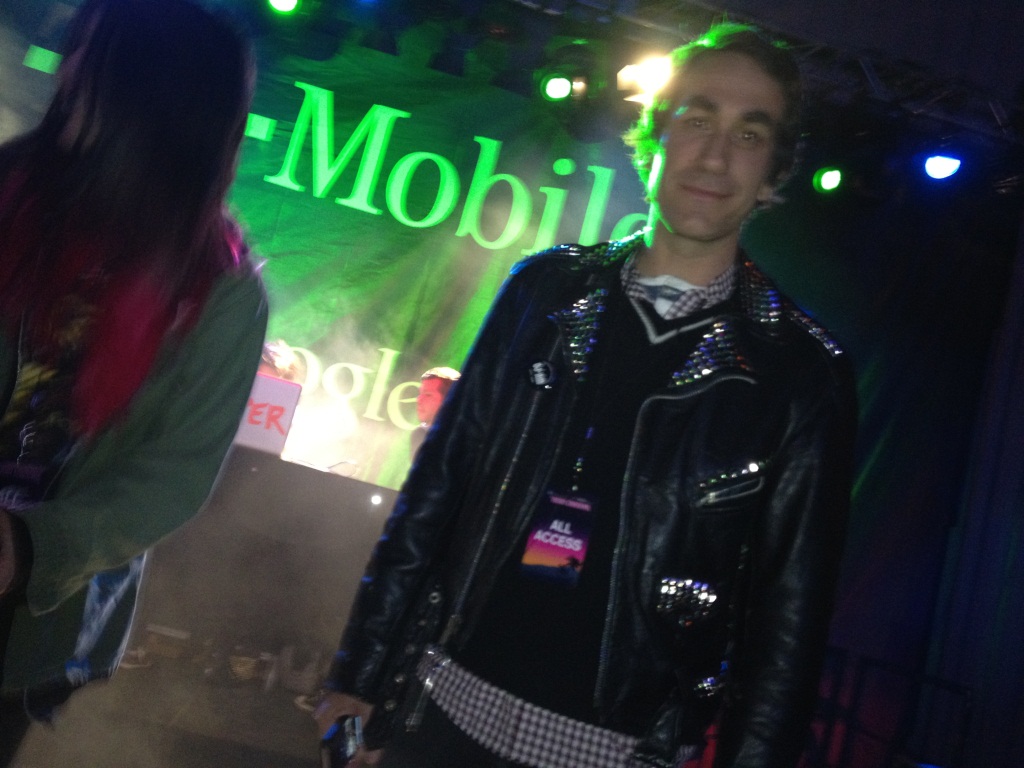 At right, carnival producer Brent Bolthouse surveyed the scene from the stage in front of the signage for his longtime client, T-Mobile.
Emma Roberts and Chord Overstreet, here in bumper cars, were among the "most often spotted" this weekend.
Others from that list included Jessica Szohr, Jessica Stroup, the Winklevoss twins, Lindsay Lohan, and Zoe Kravitz.
Before the weekend, the music started back in LA, with "The Voice UK" coach Jessie J and Ellie Goulding at Elle's Women in Music 2012 at the Avalon on Wednesday.