Two nights before playing this past weekend's Lollapalooza, Coldplay joined the Grammy Foundation, about 2,000 winners and invitees, and Samsung and AT&T for a one-off private concert at the UCLA tennis center — the Samsung Summer AT&T Summer Krush.
Angled to support the Grammy Foundation while featuring the multimedia capabilities of the Infuse 4G phone (which they handed out to media members and VIPs to record the concert), Jimmy Kimmel incorporated two songs from the 80 minute set in his telecast. In the front of house, Kate Bosworth, Lindsay Lohan, and Heidi Klum all took in the show.
In the back of house, Emmy nominee Gwyneth Paltrow supported husband Chris Martin, but stayed out of the pre-show group photo.
Finding their way to the camera (left): Coldplay Manager Dave Holmes, Coldplay's Will Champion, the Grammy Foundation's Dana Tomarken, Coldplay's Jonny Buckland, Recording Academy president/CEO Neil Portnow, Coldplay's Guy Berryman and Chris Martin, and the Grammy Foundation's Kristen Madsen and Scott Goldman.
Elsewhere, the Television Critics Association summer press tour and its parties continued over the weekend.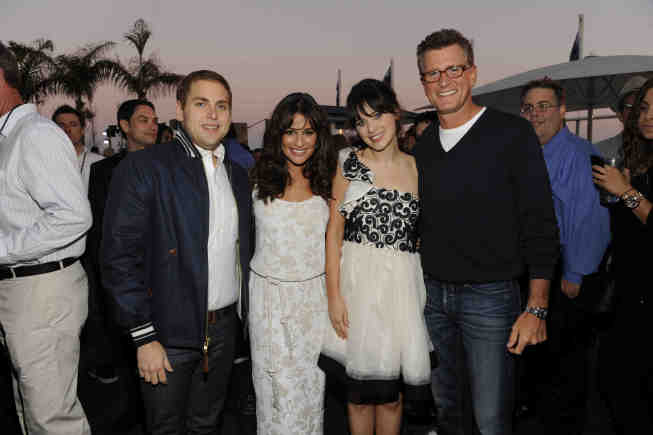 On Friday night, Fox hosted their All Star party at the beach. Jonah Hill ("Allen Gregory"), Lea Michele, Zooey Deschanel ("New Girl") and Entertainment President Kevin Reilly all hit Gladstone's in Malibu (right).
CBS kept it closer to home, transforming a space adjacent to the Beverly Hilton on Wednesday night.
The new team behind "The Biggest Loser" got together at NBC's event at the Bazaar at the SLS.
Below, NBC Entertainment chairman Bob Greenblatt, new "Biggest Loser" trainer Anna Kournikova, veteran Bob Harper, and executive VP of alternative programming Paul Telegdy.
By the end of the weekend, Sunday's Teen Choice Awards took over Universal.
In addition to Justin Bieber, YouTube sensation Rebecca Black, and the never one to miss a TV appearance Black Eyed Peas, there was a preventative step towards less exposure backstage.
In the hospitality tent, there was the rare handout of swag-that-stars-actually-need, as 3M's new Privacy Screen Protectors for ipads and smartphones went flying to Bieber's bodyguard, Khloe and Lamar Odom, and others who want to prevent over-the-shoulder lookie loos.