Fox has a dystopic future on its mind.
The studio brought its stars to Hall H at Comic-Con Thursday, building excitement for a slate
of upcoming pictures that take a very dim view of the future — a dystopic space thriller from Ridley Scott, a future society where time replaces money and "Rise of the Planet of the Apes," where the apes battle humans for control of society.
One wonders what kind of pessimism has gripped studio chiefs Tom Rothman and Jim Gianopulos.
The studio showed pieces of its upcoming movies "In Time," a slick thriller written by Andrew Niccol ("Gattaca") starring Justin Timberlake and Amanda Seyfried.
The concept is clever: humans can live freely until age 25, and then get a year in which to die, or buy more time with all their money. Time becomes the currency of society.
Timberlake, who apparently can do just about anything these days except perhaps cure cancer, stars as a young man who is given time by a rich old coot (who, like everyone else in the film, appears 25), and is falsely accused of murder.
The pace is fast, and concept sharp. Timberlake said he was happy to not make films of "men in tights." He does a lot of running fast down long streets with a red-haired Seyfried.
"Alien" director Scott was beamed into the proceedings from Iceland, where he is shooting "Prometheus."
It's his first foray into science fiction in more than two decades, and puts stars Charlize Theron and Noomi Rapace ("Girl with the Dragon Tattoo") on an alien planet.
Scott is shooting in 3D and said he'd never shoot in 2D again.
"It opens the universe of even small dialogue scenes," he said. And he promised a couple of robots in "Prometheus."
The presentation wrapped up with a look at "Rise of the Planet of the Apes," which opens August 5.
In the film, Andy Serkis — of Gollum fame and who played King Kong — portrays an ape who is given a drug that makes him highly intelligent.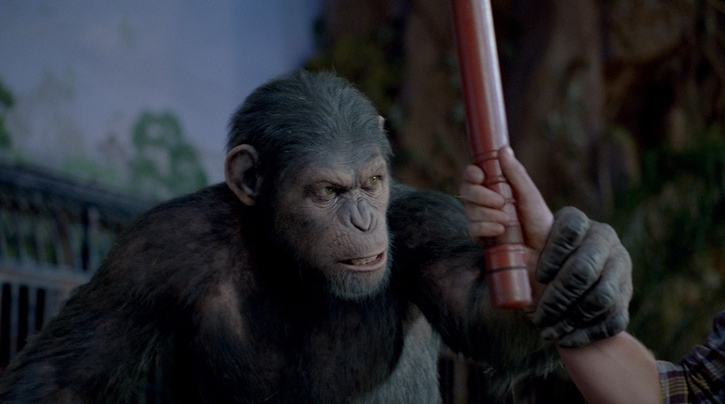 It's yet another view of performance capture which, in this case, an animal, plays a highly believable main character, Caesar.
"People said, 'Why are you playing another monkey?'" Serkis told the crowd. "When you read the script — he's nurutured, brought up by human beings, and realizes he's not the same. He feels like a freak, he's treated like a Frankestein monster. It's an amazing journey. Performance capture is not a genre. You don't make performance capture movies, it's a tool that enables actors to transform selves into anything."
James Franco plays the scientist who is seeking a cure for Alzheimer's.