It will be interesting to see what shows up at the funeral.
Sheldon Dorf, a passionate collector of comic books who in 1970 founded the fanboy delight, Comic-Con, died on Nov. 3 in San Diego. He was 76.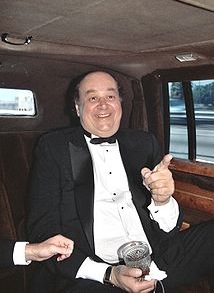 The cause was complications of diabetes, said his brother, Michael.
Dorf was an avid reader of newspaper comic strips and would send fan letters to cartoonists, including Chester Gould, who created "Dick Tracy," and Milton Caniff, who created "Terry and the Pirates." A trip with his father to Gould's Illionois home tutned into a long frienship with the cartoonist.
Young Dorf turned this and other friendships into a life-long passion. Later, at 14 he asked two comic enthusiast friends if they would be interested in participating in a comic convention. "Of course we said yes, "one of them recalled to the New York Times.
Helping to seal the deal was Dorf's ability to deliver comic-industry giants to his audience. Dorf simply telephoned Marvel icon Jack Kirby, perhaps the industry's most influential artist, who had recently moved to Irvine, Calif., and had him speak to the boys. Later they visited him in person.
Dorf was born in Detroit on July 5, 1933, and discovered his love of comics early. "When we were kids, we'd go to the drugstore and try to get there the day the comic shipment arrived," his brother said.
"The guy just lived and breathed comics his whole life," said Mark Evanier, a TV and comic book writer. "The Con was built on his passion and his cheerleading."
A Detroit native, he attended the Art Institute of Chicago and worked as a freelance art designer in New York. But his life was changed early in 1970, when he helped his parents retired to San Diego from Detroit, where he ran "Triple Fan Fest," a convention dedicated to comics, sci-fi science fiction. Once in California, he and bookstore owner Ken Krueger and a band of teenaged enthusiasts organized the first Golden State Comic Con, at the U.S. Grant Hotel, Aug. 1-3, 1970
It drew around 300 fans, but it quickly expanded to included thousands of fantasy-garbed fanboys looking for the latest incarnations of their heroes. It now previews of not just comics but, more importantly, videogames and fantasy- and comic-based movies with not just comic stars but major movie and TV celebrities.
Last year 126,000 people attended the four-day event at the San Diego Convention Center, according to David Glanzer, Comic-Con's director of marketing and public relations. "This convention made a major difference in the economy of San Diego," Mark Evanier, a comic-book historian who has attended the show annually since it began, told the Times. It proved, he said, "what a convention could do for the local economy and to revitalize a city."
Last year's event, for example, included a sneak peak at James Cameron's long-awaited "Avatar," Jon Favreau's "Iron Man 2," "Zombieland" and interviews with Seth MacFarlane and the cast of "Twilight."
When the legendary artist Kirby created the New Gods, a race of good and evil beings on parallel worlds, for DC Comics in 1971, he used Dorf and his young friends as models for the San Diego Five-String Mob, a rock band that was also a team of assassins for the fearsome Darkseid. He also used Dorf as the basis for Himon, an inventor among the New Gods.
Dorf also served as the model for Thud Shelley, a football player in the "Steve Canyon" newspaper strip. He was that strip's letterer for 14 years.