It's all in the people's hands now.
The involuntary manslaughter trial of Dr. Conrad Murray went to jury Thursday, following passionate closing arguments from prosecutor David Walgren and defense attorney Ed Chernoff.
During closing arguments, Walgren accused Murray of performing an "obscene experiment" on Jackson for treating his insomnia with propofol. He also slammed defense witness Paul White, accusing him of foisting "junk science" on the court.
Chernoff, meanwhile, maintained that Jackson was responsible for his own death. During a rambling closing argument, he also suggested that Jackson's celebrity status was the only reason that the case went to court.
"If it were anybody else but Michael Jackson, would this doctor be here today?" Chernoff asked.
Read on for a thorough account of today's court proceedings.
UPDATE, 4:08 p,m. PT
Conrad Murray's defense attorney, Ed Chernoff, delivered the defense's closing argument during Murray's involuntary manslaughter trial Thursday, arguing that the singer had caused his own death, and suggesting that Murray was being vilified because people want someone to pay for the death of music icon Jackson.

Chernoff (pictured) began by admitting that Murray had made mistakes during his treatment of Jackson — including administering propofol to the singer in his home — but argued that none of the mistakes added up to criminal negligence that directly caused the singer's death.
"This case that you're deciding, it isn't a medical board hearing, it's not a civil lawsuit," Chernoff told jurors. "It isn't about money, it's about liberty, and in order for a crime to be proved, you have to show that Dr. Murray killed Michael Jackson."
Throughout his argument, Chernoff accused defense of inventing a propofol drip where none was found, contending that the only way Murray could be found responsible for Jackson's death is if Murray had delivered the propofol via a drip, instead of the 25 milligram injection he told police he gave him.
Throughout the trial, defense has maintained that Jackson self-administered the dose of drugs that killed him, and that theory ran through Chernoff's closing argument Thursday.
"They want you to convict Dr. Murray for the actions of Michael Jackson, they just won't tell you that," Chernoff told the jurors.
"Ws Dr. Murray supposed to watch Michael Jackson to save him from himself at all times?" Chernoff later asked.
Chernoff also attacked the integrity of Jackson's former security guard, Alberto Alvarez, who placed the 911 call and testified that Murray had instructed him to stash incriminating evidence in Jackson's bedroom, including an IV bag with a slit in it containing a bottle of propofol. Chernoff accused Alvarez of sexing up his story in order to command a higher interview fee.
"Do you honestly believe that Alberto Alvarez is not going to cash in?" Chernoff asked.
The defense attorney also questioned Alvarez's timeline, saying it would be "impossible" for him to accomplish all of the tasks he said he did in the approximately 40 seconds between entering Jackson's bedroom and making the 911 call.
In all, Chernoff attempted to paint a scenario in which the myriad witnesses for the prosecution — which included paramedics, emergency-room physicians and employees of Jackson's — conspired to cast Murray in a villainous light.
"There's this tremendous desire to paint Dr. Murray as this villain, they want to create the perfect villain and the perfect victim, as if this were a TV show," Chernoff said.
He also suggested that the only reason the case went to court is because of Jackson's celebrity status.
"If it were anybody else but Michael Jackson, would this doctor be here today?" Chernoff asked.
During his final rebuttal, prosecutor David Walgren scoffed at the notion that Murray was on trial because of Jackson's fame.
Calling Murray's treatment of Jackson "criminally negligent [and]grossly negligent," Walgren added, "This is bizarre, unethical, unconscionable behavior. That is why we're here."
Walgren also mocked the conspiratorial tone of Chernoff's opposing argument.
"Poor Conrad Murray; everyone is just working against him," Walgren sarcastically offered.
"If they had more time to argue I'm sure they would have found a way to blame Michael Jackson's son Prince [for Jackson's death]. "Everyone's to blame but Conrad Murray."
Update, 12:59 p.m. PT
Prosecutor David Walgren presented an impassioned closing argument in the involuntary manslaughter trial of Dr. Conrad Murray on Thursday, accusing Murray of performing an "obscene experiment" on deceased singer Michael Jackson and lambasting key defense witness Dr. Paul White.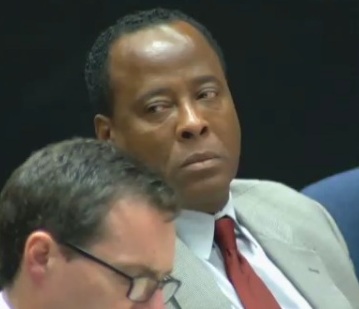 During his lengthy argument, Walgren cataloged the "massive quantities of propofol" that Murray had ordered while treating Jackson, which translated to just over four gallons of the anesthetic. He also attacked Murray for continually misleading others about Jackson's health issues, and dismissed Murray's contention to police that the doctor had only given Jackson enough propofol to put him out for a few minutes.
Noting that Murray, according to his own statement to police, only agreed to give Jackson propofol after Jackson agreed to cancel his concert rehearsal later in the day, Walgren contended that Murray gave him a dose of propofol intended to keep Jackson unconscious for several hours.
Walgren also attacked Murray's 20-minute-plus delay in calling 911, suggesting that the doctor put off the crucial call in order to cover his tracks.
"Conrad Murray did not call 911 because he had other things on his mind — to protect Conrad Murray," Walgren asserted to jurors.
Characterizing Murray's willingness to treat Jackson's insomnia with propofol an "obscene experiment," Walgren called Murray's medical treatment of the singer "unethical, unconscionable, and an extreme deviation from the standard of care."
Walgren was nearly as harsh on Dr. Paul White, who served as a key expert medical witness for Murray's defense.
Painting White as someone who presented himself as an expert yet switched theories several times as each earlier theory was disproved, Walgren accused White of sloppy work and lack of diligence.
"This is the level of academic research and vigor that Dr. White sullied this trial with," Walgren said, pointing to a study of oral propofol use in animals that was touted by the defense but that White, by his own admission, had essentially nothing to do with.
"What you were presented by Dr. White was junk science … and it's sad that Dr. White came in here, for whatever motive he might have had," Walgren said, insinuating that White might have been financially motivated to testify.
"Michael Jackson trusted Conrad Murray. He trusted him with his life; he paid with his life," Walgren concluded. "Conrad Murray in multiple instances deceived, lied [and] obscured, but more importantly Conrad Murray acted with criminal negligence … justice demands a guilty verdict."
Court is currently in court for lunch recess, after which Murray's defense team will deliver its closing argument.
Previously…
Update 10:41 a.m.
Prosecutor David Walgren is making a compelling final pitch to the jury with his closing argument. Walgren started with a rundown of how much Michael Jackson had trusted Conrad Murray, and how excited Jackson was for his future with his children.
Jackson had planned to settle down in one location with his children, to buy a large home, Walgren said. He pinned all of his comeback hopes on the series of sold-out concerts in London, which he also hoped would bring in enough cash so he could open his own children's hospital.
And he wanted his children to be able to see him perform at the London shows, Walgren said.
Jackson trusted Murray with his life, Walgren told the jury, and "each and every day Conrad Murray violated that trust."
"Michael Jackson trusted Conrad Murray. He trusted him with his life. He trusted him with his own individual life and the future lives of his children … And for that, Michael Jackson paid with his life."
Previously …
The prosecution and defense in Conrad Murray's involuntary manslaughter trial are expected to deliver their closing arguments today and send the case to the jury.
The trial was in recess on Wednesday so the lawyers could prepare to wrap up. Murray decided Tuesday not to take the witness stand to testify about his medical care of Michael Jackson.
Read more: Michael Jackson's Fatal Bid for Normal Life Emerges at Trial
The Los Angeles County coroner ruled Jackson died of "acute propofol intoxication," and that sedatives were also a factor. Prosecutors contend Murray is criminally liable for Jackson's June 25, 2009 death because he recklessly administered the propofol, a potent surgical anesthetic drug, and was negligent in properly monitoring Jackson.
Murray faces up to four years in prison and loss of his medical license if convicted, though a new California law could mean his sentence would be reduced to two years and be served in a county jail.
Watch our live trial feed: