The shocking death of "Glee" star Cory Monteith on Saturday in Vancouver has broken the hearts of his fans, leading to an outpouring of grief across the internet.
News of the 31-year-old actor's death broke too late Saturday evening to fully assess the measure of its social media reach. However, TheWrap has compiled early analytics to help tell the story of how internet users have responded to the tragic event.
Also read: 'Glee' Star Cory Monteith Dead at 31
#RipCoryMonteith was the top Worldwide Trending Twitter topic on Sunday morning. As of this writing, #StayStrongLea — which refers to the actor's co-star and girlfriend, Lea Michele — has replaced it at number one.
George Zimmerman's acquittal in the Trayvon Martin murder case happened just hours before word of Monteith's death leaked out, leading to wall-to-wall media coverage. Social media and the internet was very much abuzz about the verdict at the time, but the popular actor's death quickly vied for attention on Twitter and other platforms.
Also read: Hollywood Reacts to 'Glee' Star Cory Monteith's Tragic Death
The following Topsy Analytics search run by TheWrap shows a height of more than half a million Twitter mentions of "Glee" at 1:29 a.m., more than 280,000 twitter mentions of "Monteith" and roughly 100,000 mentions of "Lea."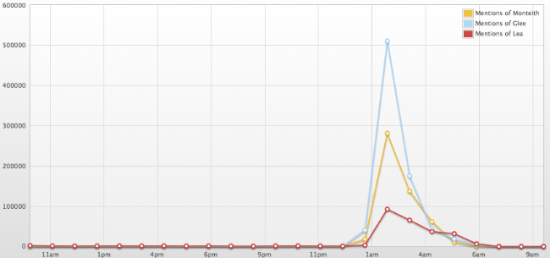 See videos: 20 of Cory Monteith's Greatest 'Glee' Performances
According to Google Trends, "Cory Monteith" was the most searched term on Saturday, with more than 5 million hits. After a search term reaches its max measurement of 5 million, Google does not continue to track. For some context, the second largest "Hot Searches" Google trend was "riots" with more than 50,000 searches. As of this writing, "Cory Monteith" is the fourth-highest Google News "Top Story" and the most frequently searched entertainment story.
For now, there are no "Glee" songs or episodes that have breached the top of the iTunes charts. However, a number of cast performances — including "Don't Stop Believing" and "Defying Gravity" — remain popular based on iTunes metrics, as are several episodes of the show, particularly ones from its first season.
Similarly, "Glee" has yet to chart on Amazon's Top 100 in TV & Movies. But it is still early, and many fans are just waking up now and learning of the tragic news Sunday morning.