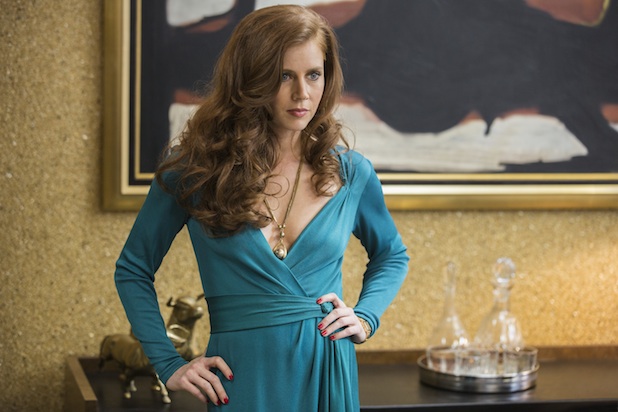 A baker's dozen of films, ranging from the lavish period drama "The Great Gatsby" to the elaborate fantasy "Oz the Great and Powerful" to the stark black-and-white rural tale "Nebraska," have been named as nominees for the 19th Costume Designers Guild Awards, the CDG announced on Wednesday.
The guild chooses nominees in three separate categories: Excellence in Contemporary Film, Excellence in Period Film and Excellence in Fantasy Film. Typically, most of the Oscar nominees in the Best Costume Design category are drawn from the CDG's period and fantasy nominees.
In the contemporary category, nominees were "Blue Jasmine," "Nebraska," "The Secret Life of Walter Mitty," "Philomena" (some of which is set in the past) and "Her" (which is set in an unspecified near future).
Period film nominees were "The Great Gatsby," "12 Years a Slave," "American Hustle," "Dallas Buyers Club" and "Saving Mr. Banks."
Also read: TheWrap Screening Series: Recreating Disney's World for 'Saving Mr. Banks'
The three nominees for fantasy films were "The Hobbit: The Desolation of Smaug," "The Hunger Games: Catching Fire" and "Oz the Great and Powerful."
Among the contenders missing from the nominees were the period films "The Invisible Woman," "Inside Llewyn Davis" and "The Book Thief."
Nominees in the three television categories include "Breaking Bad," "House of Cards" and "Scandal" for contemporary TV, "Boardwalk Empire," "Downton Abbey" and "Game of Thrones" for period TV, and "American Horror Story: Asylum," "Behind the Candelabra" and "Bonnie & Clyde" for movie or miniseries.
Also read: 'American Hustle' Designer Explains How He Created the Movie's Outlandish Outfits
The awards will be handed out on Feb. 22 at the Beverly Hilton Hotel. At that show, Judd Apatow will receive the guild's Distinguished Collaborator Award, and veteran costume designer April Ferry will receive a lifetime-achievement award.
The nominees:
EXCELLENCE IN CONTEMPORARY FILM
Blue Jasmine – Suzy Benzinger
Her – Casey Storm
Nebraska – Wendy Chuck
Philomena – Consolata Boyle
The Secret Life of Walter Mitty- Sarah Edwards
EXCELLENCE IN PERIOD FILM
12 Years a Slave – Patricia Norris
American Hustle – Michael Wilkinson
Dallas Buyers Club – Kurt & Bart
The Great Gatsby – Catherine Martin
Saving Mr. Banks – Daniel Orlandi
EXCELLENCE IN FANTASY FILM
The Hobbit: The Desolation of Smaug – Ann Maskrey, Richard Taylor, Bob Buck
The Hunger Games: Catching Fire – Trish Summerville
Oz: The Great and Powerful – Gary Jones, Michael Kutsche
OUTSTANDING CONTEMPORARY TELEVISION SERIES
Breaking Bad – Jennifer Bryan
House of Cards – Tom Broecker
Nashville – Susie DeSanto
Scandal – Lyn Paolo
Saturday Night Live – Tom Broecker, Eric Justian
OUTSTANDING PERIOD/FANTASY TELEVISION SERIES
Boardwalk Empire – John Dunn, Lisa Padovani
The Borgias- Gabriella Pescucci
Downton Abbey – Caroline McCall
Game of Thrones – Michele Clapton
Mad Men – Janie Bryant
OUTSTANDING MADE FOR TELEVISION MOVIE OR MINI SERIES
American Horror Story: Coven – Lou Eyrich
Behind the Candelabra – Ellen Mirojnick
Bonnie & Clyde – Marilyn Vance
House of Versace – Claire Nadon
Phil Spector – Debra McGuire
EXCELLENCE IN COMMERCIAL COSTUME DESIGN
Call of Duty "Ghosts Masked Warriors" – Nancy Steiner
Dos Equis: "Most Interesting Man in the World Feeds a Bear" – Julie Vogel
Fiat "British Invasion" – Donna Zakowska