Six years ago, Craig Kilborn — the former "Late Late Show" host, original host of "The Daily Show" and "SportsCenter" anchor — did something few people on television do: He walked away. Sure, he's appeared in cameo roles in a handful of movies – most notably with Will Ferrell in "Old School" – and done a few triathlons. But he's largely kept a low profile. (He told friends it was his "early retirement" — and he meant it.)
On June 28, he makes his return to the small screen on "The Kilborn File," a half-hour Fox syndicated talk show – airing in select markets, mostly between 6 p.m. and 8 p.m. — that he says is a hybrid of what he was doing on "The Daily Show" and CBS in late night.
Kilborn spoke to TheWrap about his "early retirement," his return and what he thinks about the late-night wars.
So, first question: Where the hell have you been?
Hanging out. I told my friends it was early retirement. I said it was the archetypal early retirement. I accomplished what I wanted to accomplish on television, in topical comedy. Late-night was getting crowded, so I left. I wanted to try other things. And I did. I had some interesting offers, but this is the one that got me the most excited.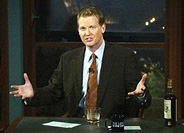 Do you regret leaving when you did?
Not at all. People have trouble understanding it, so I don't really talk about it that much, but I'll talk to you about it. It was one of the happiest days of my life. I was never that comfortable being part of the Hollywood machine. I'm a down-to-earth guy, I like having one foot out at all times, and having two is very delightful.
What was your take on the Leno-Conan fiasco?
It proves my point. Martin Mull said Hollywood is like high school but with money. NBC pushed (Conan) out. Pushed both of them out. It was a very odd thing. I don't know. I'm not sure "The Tonight Show" was the right venue (to fight over). I do think Conan will do very well on TBS.
How about Craig Ferguson? How would you rate his performance?
I think he's tremendous. I like that he's unique. I like all of them. I think [Jimmy] Kimmel is great. He did a test show for me when I was at CBS. And [Jimmy] Fallon is great, too.
Do you watch your old show? How often do you watch late-night TV?
I watch "Letterman" on occasion. You know, I really don't watch a lot of TV. In my 30s I missed "Seinfeld." I watch a lot of Turner Classic Movies. I'm a huge Hitchcock fan. And sporting events.
Describe the new show.
Half-hour. Topical. Non-political.
You've always been non-political, even when you were on "The Daily Show."
It's something … as a 12-year-old I realized, I don't think one ideology can fix this country. I'm not defined by it.
But I admire all of the comedians — Jon Stewart, Bill Maher, Dennis Miller — who stick their necks out politically. They're doing a wonderful service by holding the politicians accountable. And I'm glad I don't have to do it.
OK, back to the show. Is it closer to "Late Late Show" or "Daily Show"?
It's probably a hybrid. Part of it, it's conceptual. There are four acts, and I'm going to try and keep the pacing fast. I'm going to have a female sidekick. We're going to have a power panel. My big thing is humans are flawed, mankind is flawed. So there's going to be a human interest element, as well as celebrities. We'll do "Five Questions." And new things we're going to debut.
Most of the Fox-owned stations that are carrying "The Kilborn File" are running it between 6 and 8 p.m., which an unusual timeslot for a talk show. What's your plan to win over audiences who are used to "Seinfeld" and "Office" reruns?
That's what attracted me to it. That it's the first topical comedy show in that timeslot. We have a chance to do something no one has done before. We can be the pioneers for comedy at that time.
Do you have designs on going back to late-night?
No, I don't think so.
Would you?
I doubt it.
If Fox said they wanted you to move you to late-night, would you go?
That's a hypothetical, and my dad always told me I didn't have to answer hypotheticals.
Are you up for a quick game of five questions?
Sure, but if I don't know the answer, I can pass, right?
Sure. Since your last show, how many wins has the Montana State basketball team had?
Wait, this is great. Did you look this up?
Yeah.
OK, so in the six years I've been off, I'm going to say 10 wins a year, on average, so, more than 60.
Eighty-four.
Then I got it.
Best Will Ferrell movie since "Old School"?
You know, I haven't seen them all. But on the plane the other day I was watching "Stepbrothers," so I'm going to go with that.
Correct.
OK, two-for-two.
My favorite "SportsCenter" catchphrase that you coined?
Yours?
Well, OK, how about yours?
Oh, the story behind this is kind of obscure, but I'll tell it anyway. Hakeem Olajuwon was just returning. He had been out with anemia. And I was talking to my brother before the show, and after Olajuwon makes a shot, he said, "Oh, his red cell count must be up." And I said, "That's good," but I need another word related to blood. So on the highlight, after Olajuwon made a block, I said "Oh, his red cell count must be up," and later Olajuwon made a jumper, I just blurted out, "hemoglobin!" So, wait, what was yours?
"Release. Rotation. Splash."
Oh yes.
OK, No. 4: Who's taller? You, Conan, Letterman, Tim Robbins or Steven Tyler?
I've never met Steven Tyler. Is he tall?
No, he's 5'9."
Oh really? I think I'm a little taller than Letterman. And Conan and I are the same height probably.
You're 6'5" right?
Well, in college they measured me at 6'5," yeah.
According to the internet, you and Tim Robbins are the same height.
Oh, good to know.
OK, last question, and this goes back to what we were talking about before. Leno, Letterman, Conan, Ferguson, Fallon, Kimmel: Who will last the longest on television?
Oh that's easy. Leno. He'll be 120 and still be on the air. He'll last forever. He's a machine.