In the high-flying world of Kevin Kwan's "Crazy Rich Asians" book trilogy, $30 million would barely cover the couture, jewels, private jet fuel and five-star menu for a ladies' lunch in Singapore.
But $30 million was the budget for the Warner Bros. adaptation of the bestselling novel, about the competitive world of Asia's super-rich thrust upon an unsuspecting Constance Wu when she flies from New York to meet her boyfriend's family
Million-dollar diamonds, penthouses in the clouds, six-figure dinner tabs and more an orgy of brand names and labels. How'd they pull it off on a mid-range studio budget?
Also Read: 'Crazy Rich Asians' Stars Dueled Over Epic Mahjong Showdown: 'No One Was Giving in'
TheWrap assembled the "Crazy Rich" filmmaking team including director Jon M. Chu, producers Brad Simpson and Nina Jacobson, and production designer Nelson Coates for a lesson in balling on a budget.
Starting with …
Lockdown Diamonds
The expensive jewelry seen in the movie was borrowed from jewelers that came with an entourage.
"Kevin [Kwan] was on par the whole time, saying, 'People who know watches will know that that's not an expensive watch,'" Chu told TheWrap. "I was like, 'Kevin, that's a $150,000 watch!' And he's like, 'That's not good enough, we have to get that $500,000 watch.' We had to get the million-dollar earrings, that came with security guards, and I had never done a movie where you are bound by your time because a security guard needs to bring the jewelry back to the safe. I had never been dictated by the jewelry, the costumes, of how long you can shoot, so that was insane to go through. But totally worth it."
Kwan, the author of the book on which the movie is based, added, "I was able to help procure a vintage Rolex Paul Newman 'Panda' Daytona valued at $600,000 from a watch collector that we flew half-way around the world for a particular scene."
There were also complication with jewels worn by Gemma Chan, who plays Singapore fashion icon Astrid Leong in the film.
Also Read: Does 'Crazy Rich Asians' Have a Post-Credits Scene?
"I was really angry when [the security guards] were like, 'The earrings have to go back right now,' and I said, 'We're not done shooting the scene,' and they were like, 'Well, make sure her ears aren't seen then!'" Chu added. "I thought, 'This is ridiculous.'"
"I think we had around $3 million worth of jewelry, with several guards, on set!" said Coates.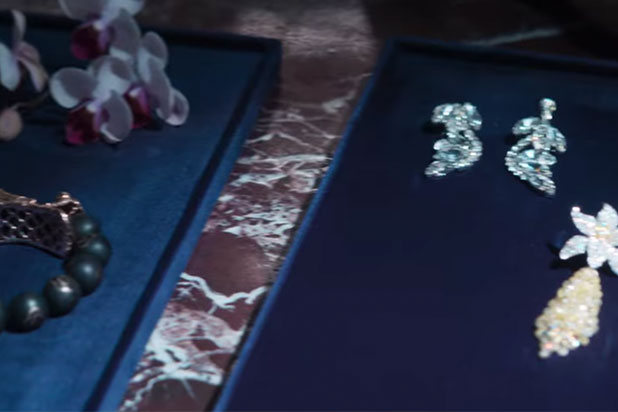 Yeoh's Private Stash
Michelle Yeoh's character, Eleanor Young, also wears a gorgeous ring at the end of the movie — and that particular piece of jewelry came from her own jewelry box.
"We had a ring made, and it didn't look great. All the people I asked — my friends who love jewelry — said 'Yeah, that doesn't look great,'" Chu explained. "So Michelle was like, 'Hey, I have a ring. I bought the ring as a gift to myself.' So it's hers! She said, 'I buy myself a gift after every movie I do.'"
Brand Desertion
The world of "Crazy Rich" is nothing if not jet-setting, which gave an easy layup for product placement in the form of a major airline (deals like these happen all the time in studio films, like a recent Turkish Airlines partnership on "Batman v. Superman").
But no one bit, producers Jacobson and Simpson said, specifically a natural partner in Singapore Airlines.
"We were shocked," admitted Jacobson, whose Color Force Productions partner Simpson was equally gobsmacked.
"It was going to be an ad for Singapore Airlines!" Simpson said. "But they were not sure the movie would represent the airline and their customer in a good light. People want what Richard Curtis' movies ("Love, Actually," "Notting Hill") do for England — they make you want to visit the country."
They wound up creating a fictional airline, Pacific Asean Airlines.
Chu said, "People didn't have faith in this movie. They didn't know what this movie was. It seems obvious now, but when we were making it, everyone thought it was a little movie and they were very suspicious about what we were trying to do."
Singapore Airlines did not respond to TheWrap's request for comment.
Fashion Fears 
Designers were also reluctant to put their necks on the block, knowing how quickly trends change and how intensely competitive the world of "Crazy Rich Asians" is.
"We didn't get the support of all designers — we were two years out from getting the movie out so they were like, 'We have nothing to sell here; we don't know where fashion is in two years,'" Chu explained.
Also Read: How 'Crazy Rich Asians' Director Reappropriated a Racial Slur With a Coldplay Song
"You can't buy the dress on [character] Astrid Leong right now; it was on sale last year," Simpson added.
Kwan told TheWrap, "To give authenticity to the production while staying on budget, I worked overtime to connect our costume designer Mary Vogt to designers and artisans I personally know that are favored by real 'crazy rich Asians.' Designers you wouldn't even find in the fashion magazines because they cater exclusively to the 0.1 percent crowd and prize discretion over publicity. These include the jeweler Carnet by Michelle Ong, who lent us museum-quality jewels valued in the millions, and accessories designer Neil Felipp, who lent us some of his iconic, award-winning evening purses."
He added, "So our actresses really looked like a million bucks because they were literally wearing millions of dollars worth of jewels and accessories."
Jacobson credits Vogt with saving the day and creating a wardrobe for the 1 percent using local designers and vintage finds.
"She, basically, just had to deal. She bought it, found it, shopped it, shipped it," Jacobson said.
Limited Wide Shots
A money saver (which sounds like it's out of the Blumhouse playbook) was simply limiting wide shots.
"As a group, we decided where we wanted to throw our money," said Chu. "In regards to wide shots, we thought, 'What are the ones we could probably do without?'"
Old-Fashioned Movie Magic
Chu told TheWrap that working with experienced crew members who wouldn't "take no for an answer" was an important part of making the movie work on a low budget.
"We needed experienced people who would know how to do it all strategically and budget-friendly, and we needed people who are passionate and loving of the subject matter so that they would give it their all," Chu said.
Chu tapped Coates, a production designer who has worked on films like "Fifty Shades Darker" and "The Proposal," to spin gold from dust — literally.
"It was such a labor of love and it was shockingly challenging to do — even the weather conditions alone," Coates said. "It rained five out of every seven days, and Malaysia is the third highest lightning strike country in the world. Every set had to be earthed with lightning rods!"
In Kwan's novel, Singapore society is largely unaware of the existence of Tyersall Park — a monolithic colonial mansion that sits on the grounds of the Eastern equivalent of Central Park. Coates wound up transforming a crumbling Malaysian government building, infested with feral dogs and bats, and littered with monkey poop, into a generations-old manor.
Adding the conservatory to the property that was basically constructed from scratch — Coates says there is basically just brick there — allowed the crew to "Gatsby it up."
Also Read: 'Crazy Rich Asians' Film Review: Constance Wu Stands Out in Culturally Rich Rom-Com
Kwan also said Coates "was able to borrow some of the rarest antiques from shops all over Singapore and Malaysia to decorate the set of Tyersall Park."
Coates explained that all the jewelry stores in Singapore and Malaysia are in the malls, hence not a very glamorous exterior shot for a film that is supposed to boast the unachievable for — let's just be frank — us poor people.
"When we were scouting for Astrid's penthouse, we were walking into the St. Regis in Kuala Lumpur. They have a bar and we walked in, and I said, 'It's a jewelry store!' Everyone looked at me like I was off my rocker. We built jewelry cases and we made them empty their wine cellar where we made velvet shelves — and it quickly became a private client area for their jewelry."
Perhaps the most impressive, elaborate location the team worked with was the Gardens by the Bay, a location that was not secured until two weeks before filming began. However, the location was completely booked in exactly the place they wanted to shoot — but they found common ground when the crew agreed to break down every night and reassemble the set whenever it was free to use.
"We wanted a place for the reception that looked like mere mortals could not have arranged," Coates said. "You are upping the visual ante throughout the whole movie. It took four months to get the Gardens by the Bay on board. They, basically, had planned all their festivities including a light show and fireworks in the exact spot where we wanted our reception."
He added, "We worked with the Malaysian and Singapore governments to get access to these places — there was no way we could afford them otherwise."
One of those places, of course, involved the Marina Bay Sands — in particular, the world famous rooftop with the stunning infinity pool that has graced the covers of countless travel magazines and the pages of bloggers.
"The rooftop actually has two restaurants that are separately leased and not run by the hotel, so we had to get them on board. We had help from the Marina Bay Sands because they knew this would be great for them," said Coates. "Of course, we had to pay the location fee because in terms of the nightclub and restaurant, we were taking over their business."
When reached for comment, a spokesperson for the Marina Bay Sands said, "As the movie brought attention to Singapore as a cosmopolitan city and a luxury travel destination, we saw this as a great opportunity to showcase the integrated resort.  We loved their script and as a way of showing support to the cast made up of mostly Singaporeans and its significance for the local film industry, we accorded the use of the pool at no cost. So we came up with a way to facilitate their request, whilst causing minimal disturbance to our operations.  Filming took place at night after the pool was closed off to our hotel guests."
All in all, the crew shot for eight weeks — five weeks in Kuala Lumpur, two in Singapore for exteriors… and all the New York scenes were also shot in Singapore.