"The Croods," DreamWorks Animation's tale of a prehistoric family finding its way in a changing world, brought some fire to the domestic box office with a $44.7 million debut weekend.
It beat out the surprisingly strong "Olympus Has Fallen," Film District's thriller about terrorists taking over the White House, which took in $30.5 million in its first three days for second. "Oz the Great and Powerful" fell out of the top spot it had held for the past two weeks but brought in $22 million for third. It now has rung up $356 million globally.
But despite three movies topping $20 million, the overall box office won't come close to matching last year's comparable week, when "The Hunger Games" debuted with $152 million.
Also read: J.J. Abrams Tells How His Old 'Superman' Script Compares to 'Man of Steel'
The weekend's other wide opener, the Tina Fey-Paul Rudd romantic comedy "Admission," took in a soft $6.4 million and finished fifth behind the Halle Berry thriller "The Call," which took in $8.7 million in its second week. In its first week of wide expansion, the raunchy R-rated teen movie "Spring Breakers" wound up sixth with $5 million.
"The Croods" is the first film Fox is distributing under its new deal with DreamWorks, and it was on a market-high 4,046 screens. Audiences — 57 percent female, 55 percent 25 and older — gave it an "A" CinemaScore. That word of mouth helped drive a Saturday surge that saw the film take in roughly $20 million, a 76 percent increase from Friday.
Seventy-six percent of theaters showed "The Croods" in 3D and that provided 38 percent of the grosses.
Also read: Viggo Mortensen: Why Don't Spanish-Language Films Get Any Respect?
Nicolas Cage, Ryan Reynolds, Emma Stone, Catherine Keener, Clark Duke and Cloris Leachman voice the characters in "The Croods," co-written and co-directed by Kirk DeMicco ("Space Chimps") and Chris Sanders, a co-writer-director on "How to Train Your Dragon."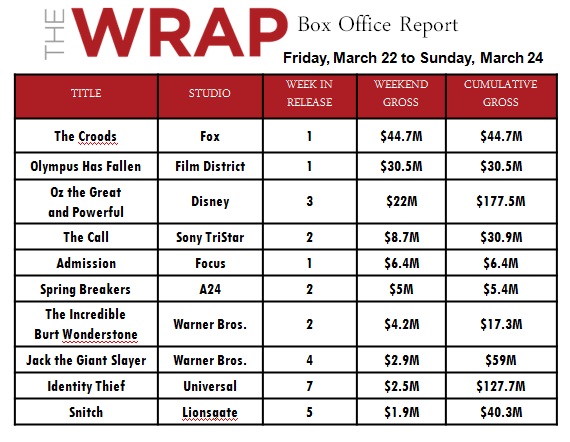 The stakes were high for DreamWorks Animation. "The Croods" comes on the heels of "Rise of the Guardians," its final release via Paramount. That one made more than $300 million worldwide but was a disappointment domestically with $103 million. It resulted in a $78 million writedown and 350 layoffs.
The studio's chief, Jeffrey Katzenberg, said last month that he was intent on lowering costs going forward — DWA's last 13 movies all have cost at least $130 million, and "The Croods" ran a reported $135 million. But as much as belt-tightening, what the studio could use is a franchise-launching hit.
Whether "The Croods" is it remains to be seen, but this is a solid start, comparable to 2010's "How to Train Your Dragon," which debuted to $43M and went on to total $217 million domestically.
"This is a great way to get our partnership with DreamWorks going," Fox's distribution chief Chris Aronson told TheWrap. "And we're looking forward to the next few weeks, when we'll have the family market pretty much to ourselves." The next kids film on the schedule is "Epic," another Fox release, on May 24.
Aronson said the decision on a sequel would be made by DreamWorks, but was thought the prospects were good. "I'd do it," he said.
Overseas will be critical for "The Croods," which rolled out in roughly 60 percent of its foreign territories over the weekend and took in $63 million. It finished No. 1 in 44 markets, led by Russia with nearly $13 million, and has $108 million global total.
The strong showing by "Olympus Has Fallen" gave Film District its biggest opening ever and topped analysts' projections by nearly $10 million. Directed by Anton Fuqua, it features an ensemble cast that includes Gerard Butler, Aaron Eckhart, Dylan McDermott, Angela Bassett, Melissa Leo and Morgan Freeman.
"Olympus" averaged an impressive $9,845 in 3,098 theaters and drew an audience that was 53 percent male and 73 percent over 25 years of age, a direct hit with its target demographic. In a year that has been very tough for action films thus far, the R-rated "Olympus" connected.
"Millennium Pictures, Anton and the cast delivered, and our marketing department nailed it," Film District distribution chief Jim Orr told TheWrap Sunday.
Film District acquired the distribution rights from Millennium Entertainment on "Olympus," which has a production budget estimated at $70 million. It beat another President-in-peril movie, Sony's "White House Down," to market. That one, directed by Roland Emmerich and starring Channing Tatum and Jamie Foxx, comes out on June 28.
Focus Features had hoped for more from "Admission," which was in 2,160 theaters and produced for about $13 million. It stars Fey as a Princeton admissions officer who meets a college-bound alternative-school kid, who just might be the son she gave up years ago in a secret adoption.
Fey, a "Saturday Night Live" alum and a staple for years on TV's recently departed "30 Rock," hasn't done a lot of movies but has scored several times. "Date Night" brought in $98 million domestically in 2010 and "Baby Mama" grossed $60 million in 2008, but "Admission" won't match those numbers. It could show some legs over the next few weeks, since there won't be a lot of comedy competition, but its "B-" CinemaScore won't help.
Distributor A24 took a leap with "Spring Breakers," expanding into 1,104 theaters after it averaged more than $90,000 on three screens in its debut last week. Its $5 million gross for the three days gave it an OK $4,529 per-screen average.
Also read: Can 'Spring Breakers' Smash Through Niche Market in Box Office Expansion?
It stars Disney Channel alums Selena Gomez and Vanessa Hudgens, Ashley Benson of "Pretty Little Liars" and the director's wife, Rachel Korine, as bored college girls who hold up a restaurant to bankroll their spring break trip. James Franco — already on screen in Disney's "Great and Powerful Oz" — plays a dreadlocked white gangsta with a garish grill who bails the girls out of jail. Written and directed by Harmony Korine ("Kids"), it prominently features an original music score from Cliff Martinez and Skrillex.
A24 has marketed the film, made for an estimated $2 million, almost exclusively on social media.