Disney uncorked a flurry of winning Marvel clips Saturday and brought several key stars onstage at the D23 Expo – including "Maleficent" herself, Angelina Jolie — but the "Star Wars" teases and comic-book casting surprises fanboys were hoping for never came out of hyperspace.
Unlike Friday's animated slate presentation, which was chock with voice-cast goodies and other
news, there was precious little in terms of revelations about Disney's upcoming slate Saturday. And there was nothing at all from "Star Wars" to show — just as Bob Iger warned in his comments kicking off the event at the Anaheim Convention Center on Friday.
In fact, the only mention of "Star Wars" was a blown kiss from studio chief Alan Horn.
Also read: D23 Expo: Diane Keaton, Eugene Levy Voicing 'Nemo' Sequel 'Finding Dory'
Horn had warm words of welcome for LucasFilm and president Kathleen Kennedy in his Saturday remarks, and shared the story of how he got a speeding ticket on the way home from seeing "Star Wars" in 1977, when he told the officer, "I'm trying to go light speed!"
Though he name-checked J.J. Abrams, the director-in-waiting wasn't here in Anaheim — nor was anyone representing Disney's newest shiny toy.
Marvel had more to offer, with chief Kevin Feige on hand to share a collection of trailers, clips and sizzle reels — much of which was shown at last month's Comic-Con, some of which was new. "Captain America: Winter Soldier" had the most to reveal, including an extended fight scene hot off the edit bays of co-directors Joe and Anthony Russo, who just wrapped production and started cutting the film this week.
Also read: D23 Expo: Christina Hendricks, Tom Hiddleston Sprinkled in New 'Tinker Bell' Movies
Disney/Mavel's freshman franchise entrant "Guardians of the Galaxy" proved a crowdpleaser, with an extended reel showing the space-hopping misfit foursome in hostile captivity — but none of its cast made appearances. Cameo slots were reserved for "Thor: The Dark World" stars Natalie Portman, Tom Hiddleston and Anthony Hopkins; and standing in to rep "Captain America: Winter Soldier" were Chris Evans, Anthony Mackie and Sebastian Stan.
"Yessss. I am the Falcon," said a game Mackey, who plays the winged sharpshooter and Steve Rogers superpal from the comic series. "ALL OF YOU OUT THERE ARE LOOKING AT THE FALCON. Don't let the pink shirt fool you. I shoot people."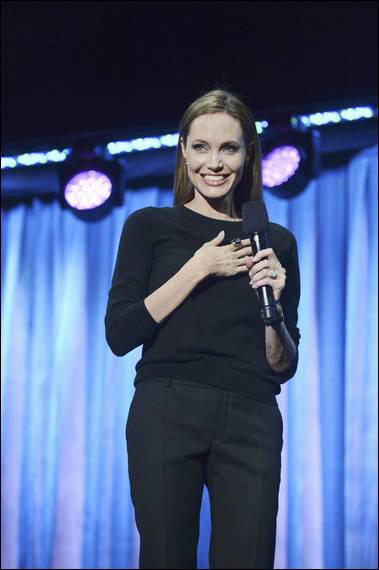 Disney continued its live-action presentation with clips from its Muppets sequel, and made its biggest spash of the day when Jolie took the state to talk about her experience making Maleficent: "She had this elegance and this grace, and yet she was so cruel — just wonderfully deliciously cruel," Jolie said.
Also read: D23 Expo: Angelina Jolie Shows Up to Promote 'Maleficent' in Anaheim
Damon Lindelof and Brad Bird picked through a "dusty box" of old Disney Imagineers' artifacts to promote "Tomorrowland" — "That's all we've got so far," Lindelof quipped after several minutes of sharing old photos and indecipherable codes. An animated reel teasing the cryptic George Clooney vehicle didn't much illuminate the secretive project.
"We're not going to give you all the answers today," said Bailey, apologizing for the puzzling, out-of-left field presentation inspired by the design corps that Walt Disney himself founded in 1952.
Walt got another moment in the spotlight — and a long one — with "Saving Mr. Banks." Bailey introduced an extended first-look clip in which the very prickly "Mary Poppins" creator Pamela Travers, British upper lip firmly stiffened, first arrives at the Walt Disney studios to hear Disney's pitch.
Hanks plays Walt ("Call me Walt," he insists) as a warm and avuncular — if intense — charmer, and sparks fly at their meeting as it becomes clear they have different ideas for the movie.
"Mary Poppins DOES NOT SING," she exhorts … as he pours her tea with a spoonful of sugar.