Dax Shepard revealed for the first time on Monday that he was molested as a child.
In an interview on Sirius XM's "The Jason Ellis Show," the "Parenthood" star revealed that he was assaulted by an 18-year-old neighbor when he was seven.
"All that time, I was like, a) 'It's my fault,' as generic as that is, I'm like, 'it's my fault," Shepard said. "And I'm gay, I must have manifested this because I'm secretly gay.' I had all these insane thoughts for 11 years or 12 years."
---
Also Read: Dax Shepard Made Wife Kristen Bell Shave Him for His 'This Is Where I Leave You' Nude Scene (Video)
---
Shepard also connected the experience to his previous struggles with addiction, which he's spoken openly about in the past.
"If you've been molested, you only have a 20 percent chance of not being an addict," he said. "And I was like, 'Hmm, interesting,' because in my mind I just like to have a f–ing great time," he said. "But when you hear a statistic like that, I'm like, 'Oh no, I was going to be an addict, period.'"
---
Also Read: Dax Shepard Says He Would Totally Have an Affair With Brad Pitt (Video)
---
Shepard, now 41, is married to actress Kristen Bell and the couple have two daughters. He has been sober since 2004.
Listen to the full interview below:
Lamar Odom and 13 Other Sports Stars Who Battled Addiction (Photos)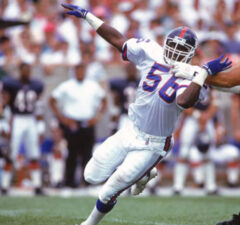 (Tap photo and swipe to view gallery)