Updated at 11:43 am Friday:
New Video has acquired DVD, cable, VOD and digital distribution rights to "The Flaw." There are also plans for a limited theatrical run.
Also read: 'Sundance 2011 Deal Scorecard'
The documentary is produced by Christopher Hird (The End of the Line), Luke Johnson, and Stephen Lambert of the film's presenter, Studio Lambert.
"The Flaw" attempts to explain the underlying causes of the financial crisis. The film's title was inspired by former U.S. Fed Chairman Alan Greenspan's acknowledgment that he'd found a flaw in his model of how the world worked.
Updated at 9 am Friday:
Focus Features has aquired 'Pariah,' a first feature by writer-director Dee Rees, about a young, African-American lesbian coming to grips with her identity, the company said on Friday.
Some at the festival see 'Pariah' as a 'Precious'- like underdog film, the story of an abused African-American teenager that went on to great critical acclaim and established Gabourey Sidibe as a rising star.
'Pariah' stars newcomer Adepero Oduye as Alike, the lesbian teenager whose conservative parents lead her to live a double life, heading out to butch clubs at night and changing back into her earrings on her way home.
The studio paid $800,000 for worldwide rights and additionally commissioned a new script from the young director. Rees, who fashioned the film at the Sundance Lab, based the story on some of her own experiences; Spike Lee is an executive producer on the film.
The acquisition comes even as some have questioned the future direction of Focus, the arthouse divison of Universal Pictures, as Comcast takes ownership of the company. Focus chief James Schamus signals with the acquisition an intention to continue acquiring and releasing serious cinematic work.
Updated at 6:30 p.m. Thursday:
IFC Films and Sony Pictures Worldwide Acquisitions are acquiring North American rights to "Salvation Boulevard," the George Ratliff film that premiered this week.
The movie is based on the novel by Larry Beinhart and stars Pierce Brosnan, Jennifer Connelly, Ed Harris, Greg Kinnear, Jim Gaffigan and Marisa Tomei.
The Mandalay Vision production was produced by Cathy Schulman, Celine Rattray and Peter Fruchtman, and will be released theatrically via IFC Films.
Updated at 2:30 p.m. Thursday:
HBO has announced that Roadside Attractions will partner with it for U.S. theatrical and DVD distribution of "Project Nim," the 2011 Sundance Film Festival opener in the World Cinema Documentary Competition.
HBO acquired multi-platform worldwide rights to the documentary at the beginning of the festival.
The anticipated film follows an experimented-upon primate for 26 years.
Updated at 2 p.m. Thursday:
Global distribution rights to the Bronx-set coming-of-age drama "Gun Hill Road" have been sold to financier Fotis Georgiadis, TheWrap has confirmed.
The film was directed by Rashaad Ernesto Green and stars Esai Morales.
Updated at 11 a.m. Wednesday:
Sundance continued to flex its market muscles on Wednesday, with three films sellling in the wee hours of the night.
And a fourth film, "Devil's Double," was close to closing its deal with Lionsgate, according to executives.
"Perfect Sense" sold to IFC early on Wednesday morning , the second WME Global sale of the day, TheWrap has learned. That sale came on the heels of "Another Earth," which sold to Fox Searchlight.
And The Weinstein Company bought "The Details" for $7.5 million worldwide, according to an executive there. That film stars Tobey Maguire and Elizabeth Banks as a couple stuck in a 10-year listless marriage. The film by director Jacob Aaron Estes was pursued by several studios including Summit, but Weinstein won out after commiting $10 million to prints and advertising.
Meanwhile, "Sense" sold for about $1 million for English-speaking territories in a deal led by Liesl Copland and Graham Taylor.
"Sense," directed by David Mackenzie, is a romance/thriller that offers a glimpse at the way the human race might weather a global pandemic. It stars Eva Green as an epidemiologist, who encounters a peculiar patient—a Glasgow truck driver who experienced a sudden, uncontrollable crying fit. She follows people across the globe – including Ewan Magregor, who plays a restaurant owner – who begin to suffer strange symptoms, affecting the emotions, then the senses.
Meanwhile, Fox Searchlight paid about $2 million for the rights to Mike Cahill's "Another Earth," its fourth acquistion of the festival.
Closing just after midnight on Wednesday, the deals includes all other English-speaking territories, with an aggressive P&A commitment as well.
Following a 24-hour auction after the film's Monday night premiere, WME's Taylor and Preferred Content's Kevin Iwashina negotiated the deal with Fox Searchlight's Tony Safford, Megan O'Brien and Ray Strache, along with the producer's attorney Andre DesRochers.
Searchlight is said to have beaten out other mini-majors such as Focus Features and the Weinstein Co., both of whom pursued the picture.

Fox Searchlight has been on a buying frenzy this week, having already picked up Gavin Wiesen's "Homework" and Sean Durkin's "Martha Marcy May Marlene," as well as remake rights to the Indian private eye documentary "The Bengali Detective." The studio also premiered Tom McCarthy's "Win Win" and Miguel Arteta's "Cedar Rapids" to critical acclaim.
But in general, the buying has been steady, competitive and more robust than this indie film festival has seen in any years. And Lionsgate was said to be close to a deal on "Devil's Double," a gripping drama about Uday Saddam Hussein, the son of the dictator.
Update at 10:15 Wednesday:
Magnolia Pictures has acquired U.S. theatrical distribution rights to director Mark Pellington's "I Melt With You," a rock-'n'-roll themed ensemble-casted film starring Thomas Jane, Rob Lowe, Jeremy Piven and Christian McKay.
"Mark Pellington has made a maverick, stylish and powerful film that resonates for days after viewing," said Magnolia senior VP Tom Quinn. "Thomas Jane, Rob Lowe, Jeremy Piven and Chrisitan McKay give some of the brst performances of their entire careers and attention must be paid."
More to come…
Update at 2:25 p.m. Tuesday:
Sony Pictures Classics has acquired the Don Cheadle Irish comedy-action movie "The Guard."
The film is directed by John Michael McDonagh and co-stars Brendan Gleeson and Rory Keenan.
Gleeson plays an Irish cop who reluctantly partners with an FBI agent (Cheadle) to take down a drug-smuggling ring that's infested a small Irish town.
Rena Ronson of UTA negotiated the deal among multiple competing offers.
Update at 7:15 p.m. Monday:
Capping another active day of Sundance deal-making, Fox Searchlight has purchased the dramatic remake rights to Calcutta crime documentary "Bengali Detective" from Native Voice Films.
"We adored this film and are delighted to have the chance to work with such entertaining, funny material," said Fox Searchlight production president Claudia Lewis, in a statement. "We were charmed by this story of a dedicated husband and self-made detective who dreams big."
Update at 4:45 p.m.:
Chris Kentis and Laura Lau's horror film "Silent House" has just been picked up by Mickey Liddell's Liddell Entertainment, the company confirmed.
Liddell acquired domestic and most international rights for a reported $3 million minimum, with a P&A commitment north of $3 million.
CAA negotiated the deal, which gives Liddell all territories except for the U.K., Scandinavia and the Middle East.
Liddell will work with the agency to set a distributor, with genre-savvy companies Lionsgate and The Weinstein Company said to be circling.
Maggie Gyllenhaal and Elizabeth Olsen star in "Silent House," which follows a family who return to their former house to spruce it up with the hope of selling it.
A remake of Gustavo Hernandez' Uruguayan thriller "La Casa Muda," the film is edited as one continuous shot. It's that ambitious gimmick that could help the film find an audience.
Kentis and Lau previously directed "Open Water," which played Sundance in 2004.
Update at 1:35 p.m.:
After a busy Sunday, Sundance dealmaking heated up on Monday with the sale of Andrew Rossi's New York Times documentary "Page One" to Magnolia and Participant, which are buying U.S. distribution rights.
That deal was followed by Fox Searchlight's Acquisition of "Martha Marcy May Marlene."
For "Page One," Rossi embedded himself on the media desk of the New York Times, creating one of Sundance's most intriguing docementary offerings int he process.
" 'Page One' is a fascinating, unprecedented peek behind the curtain into what ends up being considered news," said Magnolia president Eamonn Bowles, in a statement.
Written and directed by Durkin, "Martha Marcy May Marlene stars Elizabeth Olsen, Sarah Paulson, John Hawkes and Hugh Dancy.
"We were all captivated by the compelling performances and the expert craftsmanship of Sean Durkin, said Fox Searchlight presidents Nancy Utley and Stephen Gilula in a statement. "We are excited to bring this gripping drama to audiences everywhere."
Update at 9 p.m. Sunday:
Fox Searchlight announced that it had acquired "Homework," a dramedy set in high school starring Emma Roberts and Freddie Highmore, adding to the flurry of sales that closed on Sunday.
"'Homework' is a real coming of age story, it touched us with its genuine performances, depth and wit," said Nancy Utley, the co-president of Searchlight.
The film is a first feature by writer-director Gavin Wiesen. "We couldn't have found a better home than Searchlight, a company renowned for championing new storytellers," the director said.
The film was one of a half-dozen that were sealed on Sunday, with a few more still w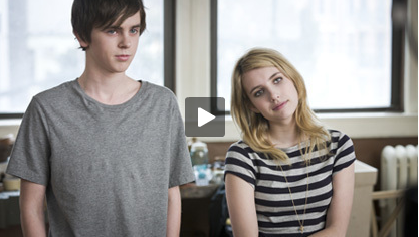 aiting to close.
Update at 6 pm:
The biggest deal got topped by early evening on Sunday when The Weinstein Company partnered with Ron Burkle to take domestic and some foreign rights to the Paul Rudd
comedy, "My Idiot Brother."
The pair paid $6 million for release rights in the U.S. plus Germany, France, Japan and the UK.
TWC also committed to a $15 million prints-and-advertising spend for the comedy, which is due out this summer.
The movie has garnered a tepid industry response (The Hollywood Reporter called it "no worse than Rudd's latest vehicle, How Do You Know, but it's yet another leading role that fails to live up to Rudd's talent"), but fan sites critics embraced it. (Said one: "Though the narrative be somewhat aimless, it's final destination is heartfelt and honest to a fault.")
The movie also stars Elizabeth Banks, Emily Mortimer and Steve Coogan.
Several other movies were very close to closing deals, including "Homework," a John Hughes-style high school dramedy, and "Devil's Double," about the body double for Uday Hussein, the son of the dictator, starring Dominic Cooper.
"Homework" – which had sparked interest from Relativity and Sony – stars Freddie HIghmore as George, a smart teenage loner, and Emma Roberts as Sally, the school beauty, who hides her melancholy behind the protective mask of popularity. Their friendship leads them to a mentoring relationship with Dustin, a 25-year-old artist.
Another psychological thriller, "Martha Marcy May Marlene," was also close to sewing up a distribution deal.
Previously:
In the biggest Sundance deal thus far, Drake Doremus's romantic "Like Crazy" sold worldwide rights jointly to Paramount and Indian Paintbrush for $4 million, according to a knowledgeable individual.
The deal followed quickly on news of at least one other deal closing on Sunday morning for "Margin Call," which went to Roadside Attractions and Lionsgate after multiple offers.
"Like Crazy" had an immediate positive response when it debuted on Saturday, and garnered multiple offers, including aggressive bids from Fox Searchlight, Summit, The Weinstein Company and others.
Paramount won out over them, with a commitment of slighty under $10 million in p&a, and a wide release. A Paramount spokeswoman confirmed that the studio had taken worldwide rights to the film.
UTA's Rich Klubeck led the sale.
But a $4 million price tag is high as deals go in Sundance in recent years. Indian Paintbrush is a film financing and production company run by Steven Rales, a high net worth investor who has recently dipped into the film business. Paintbrush has made deals of late with writer-directors Wes Anderson and Jason Reitman, making it a appealing for Doremus.
And the producers believed Paramount's marketing experience, particularly in selling films to the youth audience, was definitive.
The film stars a soulful Anton Yelchin as Jacob and the diaphanous Felicity Jones as Anna, two lovers who meet and fall in love as students in Los Angeles and separated by U.S. Immigration policy.
When Anna overstays her visa, she is barred from reentering the country and retreats to London. But the potency of a fierce connection keep drawing them back together, even as the demands of daily life (and immigration bureaucracy) keep them an ocean apart.
The romance is authentic and uplifting, a reminder that certain kinds of love are entirely unique. Even as the lovers go on with their lives, finding jobs and replacement relationships (including one with Jennifer Lawrence), it's clear that they are pale stand-ins for what Anna and Jacob have when they are together.