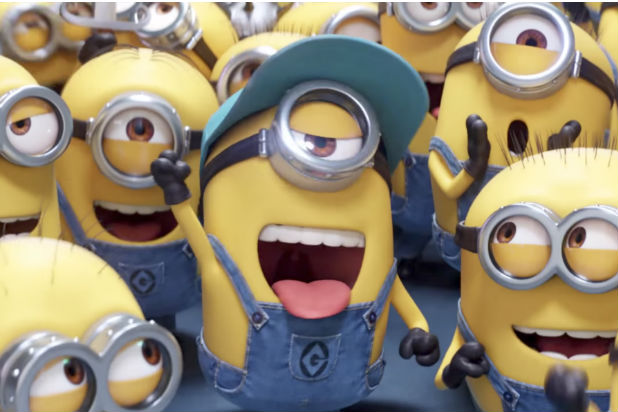 Illumination's minions are back in the franchise that made them stars, "Despicable Me 3," and they're still all dudes.
Pierre Coffin's army of yellow goons have always been exclusively male, and though it might sound chauvinist the animator and voice actor has an explanation.
"Seeing how dumb and stupid they often are, I just couldn't imagine Minions being girls," Coffin told TheWrap nearly two years ago, when "Despicable Me 2" hit.
Also Read: Record Wide Opening for 'Despicable Me 3' to Kick Off July Box Office
While the little guys don't count women among their ranks yet again, they certainly answer to them. Sandra Bullock played their leader and foil in a standalone 2015 film "Minions."
Back over at the original franchise, the voices of Kristen Wiig and Steve Carrell will oversee their shenanigans when the film opens this Friday — where it's expected to dominate the July fourth holiday box office.
At three years old and over $1.5 billion earned worldwide, "Despicable Me" has its formula down pat. Carrell's oblong grump Gru is the butt of the joke, Wiig's Lucy is a moral compass, a trio of adopted girls bring a message about alternative families and the minions make boob-and-fart jokes.
It was refreshing, if not a bit inside baseball, to see how self-referential the filmmakers let themselves get in the third installment.
Also Read: 'Despicable Me 3': Gru and His Twin Get Back Into Super-Villainy in Newest Trailer (Video)
Several times throughout, movie posters line fictional cities promoting something called "The Onions" — where little dancing veggies don bright yellow sunglasses. It reads like a nod to the world Chris Meledandri has created — profitable and joyfully ubiquitous characters.
The film's latest super villain, an '80s child star named Balthazar Bratt (Trey Parker), also has a cynical view of show business after puberty ruins his gig as primetime star. He plots to carve the entirety of Los Angeles from the earth and send it flying into space.
A fantasy kids will find amusing, and many a show business adult has and still dreams of.
"Despicable Me 3" opens nationwide on Friday.