The $80 million debut weekend of "Oz the Great and Powerful" gave Hollywood its first blockbuster of 2013 and should provide the box-office a much-needed shot in the arm, but Disney didn't rush to green light a sequel Monday.
It seems unusual to be anything but ecstatic after an $80 million opening but that's the sort of scrutiny a $200 million movie with a marketing budget at least half that size draws. And the box office is never the end game for Disney with projects of this scope and cost.
The successful U.S. debut assures that the gears behind the massive Mouse marketing machine — the one that turns movie sequels, theme park rides, licensing and merchandising (think China Dolls) into millions and sometimes billions of dollars — will keep turning and that it will head down the yellow brick road, at least for now.
But just how much marketing and creative muscle Disney will put behind the works of L. Frank Baum in the future will be determined in the next few weeks, when we see just how big a blockbuster "Oz" is going to be. Mitchell Kapner, who co-wrote the film, is currently writing a sequel, but that's still a long way from a green light.
The domestic debut was in line with expectations, and likely translates to a total of around $250 million. The foreign number — a $70 million first weekend from roughly 80 percent of the film's international markets — wasn't particularly strong, however.
"Alice in Wonderland" did $94 million in its first week abroad. The total for "Oz" is nearly the same as the first-week overseas gross turned in by "John Carter," last year's sci-fi megaflop that opened to $30 million here and forced a $200 million Disney write down. (For the record, "John Carter" finished with $209 million overseas, and $73 million domestically.)
"I wouldn't rule out a sequel and it could be a good idea," Matt Harrigan, an analyst at Wunderlich Securities told TheWrap on Monday, "but it would have to be leaner, and cost maybe $130 million or $150 million, so there wouldn't be so much pressure on the profitability."
Also read: Disney Ups Box-Office Ante on 'Oz' With Massive Foreign Rollout
"If it doesn't happen, it will be a shame, because there is so much material there that could be exploited, not just in terms of movies, but park rides and merchandising and such," Harrigan said.
Media and cultural heat will matter as moviegoers make choices and Disney decides whether to return to the land of Oz in the years to come.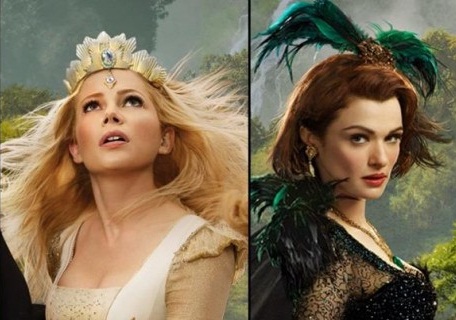 "It's social currency as much as dollars," Disney's distribution chief Dave Hollis told TheWrap. "People start talking about it, others want to be able to and suddenly people who've gotten out of the habit of going to the movies just might."
Last year's March hit "The Hunger Games" generated that kind of heat after opening to $152 million.
But "Oz" didn't come near that, or for that matter, the $116 million that "Alice in Wonderland" opened to in March 2010. Disney executives knew before the opening that "Oz," directed by Sam Raimi and starring James Franco, wouldn't match those numbers. "Alice" featured Tim Burton and Johnny Depp at their peak popularity, and was groundbreaking in terms of its use of 3D. Production designer Robert Stromberg worked on both films.
"This one looks just as spectacular," Exhibitor Relations senior analyst Jeff Bock told TheWrap, "but no one is saying, 'you've never seen anything like this before' .. because we have, with 'Alice.'"
Also read: 'Oz' Box Office Balloons to $80M After Big Saturday; Worldwide Hits $150M
The fact is, "Oz" being a hit was never a given, and profitably was even more of an unknown. Pulling off an $80 million opening with a movie that takes one of America's most beloved tales, splashes it with CGI effects and features a cast devoid of A-listers, is quite an achievement. The critics weren't keen on it — 62 percent on Rotten Tomatoes — and even audiences gave it a B+, so you don't get the feeling that Disney's marketing and distribution teams left money on the table.
"We're looking forward to school being out for spring break for the next few weeks and families catching up with us," Hollis said. Surprisingly, first week audiences were made up more of couples (43 percent) than families (41 percent).
As with its opening weekend, "Oz" won't be facing a lot of competition next weekend, when New Line debuts "The Incredible Burt Wonderstone" and Sony's TriStar rolls out the Halle Berry thriller "The Call." A repeat win looks certain, but a drop-off of less than 50 percent at the box office is what to look for with "Oz." It won't face real domestic competition until March 22, when it will battle DreamWorks Animation's "The Croods" for the family crowd.
The foreign numbers could be the most critical, and Disney will look to maintain about 50 percent of its first-week haul this weekend. France is the biggest market with an "Oz" opening this week, and China follows on March 29.