Director Asghar Farhadi has had a rocky relationship with the government and the cultural ministry of Iran.
Although his films have represented the country three times in the Academy Awards race for Best Foreign Language Film — and one of them, "A Separation," won Iran's only Oscar — he left the country to live in France for two years after clashing with the culture ministry and speaking out against censorship.
But now, as Iran is in the news because of the thawing of relations with the United States, Farhadi has returned to Tehran to live.
His new film, "The Past," is once again the Iranian selection in the Oscar race and a favorite for a nomination – though the selection has met with some criticism inside Iran, because the predominately French-language film is set in Paris and stars French actress Berenice Bejo.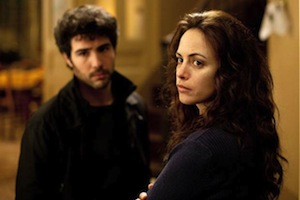 "The Past," which will be released in December by Sony Classics, was chosen only two days before the Academy's Oct. 1 deadline and two weeks after new Iranian deputy culture minister Hojjatollah Ayoubi reopened the House of Cinema, a center for filmmakers and artists that had been closed by the previous hardline regime two years earlier.
Also read: Iran, Palestine Join Israel in the Oscar Race: The Complete List (So Far)
Both the reopening and the selection of Farhadi's film are seen as signs of tolerance in the new government of moderate President Hassan Rowhani, whose recent exchange of letters and phone conversation with President Obama was hailed as another sign of progress.
Farhadi declined to speak in greater depth about the politics of his home country, but he celebrated what he sees as positive changes in a recent conversation (done through a translator) with TheWrap.
What is your current relationship like with the government, and the cultural ministry?
I spent a couple of years in France, and then went back to Iran recently. And in regards to those that have been newly appointed, it's a little early for me to say. But the individual that's been responsible for cinema, just in the very short time that he's been appointed, has done some very good things.
He's reopened the House of Cinema, which was closed for a very long time. And the things that he has said seem to indicate that he is quite progressive. It's generated a great deal of hope in Iranian filmmakers.
Therefore I feel that these people, I'm not going to have any difficulties with them.
Do you see yourself making movies in Iran again?
I have a few stories that I've been thinking of. Some of them take place inside Iran, and some of them take place outside Iran. I've only just started thinking about it, so probably by the end of the year I'll decide which one I'm working on.
Was it important to set "The Past" in France rather than Iran?
At first glance, one would think that this film could also be made in Iran. But in the details, there are very many differences. Because the story is built on details, if it had been made in Iran it would have been an entirely different film.
In what way?
In terms of the culture, we Iranians are more restrained. We're less liable to reveal ourselves easily. There are times where we might hold a secret our entire life and not tell it to anyone. I needed a woman [character] who very easily would tell her secrets. I always felt that if this woman were Iranian, it would be very odd for me to have her constantly tell her secrets in front of everyone.
Also read: Cannes Review: 'The Past' Is a Brilliant Meditation on Secrets & Lies
The story is built around the gradual revelation of a series of secrets.
This is true of my other films as well. It's just like those Russian dolls you open and there's another one inside. But in "The Past," there is an aspect of the structure that did not exist in my previous films. It's a kind of domino effect, where the dominoes are set up in a row and one of them knocks the rest down. The first time I wrote the story, I actually chose the title "Domino."
When you started writing the script, you were in the middle of working on something else, weren't you?
I was working on a project that I had actually conceived of even before "A Separation." It happened very accidentally. I was sitting in a café with [French playwright/actress] Yasmina Reza, and we were discussing ideas for the previous screenplay. And I suddenly said, "I want to tell you a memory I have about a friend."
I have no idea why I did that, but I told her about this friend of mine who had gone to Canada after many years to formalize a divorce and had lived at his ex-wife's for a while. After finishing, I said, "Why don't we write this? This is better." And the following day I began working on this one.
What was it about this story that grabbed your attention?
Let me put it this way – at the moment that I made that choice, I was going from 40 into the fifth decade of my life. Forty is an age from which you begin to constantly look behind you. Before, I was always looking forward. But the last couple of years, I've been thinking constantly about my childhood and about the past. Perhaps unconsciously, this feeling connected me to this particular story.
Did you enjoy the awards experience with "A Separation?"
For that film, not just myself but the film and all its cast and crew, we received something over 100 awards. 100 prizes in a year, that's like one every three days. [laughs] After a certain time, it became ordinary.