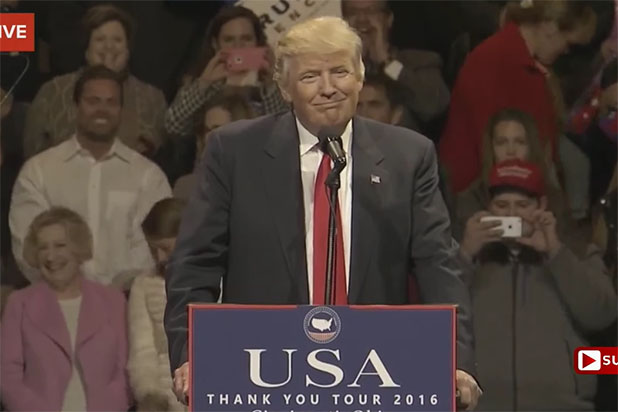 We suspect that even Alfred E. Neuman is at least a little worried about Donald Trump's presidency, but that isn't stopping Mad magazine from taking a shot at the president-elect as he prepares to occupy the White House.
Mad's annual "20 Dumbest People, Events and Things" list hits newsstands Dec. 13, and, much like last year, The Donald is featured prominently.
In addition to Trump's election topping the list, the humor magazine also takes a pointed jab at his scandal-plagued foundation, in the form of a parody of the big-screen classic "National Lampoon's Vacation."
Also Read: Donald Trump Seethes on Twitter While Watching 'SNL' Live
Dubbed "National Buffoon's Foundation," the parody declares, "Donald Trump's 'charity' seems to have been set set up only for his own 'need' — specifically, garish oil portraits of himself, a possible bribe to Florida's attorney general and paying legal settlements from other wings of his shady empire. Maybe Trump isn't as geneous as he claims he is because he isn't as rich as he claims."
The humorous hit piece continues, "When the truth about the Trump Foundation emerged in September, leading to its shutdown in New York State, nobody seemed surprised — it was clear to all that Donald Trump believes charity begins in the tacky Manhattan tower he calls home."
We suspect Trump might fire off an angry tweet or two over this.
Also Read: Donald Trump's Chin Mocked in Hilarious Internet Memes (Photos)
See Trump go Mad in the parody below.