(Part 1: Prescriptions-on-Demand Gets Riskier.)
Wherever there's been a celebrity craving drugs, there's always been a pliant doctor with a ready prescription pad.
From Wallace Reid to Bela Lugosi to Judy Garland, Hollywood is veined with a rich history of falling stars who've depended on a collection of enablers to feed their addictions.
Elvis Presley's story was among the first to reveal a disturbing paradigm of mutual dependency between celebrities and their doctors: A celebrity receives prescriptions for drugs for recreational pleasure, or for relief from insomnia or back pain; the obscure doctor in return is brushed by the comet's tail of fame.
The earliest public perceptions of celebrity addiction came from hole-in-the-arm fables inspired by such demimonde figures as Charlie Parker, Billie Holiday and Lenny Bruce — troubled troubadours and tragic clowns victimized by shadowy pushers or partners.
But this view broadened in 1977, when Presley died with 14 perfectly legal drugs in his bloodstream, courtesy of his personal physician, Dr. George Nichopoulos.
"Dr. Nick" had prescribed the King thousands of uppers and downers over the years, to help feed a habit caused by back pain and sleeplessness that began during Presley's army years.
As we explored in Part 1 of this story, even though prosecutors are taking a harder look at negligent celebrity doctors, criminal culpability is hard to come by. And it will be tough to stamp out a practice with such deep roots.
Not all Dr. Feelgoods set out to be prescription vending machines, Dr. James Gagne, a Los Angeles expert in the field of addiction behavior, told TheWrap. Though sometimes the demands are of the celebrities are "obvious when they walk through the door," Gagne says, these relationships — and the warning signs of dangerous addiction — often grow over the course of time.
Drew Pinsky, co-author of the recently published "The Mirror Effect: How Celebrity Narcissism Is Seducing America," says many doctors get sucked into a slow spiral of catering to stars.
Pinsky believes that doctors who attempt to treat stars' chronic pain with opiates in order to bask in the glow of celebrity risk getting swallowed up by these bigger-than-life narcissists.
"Imagine the power [celebrities] wield," He says. "They begin by saying, 'You're the best doctor in the world,' but when the doctor tries to cut their dosage, they'll say, 'I'm going to tell everyone what a terrible doctor you are – I'm going to ruin your career!"
Preliminary hearings in the Anna Nicole Smith case suggested that the relationship works both ways, as both Dr. Sandeep Kapoor and Dr. Khristine Eroshevich became personal friends of their glamorous patient — and felt helpless to curb her demands for drugs.
Though he was exonerated of wrongdoing by an official inquiry into Elvis' death, Dr. Nick had his medical license permanently suspended in later years after admitting to the Tennessee medical board that he had overprescribed to hundreds of patients.
Though he was exonerated of wrongdoing by an official inquiry into Elvis' death, Dr. Nick had his medical license permanently suspended in later years after admitting to the Tennessee medical board that he had overprescribed to hundreds of patients.


More recently, Dr. Jules Lusman, who was found to have improperly prescribed painkillers to Courtney Love, Wynona Ryder and others, did lose his license — one of the few who has paid a real price. The professional verdicts against such celebrity doctors remains checkered.
Heath Ledger: The cast of characters who contributed to Ledger's death may never be named. In early 2008, the Australian actor was found dead of acute intoxication by the combined effects of oxycodone, hydrocodone, diazepam, temazepam, alprazolam, doxylamine, and his death was ruled accidental.
By late February, investigators had cleared two of his U.S. physicians; the case was closed later that year after investigators said they couldn't identify a "viable target" — and it's still not known how he obtained the deadly cocktail of prescriptions.
Eric Douglas: Three years before his accidental 2004 death from mixing alcohol, OxyContin and tranquilizers, the actor/standup comic sued his Los Angeles psychiatrist for malpractice. The son of screen legend Kirk Douglas claimed that Dr. William O. Leader, who treated him for cocaine and alcohol addiction, loaded up Douglas with so many dangerous drug combinations – often prescribed after phone "consultations" — that he suffered permanent physical damage.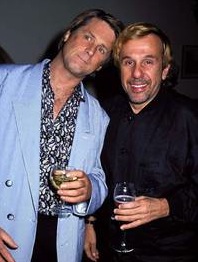 Leader settled the lawsuit with Douglas — though by that time, Leader had lost his license and had been sentenced to five years in prison for prescribing narcotics to two other people with known drug problems.
Brian Wilson: Ironicially, the most symbiotic doctor-patient relationship of all involved getting the celebirty off drugs.
In 1976 California psychologist Dr. Eugene Landy began playing both roles of Iago and Svengali to then-beached Beach Boy Wilson, who was vastly overweight and strung out on drugs. Land emotionally separated Wilson from his wife and his band — not only keeping the songwriting legend irrigated on a smorgasbord of psychotropic medications but demanding "total therapeutic authority over the patient and the patient's environment."
Eventually the California Board of Medical Quality stepped in and Landy gave up his practice. Landy, however, was soon telling Wilson how to write his music. Wilson's wife was finally able to break Landy's power over Wilson through a lawsuit, allowing Wilson to recover his abilities and career.
Don Simpson: The Paramount producer (pictured above) died in 1996 of a "combined drug intoxication." According to Charles Fleming's biography "High Concept," Simpson spent $60,000 a month on prescription drugs.
Following an L.A. Times series exposing an illegal detoxification program that had operated on Simpson's estate, his Westside psychiatrist, Dr. Nomi Fredrick, was investigated by the LAPD, DEA and California Medical Board.
The resulting report condemned Fredrick for overprescribing addictive drugs to patients. "According to the judge," a later Times feature reported, "Simpson's entire house was 'replete with drugs, alcohol and a staff of sycophants to do his bidding.'"
No criminal charges were brought against Fredrick, and although she lost her medical license in 2000, she won it back on appeal three years later.
Then there's Dr. David Kipper.
Ozzy Osbourne accused Kipper of medicating the rocker so much that it caused Osbourne to stumble through his reality TV show in a foggy daze.
After a nine-year investigation into charges he over-prescribed addictive pharmaceuticals to Hollywood celebrities and ran unsanctioned detox programs out of luxury hotel suites, in 2007 Kipper received a California Medical Board reprimand.
For poor record-keeping.