This was no accident.
George Clooney is on trend, photo-bombing Steven Spielberg, Jessica Seinfeld and Jerry Seinfeld at the USC Shoah Foundation Gala in New York on Thursday night.
You can see him hatching the plot moments earlier…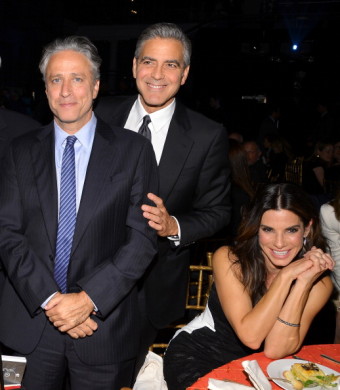 Jon Stewart hosted the event at the Museum of Natural History on the upper west side.
After days of press in New York and ahead of  today's opening, Clooney and Sandra Bullock landed "Gravity" for its official Academy screening in Manhattan Wednesday night.
Above: The Academy's New York events director Patrick Harrison, Jonas Cuaron, Clooney, Bullock, Alfonso Cuaron and David Heyman
Poetry Circle
Meanwhile back in L.A., lead Daniel Radcliffe, hyphenate writer-producer-director John Krokidas, the prolific Dane DeHaan and Michael C. Hall  celebrate "Kill Your Darlings" at Caulfields Bar and Dining Room at the Thompson Beverly Hills on Thursday, the night after TheWRAP's Awards Season Kickoff Party warmed up the hotel. Earlier they made the L.A. premiere down the street at the Writers' Guild Theatre.
The Detoxification of Mel Gibson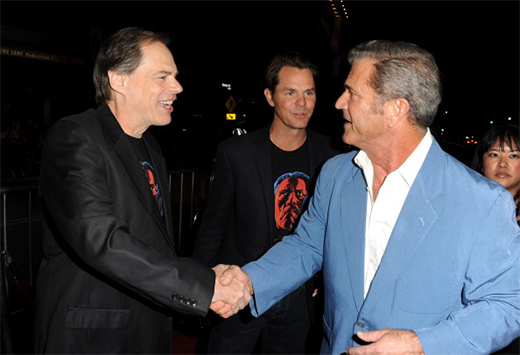 Open Road Films President and CEO Tom Ortenberg and marketing president Jason Cassidy welcome Gibson at the "Machete Kills" premiere at L.A. Live on Wednesday night.
The half-life on Mel Gibson's toxicity is accelerating.
With each genre film or spin on the dance floor at one of Maria Menounos' birthday parties, Gibson's crawl back to the mainstream is apparently progressing more like Elliot Spitzer's than Anthony Weiner's.
Gibson joined director Robert Rodriguez's bloody band of butchers and butcherettes for "Machete Kills," which features the lingerie-assault-weapon fashion of Sofia Vergara (above, with Rodriguez) and president Charlie Sheen ranting on-screen.
 Danny Trejo, Alexa Vega, and ringmaster Rodriguez at the Conga Room after party.
Harry Potter's Punk Encore
Ashley Greene, Johnny Galecki, and Stana Katic fill a booth at the two-hour CBGB's pop-up on Hollywood Boulevard.
The "Harry Potter" franchise's Alan Rickman and Rupert Grint are conspiring again in an unlikely venue – the late NYC punk club CBGB's.
The self-titled "history-of" feature on the birthplace of punk premiered at the Arclight on Tuesday night. In true punk fashion, both Potter alums blew off the premiere.
The rest of the surprisingly starry ensemble did not.
Ashley Greene, Johnny Galecki, Stana Katic, Malin Ackerman, Bradley Whitford, Justin Bartha, Joel David Moore, and "Foo Fighter" Taylor Hawkins filled the front rows for the unexpected comedy headed for a multi-platform release.
Greene, who plays scrambled CBGB's founder Hilly Kristal's head-screwed-on-straight daughter, the one grounded character in the film, actually considered her character's legal career. After a pre-law program in a special high school she attended, the "Twilight" star moved to L.A. and got a lawyer, instead of becoming one.
Clockwise from left: Rocker Wayne Kramer headlined the pop-up CBGB's party with cast Ackerman (who plays "Blondie"), Bartha ("Stiv Bators"), Taylor Hawkins ("Iggy Pop"), Moore ("Joey Ramone"), and Whitford.
Producers XLrator Media crammed a CBGB awning, stage, and thankfully not the infamously disgusting bathroom in to the quiet library of Hemingways around the corner for a loud post-party, where cross-genre Ciroc cocktails like "The Diddy" were flowing.
The highlight: Former Guns N' Roses strummer Gilby Clarke leading The Who's "Won't Be Fooled Again."
While the club is familiar, less so is the trivia that CBGB stands for "country, blue grass, and blues", Kristal's absurd original vision for the place that launched The Ramones and lots of monochromatic black. With the high name recognition in the cast for the film, out next Friday, October 11, the acronym's open to another interpretation: "Could Be Good Business."
Either that, or it'll be one of the movies you stumble upon on VH1 next year and think, "How did I miss this?".
Father's Day Brunch Bunch
Norman Lear, Judd Apatow, Eric McCormack, and Albert Brooks head the tent at the Rape Foundation's Annual Brunch in Beverly Hills.
It's high-wire hosting: a group of men headlining a benefit for The Rape Foundation at a bold billionaire's estate.
Judd Apatow, Albert Brooks, and Eric McCormack did not splat. They kept balance at the Rape Foundation's Annual Brunch, coming forward not as industry comics lightening the awkward hushed tenor of event, but stepping up to speak as fathers.
The troika led the dais for the humorless topic in a nearly-humorless yet uber-posh brunch in a white tent on the grounds of Ron Burkle's massive Gerenacres in Beverly Hills on September 29.
"This house is a gift of Ron Burkle," emcee David Schwimmer opened. "I don't think we get to keep it."
"I started out working in charity,"  Apatow told TheWrap during the mid-morning arrivals on a still-summery Sunday. "The first job I ever had was for Comic Relief when I was 18 years old back in 1986."
"We're not making jokes," Emily Deschanel (center) advised of her co-hosting duties, shared with fellow Gersh client and 9th-season-on-air-club-member Josh Radnor (left).  Christina Hendricks has remained involved since the "Mad Men" cast hosted a few years ago.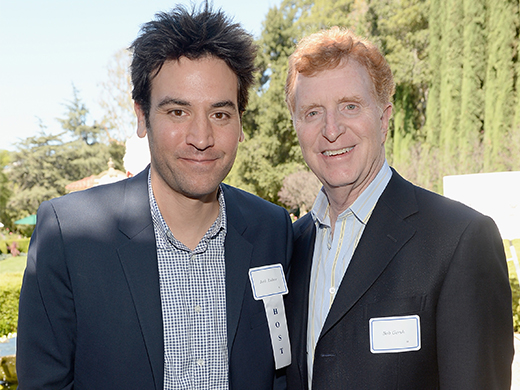 Name recognition: Radnor and Gersh.
It was the foundation's advocate Bob Gersh who introduced both Radnor and Deschanel to Gail Abarbanel, who runs the Rape Treatment Center and Stuart House.
Abarbanel created safe spaces with one-stop recovery resources for minimizing administrative and logistical pressures that adult and child victims of sexual assault face when reporting and prosecuting. It's proven to be a template used outside L.A.
With both the Chief of the L.A.P.D. and District Attorney amongst the Arnold Palmer-sipping crowd at the brunch, the collaboration between law enforcement and medical care aims for "restoring dignity," in Radnor's words.
Ushered through a tunnel on to the lush green campus, organizers asked guests not to photograph the house or grounds. A phalynx of formal security fit for Burkle-buddy President Bill Clinton ringed the grounds kept watch.
Without exception, organizers issued everyone name tags – including the bold face names photographed above – which led to McCormack having the curious "sponsor" designation under his name.
"Informed spokespersons about the issues help advocate for needed reforms (and) bring issues to the public through their work," Abarbanel explained.
The writers' room for "Mad Men's" final has been open almost a month and production begins soon.
Hendricks is making the most of her waning off-season, jetting from L.A. to New York after the Rape Foundation event to lead the glass-raising with Master of Whisky Stephen Wilson for Johnnie Walker's "Keep Walking" campaign, that's also been popping up in the baseball playoffs.
Crappy Cards
The Camryn Manheim card shark school opened in Brentwood Park as the Emmy winner gave poker lessons at the L.A. Diaper Drive's 2nd Annual Poker Tournament.
Fresh off his show's Emmy win, Ed O'Neill filled a seat at the westside fundraiser, as did reality producer Matt Kunitz ("Wipeout"), whose wife Caroline founded the organization that  uses giveaways of the expendable to incentivize families to attend life skills classes.
"Last Man Standing" and "The Spectacular Now" producer Shawn Levy also turned up at the September 28th event for the largest diaper bank in the country.
(Clooney photobomb by Larry Busacca/Getty Images for the USC Shoah Foundation Institute; CBGB Photos by Todd Williamson/AP Invision; .McCormack group photo courtesy of Twitter; Radnor/Deschanel/Hendricks by Michael Buckner/Getty Images;
Diaper Drive photos by Erica Simone.)