Walking down a moonlit main street in Montgomery, Alabama, a sign beside a park bench reminds the visitor: this is where Rosa Parks took the bus in 1955 and declined to give up her seat to a white person, leading to the Montgomery bus boycott. Just a few more yards and a bronze statue of a petite woman is perched on the corner.
The memorial is Rosa Parks, celebrated for her courage with a civic monument that was put up on Dec. 1, 2019. Yes, this December.
The past feels present everywhere in Montgomery, Alabama, where civil rights attorney Bryan Stevenson set up his Equal Justice Initiative 30 years ago, tilting at the windmills of the deep South; he fights to win the release of poor and black people from death row.
The story of how he did that is the tale of "Just Mercy," based on his book of the same name, in which Stevenson (played by Michael B. Jordan) fights a system seemingly indifferent to justice when it comes to poor African Americans. The Warner Bros. film tells the story of Walter McMillian, an African American logger accused and convicted of murdering a white woman on the basis of two coerced confessions, no physical evidence and despite a dozen alibi witnesses. McMillian (played by Jamie Foxx) was quickly sent to death row where he would undoubtedly have been killed without Stevenson's efforts.
Also Read: Michael B. Jordan on Importance of Civil Rights Drama 'Just Mercy': 'I Don't Want to Mess This Up'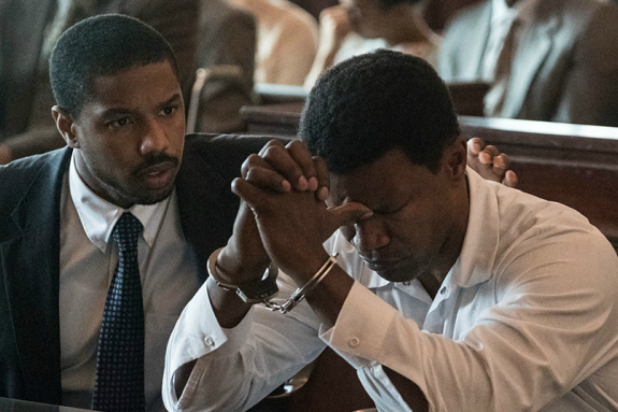 The era of slavery and lynching is over, Stevenson concludes, but the racist culture that bred those evils remains deeply rooted here. It is that culture that he is trying to change with his legal efforts — EJI now has 60 lawyers dedicated to seeking justice and more fair conditions for the incarcerated — and with his desire to shift the narrative around poverty, race and a broken judicial system, a harshly punitive prison complex.
Montgomery is small but holds a powerful place in American history. Up and down the main Dexter Avenue, which leads up an incline to a gracious domed state capital, are reminders of its tortuous legacy. The town is named for a revolutionary era general, and was an integral part of the origins of the country.
But, as a sign outside the Equal Justice Initiative reminds you, Montgomery was also the epicenter of the slave trade. At one time, the sign says, more than 100 slave traders were licensed to buy and sell human beings on this very street. The repercussions of that legacy reverberate through the present day.
On this same street, just past the bus stop where Rosa Parks made history, is a sign marking Montgomery Baptist Church, where Martin Luther King Jr. was pastor.
And less than a mile from this main street, Stevenson has led the creation of a national memorial to the victims of slavery and lynching. The National Memorial for Peace and Justice opened in 2018 and frames the history in a way that no visitor will forget. In brief but devastating words, signs tell the visitor the harsh facts of slavery and the human suffering it created. And then it describes the heinous realities of the post-slavery era, describing in simple but unflinching detail the realities of lynching, widespread in the south.
Also Read: 'Just Mercy' Film Review: Michael B Jordan and Jamie Foxx Power Solid Racism Drama
But the message of that legacy is most movingly shown in heavy steel tombstone-like markers that are suspended, like mournful sentries, from the ceiling of the outdoor memorial. They bear the names of slaves lost to time, and the names of lynching victims little-known to the world.
The uplifting words of Reverend King and Maya Angelou on the walls give resonance to the somber message of the memorial. Angelou: "History, despite its wrenching pain, cannot be unlived, but if faced with courage, need not be lived again."
Stevenson lives and works in this community. He has won many cases — 100 people released from death row due to EJI's efforts — and he has argued successfully before the Supreme Court, which has now banned life imprisonment of minors for homicide or other crimes based on cases he brought.
It is easier now than when he started in 1989, but it is never easy. And hopelessness can creep into his spirit, he says. The history of injustice he is trying to undo lives with him every day.
Also Read: Michael B Jordan Pleads for Mercy in New Trailer for Civil Rights Biopic 'Just Mercy' (Video)
In an emotional interview at his office (see video above), this is what Stevenson said:
"I sometimes look out this window and I think about the people who were doing what I'm trying to do 60 years ago. And what they had to frequently say is, 'My head is bloodied but not bowed.' I've never had to say that. I'm standing on the shoulders of people who did so much more with so much less. And when you remember that, and you recognize that, you realize you have to get back up and you have to keep fighting."
He paused, then continued:
"This street that we're on is a street where 170 years ago enslaved people were trafficked; they were put in chains and they were humiliated and denigrated, and taunted and then they were put on an auction block and then sold. I sometimes feel like I still hear the sounds of that torment, and the souls and the spirits of the enslaved and of the lynched, and those who were humiliated by segregation and pushed and condemned in jails and prisons."
"You know, I hear what that anguish sounds like," he added. "But I also hear the sounds of the community of people like that saying, "Keep fighting."