Paul Giamatti, Sam Rockwell, William H. Macy, John Cusack, Emma Roberts, Melissa Leo, Julianne Moore, Emile Hirsch and Zac Efron are among the stars in 43 premieres announced Wednesday for the 2013 Tribeca Film Festival.
The fest's first group of films, comprising World Narrative and Documentary competitions and Viewpoints, were announced on Tuesday. The new announcement comprises the Spotlight, Midnight, Special Screenings and Storyscapes selections.
Also read: Rock Documentary, Brad Pitt-Produced Look at Oil Industry Openers at 2013 Tribeca Film Festival
The festival runs from April 17-28.
The Spotlight section features 33 films — 21 narratives and 12 documentaries.
Highlights include "Adult World," in which Emma Roberts (pictured at top) plays a starving poet forced to work at a sex shop while being mentored by a reclusive writer played by John Cusack. In the buddy comedy "Almost Christmas," Paul Giamatti and Paul Rudd (above left) play two hapless troublemakers making a quick buck selling Christmas tree in New York City.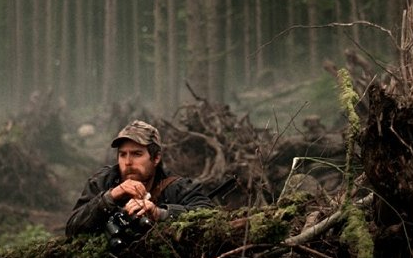 Justin Long dives into Manti Te'O "catfishing" territory with a romantic comedy centering on a fake online profile. Richard Linklater teams up for the third time with Ethan Hawke and Julie Delpy for "Almost Midnight." Oscar-winner Melissa Leo stars in the addiction drama "Bottled Up."
Neil Jordan returns with another vampire installment in "Byzantium." And Sam Rockwell, William H. Macy, Melissa Leo and Jeffrey Wright team up in "an ominous backwoods tale of circumstance" in David Rosenthal's "A Single Shot" (above right).
And Neil LaBute's spirited living-room drama "Some Velvet Morning," with Stanley Tucci and Alice Eve, will get its world premiere.
Documentaries in the Spotlight section include treatments on comedian Richard Pryor, Broadway doyenne Elaine Stritch, author Gore Vidal and boxer Muhammad Ali.
More: Whoopi Goldberg directs a film on ground-breaking comedian Moms Mabley (left). And Mariel Hemingway narrates a film on her family's mental illness in "Running From Crazy."
The Midnight section opens with the psychological thriller "Dark Touch," and "V/H/S" sequel "V/H/S/2" makes its New York premiere.
Special screenings include the reintroduction of Charles Lane's "Sidewalk Stories" and "Alberi" by Michaelangelo Frammartino.
Here's the full list:
SPOTLIGHT
Adult World: Directed by Scott Coffey, written by Andy Cochran; U.S. World Premiere, Narrative. Emma Roberts is forced to work at a sex shop to support her poetry career while under the mentorship of reclusive writer played by John Cusack.
Almost Christmas: Directed by Phil Morrison, written by Melissa James Gibson; U.S. Narrative. Two French Canadian troublemakers (Paul Giamatti, Paul Rudd) travel to New York City with a scheme to a get rich quick selling Christmas trees.
At Any Price: Directed by Ramin Bahrani, written by Hallie Elizabeth Newton and Bahrani; U.S. Narrative. The farming industry of Iowa is the backdrop for this father-and-son story starring Zac Efron and Dennis Quaid.
Before Midnight: Directed by Richard Linklater, written by Julie Delpy, Ethan Hawke and Linklater; U.S. Narrative. Companions Ethan Hawke and Julie Delpy find themselves at yet another crossroads in Linklatter's third installment about this twisting, passionate relationship.
Big Bad Wolves: Directed and written by Aharon Keshales and Navot Papushado; Israel. Narrative. A vigilante cop and a vengeful father capture and interrogate an accused serial killer.
Bottled Up: Directed and written by Enid Zentelis; U.S. Narrative. In this modern-day drama about addiction starring Melissa Leo and Josh Hamilton.
Byzantium: Directed by Neil Jordan, written by Moira Buffini; U.K., Ireland. Narrative. Neil Jordan's latest vampire film follows a mother and daughter as their dark past catches up and forces them to move.
A Case of You: Directed by Kat Coiro, written by Justin Long, Keir O'Donnel, and Christian Long; U.S. Narrative. Long plays a young writer who woos a cute barista played by Evan Rachel Wood by creating an embellished online profile. Cameos by Peter Dinklage, Sam Rockwell, Vince Vaughn and Sienna Miller.
Cycling with Moliere: Directed and written by Philippe Le Guay; France. Narrative. A once-great actor spends his days cycling alone through the windblown landscape of France's Ile de Re.
The Director: Directed by Christina Voros; Italy. Documentary. An authoritative look at the past, present and future of The House of Gucci.
Elaine Stritch: Shoot Me: Directed by Chiemi Karasawa; U.S. Documentary. Film blends rare archival footage and intimate cinema verite to reach beyond Stritch's brassy exterior, revealing a multi-dimensional portrait of a complex woman and an inspiring artist.
The English Teacher: Directed by Craig Zisk, written by Dan Chariton and Stacy Chariton; U.S. Narrative. Julianne Moore plays a teacher who balances her staid home life with an incredible passion for her subject.
Gasland Part II; Directed and written by Josh Fox; U.S. SA) Documentary. Fox's "Gasland" followup reveals the extreme circumstances facing those affected by fracking, from earthquakes to the use of federal anti-terror psychological operations tactics.
G.B.F.: Directed by Darren Stein, written by George Northy; U.S. Narrative. A bitter fight for supremacy between a school's most popular girls breaks out over their quest to befriend a boy who is the first openly gay student at the school.
Gore Vidal: The United States of Amnesia: Directed and written by Nicholas Wrathall; U.S. Documentary. A documentary tribute to Gore Vidal, including filmmaker/nephew Burr Steers and the late Christopher Hitchens.
Greetings from Tim Buckley; Directed by Daniel Algrant, written by David Brendel, Emma Sheanshang and Algrant; U.S. Narrative. When young Jeff Buckley (Penn Badgley) is asked to participate in a tribute concert for his late musician father Tim, music opens his eyes to the artistic legacy that he is destined to follow.
Haute Cuisine: Directed by Christian Vincent, written by Etienne Comar and Vincent; France. Narrative. A chef is plucked from relative obscurity to whip up classic French dishes for the most powerful man in the nation.
I Got Somethin' to Tell You: Directed by Whoopi Goldberg; U.S. Documentary. Goldberg takes a deep dive into comedian Moms Mabley's legacy via recently unearthed photography, rediscovered performance footage and the words of numerous celebrated comedians.
In God We Trust: Directed and written by Victor Kubicek and Derek Anderson; U.S. Documentary. Film follows Bernie Madoff's longtime secretary Eleanor Squillari in the days and months after the 2008 arrest, as her obsession with the case grows into her own unique search for clues.
Inside Out: The People's Art Project: Directed by Alastair Siddons; France, U.K. Documentary tracks the evolution of the world's largest participatory art project, the wildly popular "Inside Out."
Lil Bub & Friendz: Directed by Andy Capper and Juliette Eisner; U.S. Documentary. Wide-eyed perma-kitten Lil Bub ("the most famous cat on the Internet") and her owner take a wild cross-country romp meeting the Internet's most famous "cat-lebrities."
McConkey: Directed and written by Steve Winter, Murray Wais, Scott Gaffney, David Zieff, and Rob Bruce; U.S. Documentary. An all-star roster of sports movie-making talent directs this heartfelt biography of extreme ski trailblazer Shane McConkey, once described as "the most influential skier ever."
The Motivation: Directed by Adam Bhala Lough; U.S. Documentary goes inside the lives and training regimes of eight of the world's gutsiest professional skateboarders.
The Pretty One: Directed and written by Jenée LaMarque; U.S. Narrative. Jeneìe LaMarque's first feature film about a quirky, lovely tale of identity and the eternal bond between two sisters.
Prince Avalanche: Directed and written by David Gordon Green; U.S. Narrative. Paul Rudd and Emile Hirsch play two friends spending the summer of 1988 repainting a highway in a fire-damaged forest.
The Project: Directed and written by Shawn Efran and Adam Ciralsky; U.S. Documentary. The project profiles the precarious, real-life story of the Puntland Maritime Police Force, a group of Somali pirate hunters.
Reaching for the Moon: Directed by Bruno Barreto, written by Matthew Chapman and Carolina Kotscho; Brazil. Narrative. Frustrated poet Elizabeth Bishop travels to Brazil and encounters the beguiling architect Lota de Macedo Soares.
The Reluctant Fundamentalist: Directed by Mira Nair, written by Mohsin Hamid, William Wheeler, Ami Boghani; India, Pakistan, U.S. Narrative. Pakistan-born boy turns a Princeton degree into a cushy life on Wall Street with a gorgeous girlfriend (Kate Hudson) until 9/11 shatters his American dream.
Richard Pryor: Omit the Logic: Directed by Marina Zenovich, written by Peter Morgan; U.S. Documentary. This moving portrait of legendary comedian Richard Pryor chronicles his life from his troubled youth in Peoria, Illinois, to his meteoric rise as one of the most respected comic actors of the 20th century.
A Single Shot: Directed by David M. Rosenthal, written by Matthew F. Jones; U.K., USA, Canada. Narrative. Sam Rockwell, William H. Macy, Melissa Leo and Jeffrey Wright team up in this tense portrait of a man attempting to win back his estranged family while desperately trying to outrun an accidental crime.
Some Velvet Morning, directed and written by Neil LaBute; U.S. Narrative. Stanley Tucci and Alice Eve star in this spirited living room drama.
Trust Me: Directed and written by Clark Gregg; U.S. Narrative. Story about a flailing Hollywood agent who seemingly strikes gold after signing the next big child star (stars Sam Rockwell, William H. Macy, Felicity Huffman, Allison Janney and Amanda Peet).
Whitewash: Directed by Emanuel Hoss-Desmarais, written by Marc Tulin and Hoss-Desmarais; Canada. Narrative. The brutality of winter and the power of the mind are aptly portrayed in this dark comedy set in Northern Quebec starring Thomas Haden Church.
MIDNIGHT
Dark Touch: Directed and written by Marina de Van; France. Narrative. A woman find herself as the lone survivor of a bloody massacre after the furniture and objects in her family's isolated house take on a monstrous life of their own.
Frankenstein's Army: Directed by Richard Raaphorst, written by Chris W. Mitchell and Miguel Tejada-Flores; Netherlands. Narrative. In the waning days of World War II, a team of Russian soldiers discover the lab of Dr. Victor Frankenstein and unearth a terrifying Nazi plan to resurrect fallen soldiers as an army of unstoppable freaks.
Fresh Meat: Directed by Danny Mulheron, written by Briar Grace-Smith; New Zealand. Narrative. After a poorly executed escape from the police, a gang of dysfunctional criminals flees to the suburbs and gets more than it bargained for when it crash lands in the garage of an upper-class Maori family whose refined palates have developed a taste for human flesh.
The Machine: Directed and written by Caradog James; U.K. Narrative. Caradog James adds another layer to the Frankenstein story in the latest gripping sci-fi adventure to come out of the U.K.
Mr. Jones: Directed and written by Karl Mueller; U.S. Narrative. A filmmaker and his girlfriend move into a desolate house and discover their mysterious neighbor, the elusive Mr. Jones.
Raze: Directed by Josh Waller, written by Robert Beaucage; U.S. Narrative. Stuntwoman Zoe Bell (Inglorious Basterds, Kill Bill 1&2) headlines this sly subversion of the women-in-prison genre.
V/H/S/2, directed by Simon Barrett, Adam Wingard, Eduardo Sanchez, Gregg Hale, Timo Tjahjanto, Gareth Evans, Jason Eisener, written by Barrett, Jamie Nash, Tjahjanto, Evans, Eisener, and John Davies; U.S., Indonesia. Narrative. Investigators break into a house, find a vast collection of VHS tapes showing visions of the paranormal, flesh-eating zombies, and a shockingly genuine scene of hell on earth and a slumber party gone horribly awry.
STORYSCAPES
A Journal of Insomnia: Project creators: Bruno Choiniere, Philippe Lambert, and Guillaume Braun; Canada. Insomniacs are both spectators and actors in this large, interactive fresco that combines hundreds of personal reflections on sleepless nights, gathered online from insomniacs around the world since fall 2012.
Robots in Residence: Project Creators: Brent Hoff and Alexander Reben; U.S. Robots in Residence challenges Alfred Hitchcock's claim that "in feature films the director is God; in documentary films God is the director."
Sandy Storyline: Project Creators: Rachel Falcone, Laura Gottesdiener, and Michael Premo; U.S. Using audio, photography, text and video, Sandy Storyline is an ever-growing documentary narrative as community members and volunteers offer their accounts of the storm and the efforts to recover and rebuild local neighborhoods.
Star Wars Uncut: Project Creator: Casey Pugh; U.S. Using everything from hand-drawn animations to intricate reenactments, fans and series novices created short alternatives to the Star Wars storyline and went online to piece them all together.
This Exquisite Forest: Project Creators: Aaron Koblin and Chris Milk; U.S. Inspired by the surrealist game "exquisite corpse" and its idea of collaborative creation, project allows visitors to create short animations right in their web browser.
SPECIAL SCREENINGS
Alberi: Directed by Michaelangelo Frammartino; Italy. Documentary. Wrapping the audience in waves of sound, Alberi takes a circular journey through the Italian countryside in a mesmerizing homage to nature.
Sidewalk Stories: Directed and written by Charles Lane; U.S. Narrative. Lane plays a sidewalk chalk artist whose efforts to care for an abandoned toddler are confounded by the oddball homeless characters he meets.
Herblock – The Black & The White: Directed by Michael Stevens, written by Sara Lukinson and Stevens; U.S. Documentary. Film on Herbert Block's 55-year career at The Washington Post with commentary from Ben Bradlee, Tom Brokaw, Bob Woodward, Carl Bernstein, Jules Feiffer, Ted Koppel and Jon Stewart.
The Trials of Muhammad Ali: Directed by Bill Siegel; U.S. Documentary. Film reveals the perfect storm of race, religion and politics that shaped one of the most recognizable figures in sports history — Muhamad Ali.
Running From Crazy: Directed by Barbara Kopple; U.S. Documentary. Mariel Hemingway examines her famed family's history of mental illness.
Möbius: Directed and written by Eric Rochant; France. Narrative. Set in the incomparable beauty of Monaco, Eric Rochant's first feature in seven years follows undercover Russian FSB officer Gregory Lioubov (Jean Dujardin, The Artist) and international trader Alice Redmond (Cécile De France, Hereafter), who has her own secrets to hide.