A version of this story appears in theComedy/Drama issue of EmmyWrap
Corey Stoll said one of the turning points in his life came when he was a "morbidly obese" teenager, trying to choose roles for an acting showcase at his high school.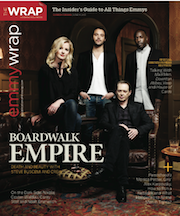 "Someone said, 'How about the Elephant Man? How about the Hunchback of Notre Dame?'" Stoll told TheWrap. "I mean, these are amazing roles, but are these the only roles I'm good for?"
Also read: Emmys: Nikolaj Coster-Waldau on the Naked Truth About the 'Game of Thrones' Kingslayer
Shedding weight allowed Stoll, now an athletic-looking 37-year-old, to play the dashing Ernest Hemingway (below right) in Woody Allen's "Midnight in Paris" and to land the lead in FX's upcoming series "The Strain." But he said that his issues with food still affect his career-including his role as Peter Russo, "House of Cards'" alcoholic congressman.
You took up boxing to play Hemingway. What did you do to play Russo, a philandering alcoholic?
Well, I did not become an alcoholic. In fact, I was actually pretty clean when I was shooting it because I knew I had to do some nude scenes. [laughs] So I was living a very healthy, active lifestyle. I did a lot of reading about recovery, and I found that very helpful. David Carr's autobiography "The Night of the Gun" was really interesting, and Augusten Burrough's "Dry." And speaking with [showrunner] Beau [Willimon], who's in recovery.
Also read: Alex Karpovsky on 'Girls' – 'Every Character Has Shown Unsavory, Forbidden Aspects'
Did you visit AA meetings to see what they're like?
I wanted to, and then it felt a little … I didn't want to just observe people while they poured their hearts out. I don't know what it's like to be addicted to substances, but I know what it's like to be out of control. I know what it's like to overeat. That's something I've struggled with. I figured it was going to be more potent for me to deal with that lack of control on my terms than to try to inhabit somebody else's addiction.
When did you struggle with overeating?
I was a fat kid in junior high school and high school, and around the end of high school I really buckled down and decided I wanted to be a different person by the time I got to college. And I still swing every year a good bunch of weight. I can kind of relate to that boom-and-bust cycle. That was kind of my way in, instead of trying to do some weird thing where I got really drunk and recorded myself or something like that.
Also read: Emmys: Monica Potter's 'Parenthood' Cancer Battle Began With Her Own Real-Life Scare
Did being overweight as a kid turn you into a fitness fanatic?
[Laughs] I become a fitness fanatic for a few months every year. My vision of Peter Russo is when he was in recovery he was really good at it. Until he was off the wagon.
Russo faces more temptation than most people do: A call girl throws herself at him, trying to get him to drink. What I really love about the way Beau wrote that is the obvious choice would have been to have him at his lowest ebb, to have something really awful happen to him to drive him to drink. Instead, everything's really going great, and it's a celebratory drink. That's what's so pernicious about addiction. It's not just depression that can trigger it.
Going through what you did, is it hard to be on camera?
The more I'm a character, the easier it is. I can't stand looking at photos of myself on a red carpet or something like that. And those times when I'm feeling thinner or I'm in better shape, it's definitely easier to watch.
Is that why you underwent such a physical transformation in "Midnight in Paris," and had the mustache when you were on "Law & Order: Los Angeles"?
There was sort of … inertia involved in that. I'd grown a mustache because I was playing Vershinin in this production of "Three Sisters," and I had this big Stalin-esque mustache. Then I went straight from that to "A View From the Bridge," where I played an immigrant from Italy in the 1950s, and that's when Woody Allen saw me and cast me, and the mustache seemed to work for that.
And then I went to "Law & Order," and it seemed perfect for a cop. Halfway through they asked me to shave it. And I'm so glad I did, because it can define you. Especially when you don't have hair on your head, your eyes definitely go straight to it. When you don't have hair, it's fun to have something that can change your look.
If you look a certain way, people say you'll be a character actor.
I will always be a character actor of some sort because of my look. And I happen to be very lucky to have been born at a time when you can be more than a biker or a prisoner with a shaved head.
But you're going to be the lead in The Strain. You have a romantic subplot in House of Cards. You're getting leading man-type roles.
I'll never not feel like a character actor. I don't think it's a bad thing. I think feeling like you have to transform for a role is the only way I know how to do it. Often the roles I feel like are the closest to me are the most challenging. I try to find some hook that's really different from me, whether it's an accent or a hairpiece or some kind of prosthetic.
Does "The Strain" feel like a mustache role?
No, I don't think so. [Laughs] We're in the early phases of figuring out the look of the whole show.