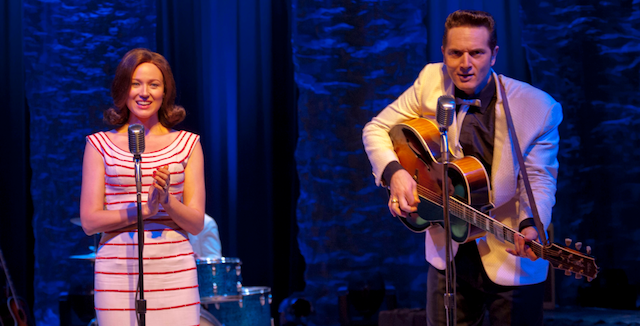 This story appears in TheWrap's EmmyWrap Miniseries Issue.
June Carter Cash may have lived most of her life in the long shadow cast by her husband Johnny Cash, but she was a second banana only by choice.
A member of the first family of country music, the Carter Family, and a woman whose history included playing the Grand Ole Opry as a kid, touring with Elvis and then sticking with Cash while his addiction to pills almost killed him, she was a fierce protector of her ailing husband, a beacon of sweetness in the toughest circumstances, a hilarious storyteller with decades of great yarns and an all-around hoot.
(I say this having been charmed and amazed by her during a few days I spent with her and Johnny in Branson, Mo., in the early '90s.)
In Lifetime's "Ring of Fire," she gets her turn in the spotlight afforded to Johnny in the 2005 theatrical feature "Walk the Line," which landed Reese Witherspoon an Oscar. The Alaska-born, Texas-based singer and occasional actress Jewel (Kilcher) takes the role of June this time around in the Allison Anders film, her first significant role since Ang Lee's 1999 Western drama "Ride With the Devil."
You opened for Johnny and June in London years ago — what was your experience with her like?
She was a hugger, and a really warm person. I remember when I hugged her, I said, "Gosh, you smell so nice." And she was like, "Oh, it's my perfume, do you want it?" "No, I don't want to take your perfume!" But she dug through her purse until she found it, and she wouldn't let me leave until I had her old perfume bottle in my hand. She was just real sweet. She was warm and maternal and fantastic and charismatic — very complex, but not complicated.
It's been a while since you've had a significant acting role. Were you looking to get back to it?
I've always really liked acting. When I was young and trying to get into the music business, I had told my agents that I wanted to pursue both. But I worked really hard on my music career, and when I looked at what it would take to build two careers simultaneously, I decided it would probably take too big a toll on my personal life. So I let acting go. I didn't need to become more rich or famous, I needed to figure out how to have a balanced life.
I did tiny things here and there on TV, but didn't really pursue it. And this came out of the blue when the producer called and offered it to me.
June is obviously not as well-known as Johnny, but lots of video exists. Were you trying to imitate her or just suggest her look and style?
I never really thought about imitating versus suggesting. I was thinking more of channeling. [laughs] I really wanted to try to embody her spirit, and I did have a lot to go off, because she was a historical figure who lived in the era of video and television. Her mannerisms are so different from mine — the way she carried herself, her posture, the way she sang. And I knew I was in danger of people saying, "That's Jewel, why is she wearing a wig?" I had to completely be lost in the character to pull that off.
What were the hardest parts of that transformation?
I was surprised by how difficult the singing scenes were for me. Learning how to sing like her took some studying, but it was enjoyable. What I found difficult was being onstage, because I guess when I'm onstage my muscle memory takes over, and I would find my own mannerisms creeping through. You'd think that those scenes would be the most natural, but they were actually the hardest for me to stay in character.
But you do have more leeway than Matt Ross, who plays Johnny Cash, because people don't have as strong an image of June as they do of Johnny.
Yeah. Actually, I knew going into this that I'd be compared to Reese [Witherspoon]. That that was people's idea of June. But I hoped they'd go back and dig a little deeper and look at YouTube videos of June with [her first husband, singer] Carl Smith, for instance. My real hope is that this would cause people to be interested in June and go back to the Carter Family. And if people want to compare me to those, I'd be happy.
So do you want to do more acting now?
Yeah, I got the acting bug this time. As a young kid I grew up bar singing, and what always fascinated me is seeing that what people are saying is rarely what they want to communicate. It's hard to get at that as a songwriter, but acting is really designed for that. It's designed for communicating all the things that we want and need that have nothing to do with what we say. I find it really creatively fulfilling, and I'd love to do more.
My problem is that I'm lazy-slash-ambitious, and I don't see myself moving to Hollywood to do a bunch of auditions. So if anybody else wants to call me out of the blue and offer me a role, I'd love to do it.