TV is such a bountiful medium that it needs two weekends and two shows to dole out all the trophies. Starting with this Saturday afternoon's multi-hour Creative Arts Emmys, the TV community emulates the medium's current kingpin, Ryan Seacrest, and shifts into hyperdrive for eight days.
Forget apples and honey. Many looking for a "sweet" start to a new year will trade Rosh Hashanah on Sunday night for the upmarket kick-off soiree at Cecconi's with Audi and Derek Lam. Here's the inside scoop on the rest of the best places to "do" Emmys week.
Friday, September 21
TV Academy's Performers Nominee Reception
Pacific Design Center, 7:30 P.M.
Logline: After 24 different official nominee parties for each of the Academy's professional peer groups, some beginning as early as July 28, this is the final official Academy event before the show. Usually, most talent make this the first stop of the night, and Wolfgang Puck's buffets sync up with the dinner-hour timing.
Insider Tip: Stake out ground to people-watch during the "Class Photo" of all 2012 nominees, where the banter echoes the quaint authenticity of a Wes Anderson boy scout morning roll call.
Entertainment Weekly
Fig and Olive, 9 P.M.
Logline: I always refer to EW's Emmy party as the Vanity Fair equivalent of Emmy weekend, because unlike the HBO or AMC coronation celebrations that are network-specific, everyone who has anything to do with popular TV in 2012 – nominated or not – is there. Behind the scenes, Andy Gelb, Stephanie Samson, and Slate PR handle both magazines' signature events, so the analogy works. Making the 400-person guest list is a sign that your career is on track.
Insider Tip: Prepare for paparazzi on the way out. With the ever-present L'Oreal as the co-host, the gift bag skews female.
Head-to-Head Montage Event A: Heifer International Co-Hosts Beyond Hunger: A Place at the Table
Montage Beverly Hills, 6:30 P.M.
Logline: Women helping women beyond Hollywood and worldwide.
Host Table: Veteran executive and "Hunger Games" producer Nina Jacobson, Jane Fonda, Tracey Ullman, Sheryl Crow, Diane Lane and Bonnie Raitt.
Insider Tip: Mary Steenburgen and Ted Danson take a lead role with Heifer to target hunger and poverty globally. As a new event, the dual opportunity for awards-show revelry and making a difference on Emmy weekend is open to general public donors, with $1500 tickets available.
Head-to-Head Montage Event B: Women In Film and Variety's Pre-Emmy Party Presented by Saint Vintage
Scarpetta at Montage Beverly Hills, Friday Night (Separate from the Beyond Hunger Event)
Logline: Women helping women in Hollywood.
Insider Tip: WIF's Friday afternoon Oscar parties are always draw an intimate and quality crowd, even if Gwyneth Paltrow had to shout over the room at Cecconi's last February.
After partnering with EW on their top-talent bash at BOA on Emmy Friday last year, WIF and Variety join forces this year at Scarpetta to toast women Emmy nominees, with one of the highest executive turnouts of any pre-show event.
On the List: A&E CEO Abbe Raven, Nina Tassler, NBC's Jennifer Nicholson-Salke, and non-women-in-film like AMC's Charlie Collier, Jay Roach, Matthew Weiner and Gary Newman. Talent cars for Julia Louis-Dreyfus, Amy Poehler, Patricia Heaton, Mayim Bialik, Producer/Director Pamela Fryman, Christina Hendricks and Elisabeth Moss.
Art of Elysium Genesis
Siren Studios on Orange, 9 P.M.- 2 A.M.
Logline: One of young Hollywood's favorite missions, Jennifer Howell's A.O.E. sets up a collection of live action art and fashion vignettes.
On the List: With Ryan Kavanaugh, Fifteen Minutes' Bill Harrison and Rene Jones on the board, and talent like Shanola Hampton, social captain Grace Fernandez, Mike McGuinness and Ciroc all onboard, this philanthropic outing has swagger. Both Playstation and Perez Hilton broke in the relatively new venue earlier this year, a stone's throw but a stylistic leap away from sketchy Shakey's on Santa Monica.
Insider Tip: Bring "Beasts of the Southern Wild"-inspired Kleenex for more inspiration from the least likely of children. Tickets available at $150.
CAA Emmy Party
Bouchon Beverly Hills, 8 P.M. – 1 A.M.
WME Emmy Party
Milk Studios, 9 P.M.
UTA Emmy Party
Jay Sures' Brentwood home
Logline: UTA Managing director Jay Sures hosts 500 of the agency's nominees, clients and industry friends. The omnipresent DJ Michelle Pesce (InStyle, Grammys, Audi events) spins.
Saturday, September 22
ICM Partners Emmy Brunch
Fig and Olive, 11:30 A.M.
2012 brings not just a new corporate structure for the agency, but a smart move to a new morning time slot.
BAFTA Los Angeles TV Tea
London Hotel Rooftop, 2:00 P.M.
Logline: Perhaps because of the predominance of dark and dreary months in the British Isles, almost all BAFTA LA events counterprogam their ancestry with bright, daytime, and cheery locales, usually with as much outdoors as possible. In taking over the London rooftop for a traditional afternoon tea, nominees from the UK, Commonwealth and the U.S. can all talk about how much everyone loves "Downton Abbey."
Insider Tip: The first-class, round-trip tickets for two anywhere in the world up for bids in the silent auction are always one of the biggest overlooked steals of awards season, and the cost is tax deductible. BAFTA keeps it local to L.A., donating proceeds to arts programs like the Inner City Shakespeare in the Park.
Showtime
Sunset Tower Hotel
Logline: Matt Blank and David Nevins have a lot to celebrate at Showtime's closely guarded Emmy-eve soiree: the most nominations for lead actor in a series of all the networks.
Who to Expect at the Close-Knit Happy Hour:
Claire Danes (left, with Rashida Jones), Michael C. Hall, Damian Lewis, Edie Falco, Don Cheadle, scene-stealing Joan Cusack from "Shameless" and nobody from "Gigolos".
Insider Tip: John Legend is going to perform. Take that, everybody else.
NBC Universal
BOA on Sunset, 7-10 P.M.
Logline: No more Spago. Last year was uncomfortably crowded.
Names that would turn heads if they showed: Howard Stern, Lorne Michaels (who has traditionally hosted his own Broadway Video party with his comedy posse simultaneously at Sunset Tower) and Dan Harmon, who's almost certainly not on the list. NeNe Leakes wins "most improved," getting called up from Bravo's reality division to NBC's primetime scripted show "The New Normal."
Insider Tip: SoHo House is upstairs.
MPTF's Evening Before
Century Park behind CAA, 8:00 P.M.
Logline: MPTF's awards-eve event is the most concentrated brew of industry power on Saturday night. It's moguls, network and production company executives, agents and managers with their invited talent and other year-round MPTF faithful. The size of the security armada locking down Century City nearly equals the 800-1000 captains of industry inside.
Humane Society's H-Couture Fashion Show
The Mark, 8:00 P.M.
Logline: Not all of the fashion statements will be made on Sunday's red carpet. No Emmy nods for "Vampire Diaries," but starring couple Paul Wesley and Torrey DeVitto lead the pack to the Humane Society's fur-free night with Charlotte Ronson, Jenna Dewan Tatum, Kimberly Ovitz, Owain Yeoman and Charlotte Ross.
Insider Tip: "Fashion should be fun," DeVitto says. "I don't see how wearing animal fur can be anything other than cruel and unnecessary." Translation: Don't brace for a flour-bombing here.
Sunday, September 23
After 15 years of parties with Prince, Duran Duran, Stevie Nicks, co-hosting with People magazine, and a once-famed gift bag, the Entertainment Tonight Emmy After Party has been shuttered like "Alcatraz" and closed down like "The Playboy Club." There's plenty of bubbly left elsewhere on Sunday night, but nothing from ABC or CBS all weekend.
Governors' Ball
200 Yards down Chick Hearn Court, Post-Show
Logline: With the Nokia Theatre bars closed throughout the ceremony, the initial 3,800 person rush from the Nokia to the Convention Center is a hurricane of hecticness.
Amid last year's pan-industry swarm, security denied, defeated and exasperated nominee Padma Lakshmi's entry until her ticket-holder showed up, as AMC President Charlie Collier stepped out to introduce himself to then-Academy president John Shaffner, who was holding a mini-receiving line behind the will-call table.
Insider's Tip: Inside, a new "Winner's Circle" will engrave Emmy statutes on-site and consequentially: (A) double as a default VIP area; (B) keep winners from bolting out as quickly as usual, and (C) produce brilliant candid photos.
Nickname: With 200,000 red roses throughout the cavernous hall and a promised "explosion of red," the Convention Center production could be called "Phantom of the Emmys."
Twentieth Century Fox Television, FOX & FX 2012 Emmy Celebration
Soleto (Downtown), 8:00 P.M.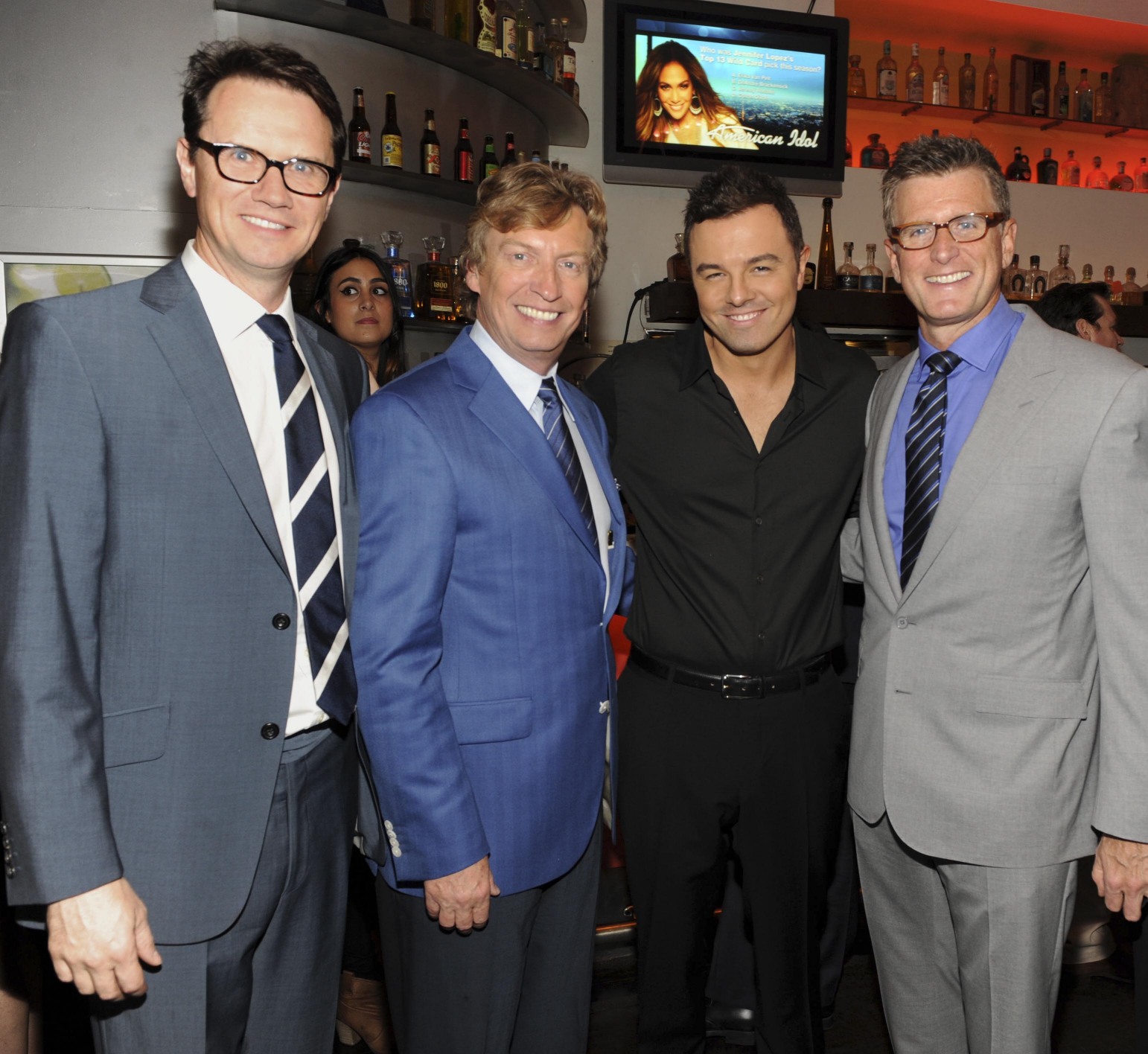 Logline: There's a golden forecast for "Homeland," "Louis C.K.," "Modern Family," "American Horror Story" and a rumored Kiefer Sutherland sighting, making this indoor/outdoor urban celebration only two blocks from L.A. live the Emmy winner for convenient and cool. Plus, nobody else has a Simon Cowell and Britney Spears table.
Come Hungry: Unknown to the entertainment community, the financial district Italian restaurant is from the same group behind familiar faces Boa, Katana and Sushi Roku. There will be post-show chow from all three on hand.
Pulling up in Cars: Louis C.K., the most nominated individual in a single year ever, Damian Lewis, Zooey Deschanel and Fox's leadership: Peter Rice, Gary Newman, Dana Walden, Kevin Reilly, Joe Earley, John Landgraf and the past ("Nip/Tuck"), present ("Glee"/"Horror Story") and future ("New Normal") Fox Networks MVP, Ryan Murphy.
HBO's 10th Annual Emmy Party
Fountain Plaza at the Pacific Design Center, 8:00 P.M.
Logline: HBO's social gravity on Emmy night is planetary. The network had to buy a two-page centerfold in the most recent Emmy magazine and write in 7-point micro font just to list all 82 of its nominees.
Keep Your Head on a Swivel for: A glammed-up Lena Dunham; "Seinfeld" buddies Julia Louis-Dreyfus ("Veep") and Larry David; current crime boss Steve Buscemi with retired crime boss James Gandolfini ("Hemingway & Gellhorn); Tom Hanks and Woody Harrelson; Judd Apatow and Jay Roach ("Game Change"); nonfiction trailblazers Bill Maher and Joe Berlinger ("Paradise Lost 3: Purgatory"); Michael J. Fox; Peter Dinklage and the only people under the 30-foot-wide floral chandelier who know almost every person in the 50,000 square foot lemon-and-lilac party space: HBO heads Richard Pepler, Michael Lombardo, Sue Naegle and Sheila Nevins.
Comedy Central's Emmy Party 2012
Cecconi's, 8:30 P.M.
Logline: Between John Stewart, Steven Colbert and their staffers, there's always a trophy buffet at Comedy Central's dance party. This year, Doug Herzog's team moves west from Hollywood to Cecconi's, once the hallowed ground of Vanity Fair's Oscar after-party. That just might be Tosh, Wyatt Cenac, Samantha Bee, and John Oliver walking east down Melrose to the nearby HBO party as Sunday turns in to Monday.
AMC
Lure in Hollywood, Sunday Night
Logline: Grown up. Graduating from the self-sequestering at Chateau (2009), Soho House (2010) and the hushed living-room vibe of hotel Mr. C (2011), the perennial cork-popper on Emmy night adrenalizes their after-party over to mega-club Lure in Hollywood, a place known for superstar European DJs and Sunday daytime parties. With an increase to 34 nominations this year, Vince Gilligan, Bryan Cranston, Jon Hamm and Matthew Weiner are ready to pop bottles.
The Emmy for Swag and Freebies Goes to:
Trips to Tahiti: DPA Gifting Lounge at the Luxe Hotel, Thursday-Saturday

$6,000 all-inclusive trips to the Hard Rock Resorts in the Caribbean and $3,500 jewelry pieces

from Misahra at GBK's Suite at the W Hollywood on Friday and Saturday

A private hypnotist, swag for your dog and personalized meal programs by Alex Fiorini: Eco Emmys Celebrity Chateau in Hancock Park, Thursday and Friday

Attention Claire Danes (and other pregnant nominees): The $700 UPPA baby stroller is up for grabs at Danes' premium cable rival HBO's Luxury Lounge at the Four Seasons

Freebie Beauty Suite for complementary salon services by L'Oreal, also at HBO's lounge. Friday – Saturday (talent day)

Bliss Spa Packs at Adrienne Maloof's home in North Beverly Park, just past the smoldering remains of what was one Lisa Vanderpump's mansion featured on "The Real Housewives of Beverly Hills" — Softcup Beauty Lounge, Thursday and Friday

Jewelry Loans from Bellari, Takat and more — Exclusive to A-list stylists, designers join in as Michael O'Connor opens the StyleLab at L'Ermitage on Thursday
Photos by Paleyfest (Levitan, Mad Men), HBO/Cinema Society (Apatow/Dunham), Fox, Vanity Fair/Bloomberg (Danes/Jones), Western Union (Legend); others by Mikey Glazer.