For the children who watched in darkened theaters as Ethan Hawke and River Phoenix flew through space in a tricked out Tilt-A-Whirl carriage, the 1985 coming-of-age adventure "Explorers" was a defining moviegoing experience.
The film is about a group of three boys drawn into deep space by media-loving aliens. The family sci-fi film is still beloved by a dedicated, albeit small, group of fans — those who may find it hard to believe that the cult film remains a sore spot with director Joe Dante.
"It's not a movie I revisit much," the director told TheWrap during a recent interview, citing the film's bad reviews and abysmal box office performance.
Also Read: 9 Things You Probably Didn't Know About 'Thelma & Louise'
"They ruined it by releasing it before it was finished, then didn't support it with advertising — so it bombed and they lost a fortune," the director recalled.
Dante, who also directed the 1981 horror movie "The Howling" and 1987's "Inner Space," is receiving the inaugural Sierra Spirit Award at Mammoth Lake Film Festival this week, held outside L.A. But he still recalled some details about the underrated "Explorers":
1. River Phoenix didn't want to play the nerd.
Phoenix, who died from a drug overdose in 1993, was about 13 years old when he landed his first-ever film role in "Explorers." He played glasses-wearing nerd Wolfgang, but originally auditioned for Darren, a salt-of-the-earth type role that was ultimately given to Jason Presson.
Also Read: 'Top Gun': A Short History of the Volleyball Scene (Photos)
Phoenix wasn't thrilled about playing a geek, Dante recalled. "For him it was always a performance because he was vehemently not that guy," he told TheWrap. "When a girl would come by he would always take the glasses off."
2. Hawke and Phoenix competed for Amanda Peterson.
Amanda Peterson, who played the boys' cute classmate Lori, was pursued off-camera by both of the movie's young leading men. "There was a bit of a rivalry between Ethan and River over Amanda Peterson," said the director. "They were always sort of vying for her affection and I think Ethan won," he added with a laugh.
The actress, who also played the love interest in the 1987 teen comedy "Can't Buy Me Love," died last year at the age 43 from an accidental drug overdose. "It's really a downer," Dante said. "Amanda was really sweet. I had no idea she had such a rough life."
Also Read: 'Top Gun': 30 Things You Didn't Know About Tom Cruise's 30-Year-Old Classic (Photos)
3. Hawke won the role accidentally.
Hawke was just 13 when he landed the role — which he had no intention to audition for. A friend was auditioning and he went along for the ride to hang out. "He wasn't an actor or anything!" said Dante.
"He had braces. He was kind of awkward and gawky and I thought he was cute. So I figured let's give him these pages and see if he wants to do this — and he ended up getting the lead in a Paramount picture over all these professional Disney kids," Dante said.
"We saw many of them who were very professional and cute, but he was real," he added. "He just had it. I remember crew members saying to me, 'Are you serious — he's never been in a picture before? He knows about the marks.' He took right to it. He understood the filmmaking process."
It was Hawke's first acting role — ever.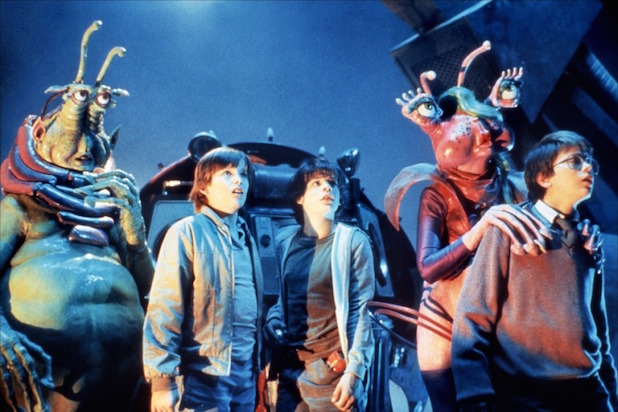 4. It almost went to the "NeverEnding Story" director.
"Explorers" was originally offered to Wolfgang Peterson, who went on to make "Enemy Mine" as his followup to his 1984 magical adventure "The NeverEnding Story."
"He wanted to shoot in Bavaria," said Dante. "They didn't want it to look like 'NeverEnding Story.'" Paramount execs wanted an American setting for the movie so they hired Dante — an American director.
5. The movie is littered with Easter eggs — before those were a thing.
Dante filled his movies with coded items, now known as Easter eggs, to keep himself amused. "Gremlins" was filled with them, but "Explorers" had a bunch, too — so many that Dante can't remember them all. "I learned all this from Mad Magazine," the director explained.
Also Read: Wil Wheaton on River Phoenix Death: I Thought 'Please Don't Let This Be True' (Video)
Here are a few "Explorers" eggs and pop culture references that Dante recalled: A Rosebud sled, referencing Orson Welles' 1941 Oscar-winning classic "Citizen Kane," appears in the junkyard scene. Phoenix's line, "They're heeere," is a reference to the 1982 scary movie "Poltergeist." The kids decide to name their spaceship "Thunder Road," after the Bruce Springsteen song. In one scene, a helicopter pilot (played by Meshach Taylor) gets a copy of the Davanna County Gazette with a headline that reads "Kingston Falls 'Riot' Still Unexplained" — which references the location where the Gremlins wreaked havoc in his 1984 hit.
6. It was rushed from the beginning.
As the movie was being made, Paramount president Michael Eisner and production head Jeffrey Katzenberg both left the studio for Disney. In the midst of the turmoil, Dante was asked to halt his work on "Explorers" and rush out the followup to his 1984 hit "Gremlins."
But even before that, the director said the target release date was, well, ambitious. "When the kids came onto the spaceship set, it wasn't even dry yet," he said. "Their feet were going in concrete!"
Also Read: River Phoenix's Final Moments Revealed in New Book: 'I Think I'm OD'ing'
7. Much was lost.
After Paramount's new executives took over, Dante had to make deep cuts in order to make sense of the unfinished film. "There's a whole subplot that's cut out with the bullies," said Dante. "Our guys go back to school and there's this magic something or other they got from the aliens and the kids' clothes disappear. We shot all that stuff and we just never had a chance to put it in the movie."
Any extra footage that didn't make it into the film is gone for good, Dante added.
8. There's a missing party scene.
Dante had to cut a party scene at the last minute in which Ethan and Amanda would have had their first kiss. "He gives her a hideous moon rock ring that he thinks looks great," recalled Dante. "At end of the movie, when they're flying, he looks at her hand as she looks at the ring — and of course we had to cut that."
9. The movie's bigger philosophical theme was excised.
There was a theory floating around at the time that also made its way in "Exorcist II," said Dante: "Pierre Teilhard de Chardin had a philosophy [outlining] how all of consciousness is part of one giant being. That was in the movie at one time. It involved the [adult] Dick Miller character and how he has a psychic connection to the kids — because that's how he felt when he was younger. All that stuff got muddled and didn't really come through."
Also Read: 5 Christmas Horror Movies That Scared Up Box Office Before 'Krampus' (Photos)
10. The ending was improvised.
The movie ends after a scene under a tree. "It is all post-dubbed with other dialogue," Dante revealed. "In fact, the whole progression of the last 10 to 15 minutes of the movie is kind of a mess."
11. The poster was done on the cheap.
"Much to the detriment of my career was 'From the director of "Gremlins."'" The poster was black-on-black and featured a backyard fence with a light coming from behind, recalled Dante. "It just looked awful. When you put it up on billboards and it looked like tar paper.
"It's a tough movie for me to watch because it doesn't represent what I was trying to do," he said. "It's just an interim period that got frozen in stone. Though I'm very pleased that people would come up and say that they liked it — they show it to their kids and all that and I think that's wonderful.
"It's charming but it just isn't what it could have been."