Joan Rivers has a message for the Writers Guild of America: Can we talk?
The union is in the process of bringing Rivers up on charges that the guild member violated its bylaws during the ongoing "Fashion Police" writers strike. If so, she could be sanctioned, fined or expelled from the union.
Representatives for the E! Network show's host have reached out to the guild and they are talking, a source close to the situation told TheWrap. The substance of the discussions isn't clear – it could simply be working out the logistical nuts-and-bolts of the hearing, and Rivers' camp wasn't talking — but it's possible an agreement could be reached to stave off the WGA East proceeding.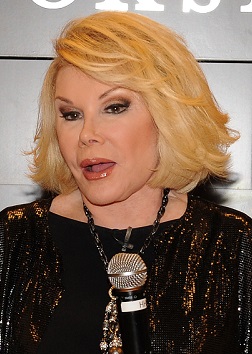 It's the first indication that Rivers could be trying to avert the showdown. She had stayed silent on the matter until Friday, when the famously acerbic comedienne said "This is such a bunch of bulls-t. E! should hire Anthony Weiner to work with these people. He'd fit right in."
Also read: Striking 'Fashion Police' Writers Bash Joan Rivers in Video (Updated)
The union last week convened a three-person panel to review whether Rivers functioned as a writer at the same time that her writing staff – which is trying to force the E! Entertainment show to recognize them as WGA employees – is on strike.
No date has been set for the hearing, at which Rivers would have the opportunity to present her case directly to the trial board, which will also hear evidence — including testimony from the striking writers.
Also read: Will Joan Rivers' 'Bulls–t' Comment on WGA 'Fashion Police' Hearing Backfire?
It's not a given that Rivers will participate in the hearing. And not being present for what could turn into a media circus could be the wisest strategy, according to Howard Bragman, vice-chairman of Reputation.com and a specialist in celebrity crisis management.
"I don't think she'd have much to gain," he said. "This is a very inside-baseball battle. Hollywood gets it, the industry gets it, but the general public doesn't."
Even if she's sanctioned, Rivers won't be hurt that seriously, Bragman said.
"In theory, her reputation could be hurt some, but Joan is very well-regarded in the industry, has enough money for her grandkids' grandkids, and the fact is, controversy has always been a big part of her career and she thrives on it," Bragman said.
Also read: 'Fashion Police' Strike: E! President Defends Joan Rivers, Demands WGA Election
Beyond PR ramifications, it's unclear how whatever happens with Rivers will affect the situation with the nine "Fashion Police" writers. They've been on strike since April 17 after expressing a desire to organize and join the WGA West.
The writers want the network to recognize the WGA as their bargaining representative, while the Comcast-owned E! Network is insisting that a National Labor Relations Board election be held first.
Weeks before going on strike, the writers filed $1.5 million in wage and hour claims with the California Division of Labor Standard Enforcement against the network and Rivers' production company, Rugby Productions. They are seeking payment for regular and overtime hours that they say they worked but were not paid for.