Four months into 2011, the movie business finally has the year's first huge global hit.
Universal's "Fast Five" debuted to an estimated $83.6 million domestically this weekend, more than doubling up on the year's previous best start ($39.2 million for Fox's "Rio") and shattering Universal's previous best opening ($72.1 million for "The Lost World: Jurasic Park").
The movie overperformed pre-release estimates in the $60 million – $70 million range, while leading the previously ice-cold domestic box office to a 54 percent uptick over the same weekend last year.
With $45.3 million playing at 3,211 international playdates this weekend, "Fast Five" now has a cumulative worldwide total of $165 million. The film was shot for $125 million after tax breaks.
The success of "Fast Five" overshadowed two other disappointing debuts from smaller films: Disney's "Prom" opened to only $5 million, widely missing projections closer to $10 million; and Weinstein's long-gestating 3D kiddie film "Hoodwinked Too!" endured a similar fate, grossing just $4.1 million.
Here's how the top 10 finished. Full report continues below chart: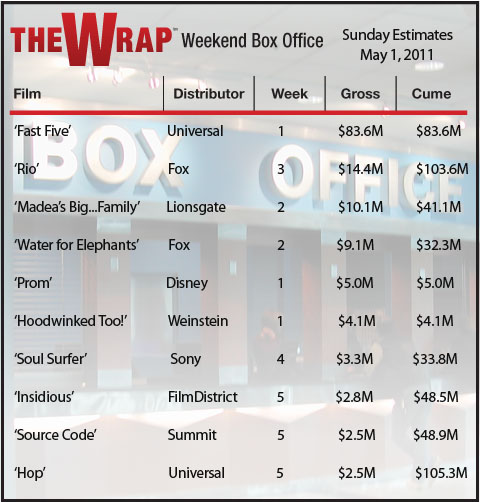 But it was all about "Fast Five" this weekend, which opened up at 3,644 locations — all of them showing the movie in the traditional 2D format — while garnering an A grade from movie-customer satisfaction survey firm Cinemascore.
The diversely cast film scored a diverse audience — 35 percent caucasian, 33 percent Hispanic, 19 percent African-American and 9 percent Asian — and drew an crowd that was 52 percent under the age of 25.
"Fast Five" benefitted greatly from its IMAX distribution, with the big-screen chain providing nine out of the film's top 10 locations. Across 243 IMAX outlets, the movie grossed $8.3 million, averaging $34,000 per screen.
Universal domestic distribution president Nikki Rocco attributed the movie's success to a chain of "brilliant decisions by the studio."
Certainly, casting worked in its favor, with Dwayne "The Rock" Johnson effectively added to a core of returning franchise players that included Vin Diesel and Paul Walker.
Marketing worked well, too: the film was smartly promoted as the caper thriller it is, broadening it from the street-racing themes that spawned the franchise 10 years ago.
Then there was production and distribution, with Universal smartly deciding to push up the film a few months after Paramount slated "Super 8" on June 10.
As for benchmarks, it was the highest opening for the last week in April ever, and it was also producer Neal Moritz's best premiere (exceeding the $77.2 million start of "I Am Legend" in 2007).
While not as conspicuously huge, Fox's CG-animated "Rio" continues to come up big, grossing $14.4 million in its third week of release and passing the century mark with $103.6 million domestically.
As for "Prom," the film represented the first greenlight of the Rich Ross Administration — a group that, notably, spawned the global youth hit "High School Musical" back during Ross' Disney Channel stay.
Budgeted at less than $10 million, "Prom" won't deliver any blows to Disney's balance sheet. However, the film failed to deliver the proof-of-concept Disney executives seemed to be looking for — the idea that inexpensive, youth-targeted no-name-cast vehicles can be regularly spawned into highly profitable franchises.
Then again, just because the first try didn't work spectacularly doesn't mean the Mouse won't try again.
"These are the kinds of very low-risk opportunities that you want to take part in," said Disney global theatrical president Chuck Viane. "There's a huge upside in that, if it connects, there's an opportunity for a sequel or two."
For its part, Weinstein and computer-animation company Kanbar Entertainment did manage to connect 5 1/2 years ago, when the released the first fairy-tale-spoofing "Hoodwinked" to $110 million globally.
But the pair spent time fighting in court and converting their sequel to 3D. And by the time "Hoodwink Too! Hood vs. Evil" arrived in 2,505 locations this weekend, its core kiddie audience — the one that remembered seeing the original — was prepping for proms and college finals.
The film has a modest negative nut of only around $18 million, according to an individual with knowledge of its finances, and Weinstein is distributing it under service deal.
One other film opened wide this weekend, with Freestyle Releasing putting out the Brandon Routh indie horror/comedy "Dylan Dog: Dead of Night" into 862 theaters and coming up with a very disappointing $741,000 for its trouble.
Meanwhile, Werner Herzog's documentary journey into Southern France's Chauvet caves, "Cave of Forgotten Dreams," generated $127,500 at five L.A. and NYC locations for a strong $25,500-per-screen average.