Hollywood has had a fitful, often antagonistic relationship with new media.
But far from the Hollywood Hills, at several prominent film festivals, it's a different story entirely.
Sundance, Tribeca and a number of regional festivals are taking to YouTube, social media sites and video-on-demand with enthusiasm. They believe these platforms are an efficient way of helping low-budget filmmakers at their competitions find distribution.
And this becomes even more true as studios increasingly engage in ruthless belt-tightening — severely constricting the kind of challenging artistic fare that once characterized the independent film business.
By serving as lab rats for new distribution models, festivals hope to discover fresh revenue streams and opportunities to highlight the films in their competition.
Among the new media attempts cropping up across the festival scene:
— Tribeca will launch a $45 virtual package of 25 feature and short films that will air on the internet starting Friday as part of its Virtual Tribeca program. The festival itself began Wednesday.
— The Boston Film Festival accepted an iPhone application — an interactive murder mystery entitled "Walking Cinema: Murder on Beacon Hill" — into its competition this month.
— Online film distributor SnagFilms partnered with film festivals such as Outfest and Hot Docs last summer to make nonfiction films available digitally.
— Sundance, Tribeca and South by Southwest all have begun offering movies from their festivals via video-on-demand.
The intent of all these film festivals is to broaden their reach. And in the case of Virtual Tribeca, subscribers will get more than just access to films — they'll get a sense of what it would be likely to actually attend the events by being able to watch streaming video of panel discussions, Q&As with writers and directors and red-carpet events.
"We're trying to keep pushing the boundaries," Geoff Gilmore, chief creative officer at Tribeca Enterprises, told TheWrap. "The old days are over — you can no longer just build it and hope that they will come."
And Gilmore insists it will be profitable. He says the group is making a big advertising splash to promote the offering — helped in part by its relationship with corporate sponsor American Express.
However, the virtual media pass is only good for a week, which may limit the number of people who are willing to pay such a high price for limited access to content, says Amy Greenlaw, whose company Film Pop! specializes in digital film promotion.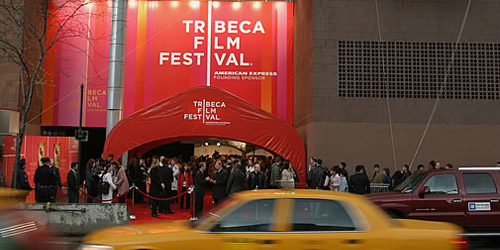 Tribeca says that's not a valid criticism.
"Eight days seems robust — plus, the pass is cheap when you realize you get all these films that you can watch as many times as you want," Nancy Schafer, executive director of the Tribeca Film Festival, told TheWrap.
Of course, even new-media boosters at the various film festivals admit that it's early yet, and the full potential of these new attempts has yet to be realized, regardless of whether the Tribeca program soars or bellyflops.
To be sure, there have been some missteps.
A partnership between Sundance and YouTube to make five films — "The Cove," "Bass Ackwards," "One Too Many Mornings," "Homewrecker" and "Children of Invention" — available for rental during the festival failed to live up to its hype.
The movies attracted 2,684 views and brought in $10,709.
"It's growing pains," John Cooper, Sundance's director, told TheWrap. "I'm still glad we tried it, though."
Part of the issue was that technical problems meant that the initiative couldn't be announced until the festival's opening day — limiting the amount of advance promotion, Cooper said.
Video-on-demand has proven to be more successful, however, most notably IFC's associations with Sundance and South by Southwest.
The program started two years ago with a concurrent VOD premiere of the South by Southwest feature "Alexander the Last." The showing netted IFC $250,000 in pay-per-view fees.
This year, the channel released three films on VOD concurrently with screenings at Sundance and South by Southwest. And it plans to eventually add regional festivals to the program.
Screened films screened are usually less-than-six-figure affairs, so the chances to make money via VOD are much more realistic than they would be with a theatrical release.
But it's not just about money, they say.
"This is a great way for filmmakers to broaden their audience and connect with more people," Jonathan Sehring, president of IFC Entertainment, told TheWrap. "We've still barely scratched the surface, though. There are still a lot of people who aren't comfortable renting a movie on-demand yet."
"There is no question that a lot more people saw my film than would have otherwise," said Bryan Poyser, whose "Lovers of Hate" screened at South by Southwest and aired on IFC's VOD platform. "I get a preliminary market-by-market breakdown, and my movie — with no stars and a no-name director — did really well in Ohio. That never would have happened."
Of course, not all filmmakers are willing to abandon their hopes of a theatrical release or awards consideration for the security of VOD.
"Many people still want that traditional release," said Sundance's Cooper. "We're trying to get them to realize that if Sony Classics doesn't buy their film, it doesn't mean they don't have other options."
And he's optimistic about the future.
"We will create a model for independent film that is sustainable, and that might come through some of these tools," he told TheWrap. "Cream will rise, and all we need is for the paradigm to shift. Just as 'sex, lies, and videotape' did in the '80s, something will come out on one of these formats and make a lot of money, and everything will change."