Last Updated: Friday, January 24, 2014.
Everyone's a rookie.
No matter how many years big brands have thrown mega bashes at the Super Bowl, nobody's ever done it in New York. Everything is more expensive, more crowded, and takes more planning. Also, it snows.
The NFL has weather contingency plans that could turn the game in to Superbowl Saturday (a day earlier) or Superbowl Monday, which would spike the plans and dollars invested in the below activations.
READ ALSO: Fox's Super Bowl Backup Plan: Super Bowl Monday
Here's the first guide to the celebrity and industry social scene and the big spends driving entertainment marketing from January 30 through (planned) game day, Sunday, February 2.
At the top, a quick synopsis of the big guns that are greenlit. A wade through the guts and behind-the-scenes posturing on the big bashes follows below.
All of these are private and by invitation only, except where noted that tickets are for sale. It will be freezing if you're stuck out on the sidewalk.
New Events and One-Off's for NYC 2014:
The 50 Yard Lounge and Jets House
Wednesday, January 29 – Sunday, February 2, at 1 Penn Plaza (tickets for sale, see below).
Shape and Men's Fitness
Friday, January 31 at Cipriani's 42nd Street.
Mary J. Blige, John Legend, and  Marc Anthony will perform. Jeff Ross emcees. Tickets are for sale.
*Updated* Casa de Don Julio
Friday, January 31, Liquid Cellar on W. 27th St., 11:42 p.m.-3 a.m. 
Frequent entertainer "Casa de Don Julio" tries out some new digs with a black tie soiree (dress code: "black tie your way") in a pop up nightclub in celebration of Don Julio 1942.
DJ Ruckus, who played the openings of Hakkasan in Las Vegas and 1Oak in LA just this week, spins with DJ Politik, who manned the final night at TAO at Sundance. They also promise "a special guest". Above, Jeremy Piven and Michael Strahan at last year's Don Julio event.
*Hot Ticket* Howard Stern's 60th Birthday Bash
Friday, January 31 from 5 p.m. at the Hammerstein Ballroom
Jimmy Kimmel hosts the carnival that kicks off during happy hour.
Stern has been leaking tickets for weeks via on-air contests and fundraisers, extending the promotion and revealing the demand from diehards.
*Newly Added* Hank Baskett's Celebrity Gaems (sic) Pro XP
Saturday, February 1 at the Crowne Plaza, Times Square
The NFL alum and reality fixture mixes video gaming with fundraising on Saturday morning.
*Newly Added* Leigh Steinberg's Super Bowl Party
Saturday, February 1, 1 – 5 p.m., in a 5th Avenue Penthouse
The original super-agent behind "Jerry Maguire" brings his sports industry must-be-seen party back after a hiatus. (see below)
The NBA's Glamour Team: Heat vs. Knicks in Primetime
Saturday, February 1, 8:30 p.m.
The rare national TV Saturday night NBA game: the Miami Heat play the Knicks at Madison Square Garden. Who will get the courtside seats?
Diddy's Revolt TV Concert: Drake
Saturday, February 1 at Time Warner Cable Studios
Now that everyone knows his Ciroc vodka, his next move is to make everyone know his music channel. I've watched some and it reminds me of vintage MTV – that's good. One of their on-air promos even mocks "Teen Mom".
Diddy and his music channel Revolt throw a party and concert in a pop-up space run by Time Warner Cable Studios in the meat packing district. Consumers had a chance to win entry to Aubrey Graham's concert in a twitter contest.
Returning Hosts and Parties:
*Big Bash Alert* — Bud Light Hotel
Thursday, January 30 – Sunday, February 2
The Bud Light hotel is a cruise ship, with a pop-up amphitheater and 300,000 square foot event space takes over the Intrepid complex with nightly concerts and parties on the retired aircraft carrier and surrounding pier. The Foo Fighters, The Roots, and Imagine Dragons are amongst the bands headlining, with a tailgate party on Sunday (see details below).
*Hot Ticket* — Playboy Party in the Bud Light Lounge.
Friday, January 31, Midnight – 4 a.m. 
Nelly, who played wide receiver in high school and also engaged with the recent college bowl season, will perform late night.
Maxim "Big Game Weekend"
Friday, January 31 and Saturday, February 1, 10 p.m. – 4 a.m., at ESPACE, 635 W. 42nd Street. 
Sebastian Ingrosso on Friday, Kendrick Lamar on Saturday, and some smart planning and partners for this veteran. (See details below.)
ESPN
Friday, January 31, Basketball City at Pier 36
ESPN's 10th Super Bowl party chooses a sports themed complex – Pier 36. Robin Thicke and Kendrick Lamar headline. Jermaine Dupri will DJ in the 125,000 ft2 Basketball City space on the east river. "Your move," ESPN taunted to other party hosts in their announcement.
*Newly Added* Leather & Laces Parties
Friday, January 31 and Saturday, Feb 1, at the Liberty Theater
In what feels like a magic trick, except that they pull it off every year, this group books huge female names to host a two night party series with the provocative title that evokes lingerie as much as a football.  Brooklyn Decker and Bar Rafaeli host Friday night, and Adriana Lima and Alessandra Ambrosio host night two on Saturday.
GQ
Friday, January 31, Boom Boom Room
It's GQ's late-night at the Boom Boom Room in the Standard Hotel. GQ editors, athletes, and celebs mix with the design crowd.
*Newly Added* Alec Baldwin Hosts "Big Game Big Give"
Friday, January 31, 7 p.m. – 10 p.m. at Tribeca Rooftop 
Always in a "The Bachelor"-fantasy-wedding-venue location, $1000 tickets (tax-deductible) are available to toast with Jack Donaghy 12 stories above lower Manhattan. Last year in New Orleans, Jordin Sparks turned up to sing at the annual fundraiser.
DirecTV
Saturday, February 1
DirecTV's Celebrity Beach Bowl (afternoon) and multi-thousand guest Jay-Z concert and party (Saturday night), at Pier 40 (see extensive details below).
Cold Realities
No matter how cool Brooklyn is or that the game is actually being played in New Jersey, all of the "scene" is going to be in Manhattan.
On the aversion to events across the river,  "That's no man's land with the exception of the game," says Jon Gieselman, DirecTV's senior vice president of marketing.
I agree.
There will be one meaningful red carpet in New Jersey: at the Super Bowl itself. Michael Strahan and Charissa Thompson will pull "Giuliana Rancic and Ryan Seacrest" duty on the rare Sunday without an awards show.
Seacrest did host the red carpet for a Fox Super Bowl years ago. However, that was before he got booed on live TV on NBC's opening night of the NFL season this year, before he became a media mogul, and before Strahan blossomed in to America's sweetheart.
Other truths that have emerged include the announcement that you can't take a private car or limo to the game (or, gasp, walk).
How will the VIPs, CEO's, celebrities, and their exasperated handlers who get them to the game deal with the "no private car dropoff" policy? I wouldn't expect to see Alex Rodriguez follow in Charles Barkley's footsteps and ride the train.
While that remains an open question, most of the previously open questions are now closed:
Question: What will the hotspot nightclubs do – sell out for a private party or sell out with regular nights at New Year's Eve level pricing? Update: They're staying open for their regular clientele.
Question: How  many coattail bookings will halftime performer Bruno Mars' sisters, the Lylas, get surrounding the weekend? The fledgling pop group has a reality show on WE, and could ride the Solange Knowles halo, where Beyonce's sister briefly spiked in bookings on the event circuit last February. Update: None.
The Scene Behind the Scenes
The Bud Light Hotel
Thursday- Sunday at The Intrepid
The Bud Light hotel will float in Hells Kitchen
From Thursday night through Sunday afternoon, the second most frequent thing you see on TV during an NFL game (besides the game itself) will dock a brand new Norwegian Cruise ship next to the Intrepid for a weekend of parties on the pier, a pop-up amphitheater, and two story nightlife event space surrounding the retired aircraft carrier.
In the past, 50 Cent, Flo Rida, The Roots, and the beer's spokes-singer Pitbull have played the massive space.
The Roots return this year to start things on Thursday night for EA's "Madden Bowl" party with a history of hip-hop concert, bringing along Run-DMC and Busta Rhymes.
Last year in New Orleans, the Friday night VIP balcony won the weekend, with  an eclectic mix from Paul McCartney and Marc Cuban to Sofia Vergara, Jeremy Renner, and Olivia Munn buddying up to enjoying the scene as fans (below).
It's a sign of the state of the music industry that Rolling Stone is out as host of one of the nights and Pandora is in with Imagine Dragons headlining on Friday night. Playboy's party will dovetail with this as a more, eh intimate, after-party with Nelly performing.
On Saturday night, Foo Fighters and Zac Brown Band perform, sharing Grohl who produced Zac Brown's new record. On Sunday before the game, Fall Out Boy and Jake Owen play a Pepsi-branded tailgate party on-site.
They're putting up 4,000 guests (some contest winners, some brand partners) in1,900 guest rooms on the ship and taking up a 300,000 square feet of real estate surrounding the Intrepid.
Bud Light looked at traditional hotels in Manhattan, but couldn't find the right fit. According to sources close to the production, it's ten times bigger than anything they've done before.
As far as credits on the production, Anheuser Busch has their own entertainment marketing department that booked the concert lineup.
Octagon is handling celebrity wrangling.
Shape and Men's Fitness
Friday night, January 31, at Cipriani's 42nd Street
A look inside Cirpriani's 42nd Street in a file photo from an event last month, where John Legend and more will perform for the fit crowd.
Shape and Men's Fitness are pairing up for an 800 person sit-down dinner/concert at Cirpriani midtown on Friday night, January 31.
There will be linens, not gym towels.  This is upscale.
It's a first outing for the women's fitness magazine and also the first time they've teamed up with their corporate sibling Men's Fitness for any type of event.
"This is our hometown, Shape editor-in-chief Tara Kraft tells TheWRAP . "Even if our hometown teams don't make it, we want to be part of this,"
It's four courses of show: Mary J. Blige opens, John Legend performs during dinner, Petra Nemcova is doing a fashion show, and Marc Anthony will close, all between the hours of 7:30 and 11:30 or so, leaving a window for people to head out to other parties if they're not stuffed.
"We did a lot of research," Kraft says. "More women watched the Super Bowl than tuned in to the Oscars. I know that my readers are not just watching football games throughout the season, they are tuning in to the Super Bowl."
Of all the major events, these guys were out of the gate earliest.
"If I apply the same concept to booking my cover celebrities, I've got to book my cover models early,"Kraft says. "When we learned the Super Bowl was in New York and 2014 was coming, we got on this early in 2013."
At that time, the Shape team were still Hurricane Sandy refugees. While they were locking in folks like Mary J. and John Legend, they did so from satellite offices after the storm displaced them from their downtown offices for four months.
"When we got back to our offices were like 'woo hoo New York'," Kraft says. "This is our hometown. Even if our hometown teams don't make it, we want to be part of this."
The one soft spot? Host Jeff Ross, who is unlikely to be on any Men's Fitness covers ever. "It's not like I had to find a comedian who was ripped," Kraft says.
Others who won't be on the cover of a Shape or Men's Fitness are in luck if they have cash: $2,500 tickets are available to the general public.
Ordinary people, those not shelling out $5,000 for a pair, might catch Legend's "Ordinary People" just by looking up: Shape will be livecasting the show, projecting it on buildings around the city.
Maxim's "Big Game Weekend"
Friday, January 31 and Saturday, February 1, 10 p.m. – 4 a.m., at ESPACE, 635 W. 42nd Street. 
Maxim expands from one night to two, with EDM big timer Sebastian Ingrosso on Friday, and Kendrick Lamar headlining Saturday's party. Give Kendrick's booking agent the MVP for the weekend, scoring this and Friday night's ESPN gig back to back.
The other interesting wrinkle in the men's magazine's plans: This puts them an easy four-block walk from the Bud Light complex, making it an obvious after-party go-to. Smart strategy.
They're expecting 2,500 guests and have had sponsors on board for some time, like long time partner Patron, Aquahydrate water and Heavenly Resorts.
Fancy bonus wrinkle: Philippe by Philippe Chow is catering. (Above, the newish Beverly Hills outpost of the New York restaurant that's bringing the yum.)
The 50 Yard Lounge and Jets House
Wednesday, January 29 – Sunday, February 2 at One Penn Plaza
Part food festival, part wine festival, and part arena skybox, the 50 Yard Lounge is a collection of restaurants and TV chefs posting up for a hospitality suite across three restaurants at 1 Penn Plaza (33rd to 34th street at 9th Avenue) for five days, from Wednesday-Sunday.
It's a ticketed event open the general public at $400 a day.
It should appeal to the corporate crowd looking to touch the Super Bowl madness, but in a way analogous to an airport first class lounge:  unlimited ins and outs, hostesses, wine tasting, and mixology as opposed to a margarita yard. It could be a homebase for those who don't want to fight lists while freezing on the wrong side of velvet ropes.
"It's not celebrity driven," producer Lonny Sweet tells TheWRAP, and that he's not paying any celebrities to attend. "It's all NYC music, all NYC chefs. It's the event that I would want to go to," says Sweet, an NYC local.
Full disclosure: I was bunkmates at Camp Naticook with Lonny Sweet decades ago, but have never worked with him nor attended his events. I can vouch for his skateboarding – it's stellar.
In his best move, Sweet got the Jets to be his partner. He's building out the 50 Yard Lounge as the Jets' corporate hospitality destination in the city, giving Jets  players, season ticket holders, clients, and brand partners a platform and home as even a wide swath of the hometown teams' constituencies will be shut out of the game itself.
"Iron Chefs" Alex Guarnaschelli and Marc Forgione are amongst the names signed on. From the football world, Doug Flutie, Cris Carter, and Joe Theismann are amongst early confirmations to attend.
*Updated* DirecTV's "Celebrity Beach Bowl" and Super Saturday Night Concert with Jay-Z
Co-Hosted by Mark Cuban's AXS TV and Eli Manning
Saturday, February 1 at Pier 40
They're taking over 14 acres on the water adjacent to Greenwich Village.
Before…
By day, they'll bring in over a million pounds of sand for a celebrity "beach bowl", where past lineups have run the pop culture spectrum from "The Hunger Games'" Josh Hutcherson to olympian Lolo Jones to Snoop Dogg to someone who can actually throw a tight spiral – Joe Montana.
Update: Montana is back. Early celebrity confirmations to play include Tracy Morgan, Guy Fieri, Chrissy Teigen, Shay Mitchell, and two guys who get the "good looking high school football QB" role in teen flicks: Chace Crawford and Ian Somerhalder.
Will Jay Z try to sign any of these celebs for athlete representation? More on this below.
At night they have a massive concert and party.  The last three headliners for their 6,000 person galas: Justin Timberlake, Katy Perry, and Usher. This year, it's the king of NYC, and everything else, Jay Z.
With the NY Post reporting that Tiesto will open for Jay Z as a surprise on Saturday night – Tiesto probably hasn't opened for anyone since "Pump Up the Jam" was the top EDM song – this will be Saturday night's hottest ticket.
…after.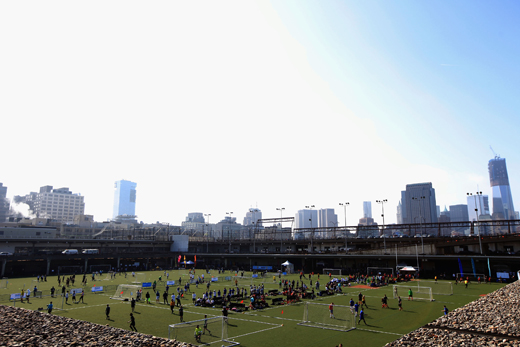 The Fields at Pier 40 won't look like this on February 1.
They should have had one of the hardest times finding a space for their airplane hangar tent that houses both events, travels with them from city to city, and takes a month of load-in to construct.
I speculated that they would have to go in to Madison Square Garden to fit. I was wrong.
After looking at Central Park, Randall's Island (where the ill fated EDM "Electric Zoo" festival was cut short this Labor Day) and a few other places that didn't match due to noise restrictions, they fell in love with Pier 40. It's downtown on the west side where Houston meets the West Side Highway  .
"The first time I saw Pier 40 as an option, that was instantly and always has been the number one choice for this venue," DirecTV's Gieselman tells TheWRAP.
They're making the same deal that Olympics host committees often make locally. They are investing seven figures in Pier 40's infrastructure and leaving a Super Bowl weekend inheritance behind.
"We've made an ongoing commitment to Pier 40 in to 2014 to help with some other structural improvements that they need to make as a result of (Hurricane Sandy) storm damage," Gieselman says.
After the flag football game, which is ticketed but open to families and the public, a crew transforms the space in to a 6,000 person ballroom for a prime time concert and party a few hours later.
What seemed like a rare one-off a year ago, Timberlake's first performance in six years, proved to be just a headlight on a freight train of a year. His Grammy awards performance a week later was a total rerun for those who had seen the DirecTV show, he went on to drop two albums, suck up huge airtime at both the VMA's and AMA's, star in a movie with Ben Affleck, and co-headline a summer stadium tour with Jay Z. Now we've seen the entire iceberg, not just the tip. This Saturday night stage is a platform.
The secret origin story is that before last year's show, DirecTV gave Timberlake rehearsal space for a month to get his legs back under him. It was his spring training for the long year ahead.
In hindsight, Jay-Z's "drop in" with Timberlake on this stage last February was entirely strategic and directly foreshadowed things to come.  DirecTV has been working on this year's Super Bowl activation since 2012.
Last year, Jay Z's presence  was lost on everyone who was hung up on Timberlake's stage banter –  interpreted as a swipe at Britney Spears – with many nostalgically beating that dead horse out of instinct.
For 2014, the media and pr rumor mill was swirling with many predicting that Jay Z would be on stage, and they were right. However, with Beyonce's surprise album and European tour kicking off in February, she could be a contender to turn up as well.
Either way, with Jay Z (and possibly Tiesto, who was just announced to be performing later on Saturday night at nearby NYC nightclub Marquee) it is poised to top last year's event, one of DirecTV's stated goals.
They're making it clear that there are no tickets for sale to the party, it's strictly by invitation only, and that any third party tickets are fake.
As one of the NFL's biggest partners, DirecTV will be taking about 250 people with them to the game itself, both in stands and a handful of suites.
*Newly Added* Leigh Steinberg's Super Bowl Party
Saturday, February 1, 1 – 5 p.m., in a 5th Avenue Penthouse
It's the 26th edition of sports agent Steinberg's party, but the first after a hiatus since 2011.
I've never been to one of these, but I suspect the billing is accurate: heavy on owners, players, executives, and other NFL boldfacers. The man perceived to be the real "Jerry Maguire" has negotiated more than $2 billion in player contracts and represented the #1 pick in the NFL draft eight times.
There will be a live satellite link to troops in Afghanistan, part of the event's partnership with the Lone Survivor Fund on behalf of Peter Berg's "Lone Survivor" feature.
This is the Century City-at-lunchtime analog for Super Bowl weekend: suits and reps.
Maxim "Big Game Weekend"
Friday, January 31 and Saturday, February 1, 10 p.m. – 4 a.m., at ESPACE, 635 W. 42nd Street. 
I didn't see this one coming.
Maxim expands from one night to two, with a yet-to-be-announced EDM DJ on Friday, and Kendrick Lamar headlining Saturday's party. Give Kendrick's booking agent the MVP for the weekend, scoring this and Friday night's ESPN gig back to back (see above).
The other interesting wrinkle in the men's magazine's plans: This puts them an easy four-block walk from the Bud Light complex, making it an obvious after-party go-to. Smart strategy.
They're expecting 2,500 guests and have had sponsors on board for some time, locking in Tabasco back in December, joining long time partner Patron, Aquahydrate water and Heavenly Resorts.
On the Sidelines: 
In a surprise, Audi is out.
Traditionally, Audi has always gone their own way, creating a "forum" away from the noise, but it will be all quiet on the ground from the regular in-game advertiser. Last year, mega-producer Diplo had a tightly guarded museum in New Orleans rocking until hours before kickoff. They hold on to a spot in the game.
There was a time when Sports Illustrated and Playboy were the "party-parties" on Super Bowl weekend. Playboy is coming back. Lately, S.I. hasn't even been, ahem, a face in the crowd.
In late fall, they were rumored to be getting back in the game, but as of this most recent update (January 24, one week before the big weekend), they have not stepped forward.
They have only hosted an event once in the last six Super Bowls, a now-dated Black Eyed Peas event in snowy Dallas in 2011.
Lil Wayne led GQ's party in the backyard of a historic mansion in his hometown  last year.
This party preview will be continually updated on a rolling basis, with coverage from the events to follow on TheWRAP and in real time on @CelebSightings. Send invitations, bookings, and tips to
Mikey@thechimp.net
Photos by Getty Images.