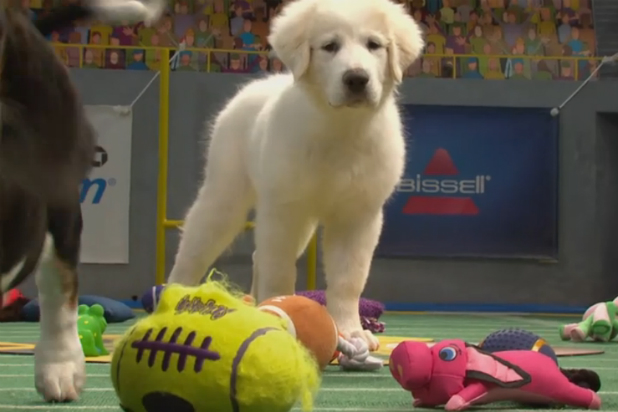 First Lady Michelle Obama — and First Pups Bo and Sunny — hosted a team of elementary school students and shelter puppies at the White House for a rough-and-tumble training camp ahead of Animal Planet's "Puppy Bowl X" on Sunday.
The "Puppy Bowl" starting lineup joined Obama and a group of 12 students from Washington, D.C.'s Harriet Tubman Elementary School for a day of running and romping before the network's annual competition taped. The First Lady's appearance was a part of her "Let's Move!" youth fitness initiative.
See photos: 25 of the Most Adorable Critters From Animal Planet's 'Puppy Bowl X' 
"It was so much fun to see the 'Puppy Bowl X' Team work out at the White House!" Obama said in a statement.
"This year's pups showed us that getting active and lapping up plenty of water are important ways to keep our bodies healthy and energized. And as our family has seen with Bo and Sunny, going outside to walk and play with your pet is a perfect way to get moving and have some fun every day."
See video: Michelle Obama to Guest on Debut Week of 'Tonight Show Starring Jimmy Fallon' 
An exceedingly cute video segment of the kids and puppies playing at the White House will air during Animal Planet's 10th anniversary edition of the "Puppy Bowl," which airs at 3 p.m. ET on Super Bowl Sunday and repeats throughout the day.