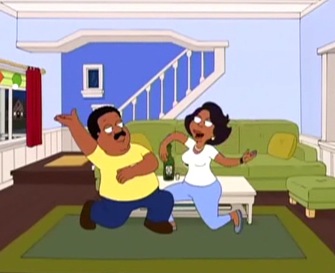 Fox picked up its animated comedy hit "The Cleveland Show" for a third season, even before it begins its second season, following a pattern it established last year.
The show, which average a 3.1 18-49 rating and 6.3 million viewers per night in its first season, was renewed for a second second in May 2009, before its first season had aired.
The show, produced by 20th Century Fox Television, is co-created by Seth McFarlane, Rich Appel and Mike Henry, who also co-produce.
Henry does the voices of Cleveland Brown and Rallo Tubbs on the show, and having a little fun in making the announcement Fox issued to following statement from Tubbs: "Looks like somebody's gettin' some new rims for his Big Wheel! Many thanks to the handsome decision makers at Fox."
The second season, which will air this fall, will welcome as guest voices Justin Timberlake, Kanye West, Snoop Dogg, Tony Hawk, will.i.am, T-Pain and Carl Reiner, along with cast members from the Fox hit musical/comedy, "Glee."