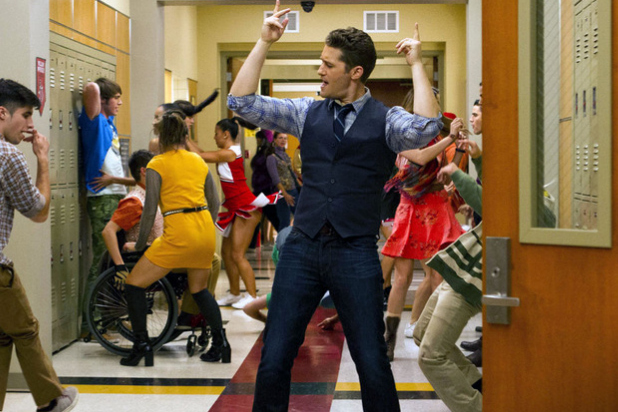 "Dads" is being shelved early, "Glee" is returning to Tuesdays and "The Following" is being handed the coveted post-NFC Championship Game spot as part of the midseason changes for Fox, which the network announced Thursday.
"Dads," which has not really found ratings success in its first season, is being put away after Feb. 11 — shy of its full-season order. The network has yet to decide whether or not the show will return later.
"The Following" will return for its 14-week second season on Sunday Jan. 19, kicking off after what will likely be a highly-rated game. The spot was originally promised to new legal drama "Rake" starring Greg Kinnear.
Also read: CBS Announces Midseason Schedule, Previews for 'Golden Boy'
The next evening, the two-night "Following" premiere will continue in its regular time period, following the season finale of "Sleepy Hollow" in a special slot. "Rake" will instead debut on Thursday, Jan. 23, after a new "American Idol."
Changes to the Tuesday night slate begin after "The Mindy Project" airs its winter finale on Jan. 28. The next week, Feb. 4, "Brooklyn Nine-Nine" moves to its new time period at 9:30 p.m., following "New Girl" at 9.
"Glee" will make its return to Tuesday nights on Feb. 25 at 8 p.m. with "New Girl" at 9 p.m. and "Brooklyn Nine-Nine" following at 9:30 p.m.
"The Mindy Project" will return after its hiatus on April 1 (at 9), with a special one-hour event featuring new back-to-back episodes. The series returns to its regular time period (9:30) the following week.
Als0 read: ABC Midseason: 'Mixology' Gets 'Post-Modern Family' Spot, 'Revenge' Pushed to 10 p.m.
See the full midseason calendar from Fox below:
FOX WINTER PREMIERE AND REVISED TUESDAY INFORMATION
(Times for All-New Episodes are ET/PT Except as Noted)
SUNDAY
Sundays, beginning Jan. 5:
8:00-8:30 PM THE SIMPSONS
8:30-9:00 PM BOB'S BURGERS
9:00-9:30 PM FAMILY GUY
9:30-10:00 PM AMERICAN DAD
Sunday, Jan. 19:
6:00-10:00 PM ET NFC CHAMPIONSHIP GAME (Live)
10:00-11:00 PM ET/ THE FOLLOWING (Season Premiere, Night One)
7:00-8:00 PM PT
Sunday, Jan. 26:
8:00-8:30 PM THE SIMPSONS
8:30-9:00 PM BOB'S BURGERS
9:00-9:30 PM FAMILY GUY
9:30-10:00 PM AMERICAN DAD
Sunday, Feb. 2:
6:00-10:30 PM SUPER BOWL XLVIII (Live)
10:30-11:00 PM ET/ NEW GIRL
7:30-8:00 PM PT
11:00-11:30 PM ET/ BROOKLYN NINE-NINE
8:00-8:30 PM ET
Sundays, beginning Feb. 9:
8:00-8:30 PM THE SIMPSONS
8:30-9:00 PM BOB'S BURGERS
9:00-9:30 PM FAMILY GUY
9:30-10:00 PM AMERICAN DAD
***************************
MONDAY
Mondays, beginning Jan. 6:
8:00-9:00 PM ALMOST HUMAN
9:00-10:00 PM SLEEPY HOLLOW
Monday, Jan. 20:
8:00-9:00 PM SLEEPY HOLLOW (Season Finale; Special Time)
9:00-10:00 PM THE FOLLOWING (Season Premiere, Night Two)
Mondays, beginning Jan. 27:
8:00-9:00 PM ALMOST HUMAN
9:00-10:00 PM THE FOLLOWING
***************************
TUESDAY
Tuesdays, beginning Jan. 7:
8:00-8:30 PM DADS
8:30-9:00 PM BROOKLYN NINE-NINE
9:00-9:30 PM NEW GIRL
9:30-10:00 PM THE MINDY PROJECT
Tuesday, Jan. 28:
8:00-8:30 PM DADS
8:30-9:00 PM BROOKLYN NINE-NINE
9:00-9:30 PM NEW GIRL
9:30-10:00 PM THE MINDY PROJECT (Winter Finale)
Tuesday, Feb. 4:
8:00-8:30 PM DADS
8:30-9:00 PM BROOKLYN NINE-NINE (Encore)
9:00-9:30 PM NEW GIRL
9:30-10:00 PM BROOKLYN NINE-NINE (Time Period Premiere)
Tuesday, Feb. 11:
8:00-8:30 PM DADS
8:30-9:00 PM DADS
9:00-9:30 PM NEW GIRL
9:30-10:00 PM BROOKLYN NINE-NINE
Tuesday, Feb. 18:
8:00-10:00 PM AMERICAN IDOL (Special Night)
Tuesdays, beginning Feb. 25:
8:00-9:00 PM GLEE (Spring Premiere)
9:00-9:30 PM NEW GIRL
9:30-10:00 PM BROOKLYN NINE-NINE
Tuesday, March 25:
8:00-9:00 PM GLEE
9:00-9:30 PM NEW GIRL
9:30-10:00 PM BROOKLYN NINE-NINE (Season Finale)
Tuesday, April 1:
8:00-9:00 PM GLEE
9:00-9:30 PM THE MINDY PROJECT (Spring Premiere, Part One)
9:30-10:00 PM THE MINDY PROJECT (Spring Premiere, Part Two)
Tuesdays, beginning April 8:
8:00-9:00 PM GLEE
9:00-9:30 PM NEW GIRL
9:30-10:00 PM THE MINDY PROJECT (Time Period Premiere)
***************************
WEDNESDAY
Wednesdays, beginning Jan. 15:
8:00-10:00 PM AMERICAN IDOL (Season Premiere, Part One)
***************************
THURSDAY
Thursday, Jan. 16:
8:00-10:00 PM AMERICAN IDOL (Season Premiere, Part Two)
Thursdays, beginning Jan. 23:
8:00-9:00 PM AMERICAN IDOL (Time Period Premiere)
9:00-10:00 PM RAKE (Series Premiere)
***************************
FRIDAY
Fridays, beginning Jan. 10:
8:00-9:00 PM BONES
9:00-9:30 PM RAISING HOPE
9:30-10:00 PM ENLISTED (Series Premiere)
***************************
SATURDAY
Saturdays, beginning Jan. 11:
11:00 PM-Midnight ANIMATION DOMINATION HIGH-DEF, featuring
LUCAS BROS. MOVING CO. and GOLAN THE INSATIABLE