Dish sued the big four television networks over its new ad-skipping Auto Hop feature Thursday, even as Fox, NBC and CBS filed their own lawsuits to stop Dish from offering the technology.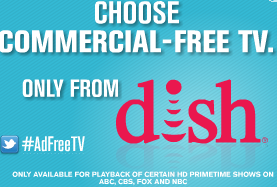 The networks accused Dish of copyright violations. As of late Thursday, ABC had not sued, despite being named in Dish's suit.
Dish, meanwhile, sought a federal court's "declaratory judgment on questions" related to Auto Hop, which allows viewers to skip commercials when they watch previously aired shows.
Also read: Les Moonves on Dish's Auto Hop: 'It's Illegal'
Dish, which appears to have filed first, said it was suing because "the Major Television Networks have threatened it with litigation" intended to stifle Auto Hop, which it debuted May 10.
Fox was the first to make good on that threat Thursday, and NBC and CBS soon followed.
"We were given no choice but to file suit against one of our largest distributors, Dish Network, because of their surprising move to market a product with the clear goal of violating copyrights and destroying the fundamental underpinnings of the broadcast television ecosystem," Fox said in a statement. "Their wrongheaded decision requires us to take swift action in order to aggressively defend the future of free, over-the-air television."
NBC said it was suing "in order to keep over the air broadcast television a strong competitor." Its lawsuit, like Fox and CBS's, said it depended on ad revenue to produce shows.
That echoed a statement by CBS CEO Les Moonves (right), who told TheWrap last week that AutoHop was "illegal" and asked, "How am I going to produce 'CSI' for $4 million without ads? I can't do that. I can't give the audience that kind of quality."
Dish, the nation's third-largest pay-television provider, contends that the Auto Hop technology is like a more advanced form of fast forwarding. With the touch of a button, viewers can decide not to watch the ads on recorded shows that aired the day before. (See ad, above.)
"Consumers should be able to fairly choose for themselves what they do and do not
want to watch," David Shull, Dish senior vice president of programming, said in a statement. "Viewers have been skipping commercials since the advent of the remote control; we are giving them a feature they want and that gives them more control."
But networks made their distate for Auto Hop very clear at last week's upfront presentations to advertisers, when they suggested it was a threat to ad-supported television.
In its lawsuit, Fox said Dish's "PrimeTime Anytime" service — which includes the Auto Hop feature — is a "bootleg broadcast video-on-demand service" that "makes an unauthorized copy of the entire primetime broadcast for all four major networks every night." (It does indeed record all the network shows, though Dish would take issue with the "unauthorized copy" language.)
"To make matters worse," the lawsuit says, Dish allows customers to view the shows commercial free. The service makes the shows available for eight days.
Prior to Thursday's filings, the three networks that have sued — CBS, Fox and NBC­ — rejected ads for the Hopper Whole-Home DVR, the device that features the PrimeTime Anywhwere service and AutoHop function.