Saturday update:
Universal's "Green Zone" became the latest Iraq War-themed movie to fall down the box office rabbit hole, debuting to just $5 million in the U.S. and Canada Friday, according to studio estimates.
With Disney's 3D adaptation of "Alice in Wonderland" still strong in week two — it grossed a box-office-leading $17.4 million, despite a 57 percent week-to-week drop — "Green Zone" could find little traction, getting out to a pace that will give it less than $15 million for its premiere weekend.
That would be even less than the modest pre-release expectations for the $100 million film, which reteams star Matt Damon and director Paul Greengrass, who worked on the Universal's last two "Jason Bourne" franchise installments. The film was put into production during the co-chair term of Marc Shmuger and David Linde.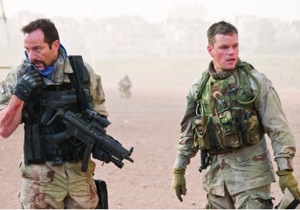 Amid an overall North American box office that was up 56 percent year-to-year on Friday, Summit Entertainment's Robert Pattinson delivery mechanism "Remember Me" scored $3.6 million for its opening, putting the modestly budgeted ($16 million) youth-oriented drama right around pre-release forecasts.
Paramount comedy "She's Out of My League" — which is also after younger moviegoers, despite an R rating — delivered about what was expected too, with $3.3 million on its first day.
Both "Remember Me" and "Out of My League" are pacing for three-day totals just under $10 million.
Meanwhile, a fourth film opening wide this weekend, Fox Searchlight multi-ethnic comedy "Our Family Wedding," got off to a $2.5 million start at 1,605 locations. If the low-budget comedy, which stars Forest Whitaker, America Ferrera and Carlos Mencia, holds to its current pace, it will also end up on the better side of its pre-release forecast with around $8 million.
Among holdovers, Disney's Tim Burton-directed "Alice" is expected to pass the $200 million mark in its second weekend of North American release.
And Fox's "Avatar" continues to stretch an epic 3D run that started all the way back in mid-December, dropping just 15 percent Friday to $1.7 million.
Post-Oscar bumps, meanwhile, produced mixed results: Fox Searchlight's "Crazy Heart," which yielded the actor trophy for Jeff Bridges last weekend, dropped just 7 percent — but declined, nonetheless — to $1.7 million.
Warner's long-legged "The Blind Side" — featuring best actress-winner Sandra Bullock — spiked 39 percent to $465,000 Friday, despite dropping 19 percent of its engagements.
Box office figures for Summit Best Picture winner "The Hurt Locker" will be available later on Saturday.
Here's how the top 10 at the domestic box office looked on Friday:
"Alice in Wonderland" ($17.4m)
"Green Zone" ($5.0m)
"Remember Me" ($3.6m)
"She's Out of My League" ($3.3m)
"Our Family Wedding" ($2.5m)
"Shutter Island" ($2.4m)
"Avatar" ($1.7m)
"Brooklyn's Finest" ($1.4m)
"Cop Out" ($1.3m)
"The Crazies" ($1.2m)
Thursday preview:
Unfortunately for the four films opening wide at the box office this weekend, "Alice" still lives there.
Disney's Tim Burton-directed "Alice in Wonderland" opened to $116.1 million in North America last weekend — a record high for a film bowing in the first three months of the year. A traditional week-to-week decline of 50 percent would still leave the film at nearly $60 million this weekend.
"Tracking has been inconclusive because of the enormity of 'Alice,'" said Universal distribution president Nikki Rocco, whose studio will debut Matt Damon's Iraq War-themed action-thriller "Green Zone" in 3,003 theaters. "It's hard to get accurate polling predictions from moviegoers, because they have 'Alice' on their minds."
Also opening wide and fighting for a limited amount of the market share: Summit Entertainment's Robert Pattinson vehicle "Remember Me"; the DreamWorks-produced, Paramount-distributed youth comedy "She's Out of My League; and Fox Searchlight's multi-ethnic comedy "Our Family Wedding," an ensemble toplined by Forest Whitaker.
For its part, Universal has the most on the line with "Green Zone," a $100 million R-rated film, co-financed with Relativity Media, that reteams Damon with Paul Greengrass, director of the last two "Bourne" installments.
Universal officials are expecting an opening gross in the "upper teens," with older males making up the bulk of the audience. But this might make profitability for the film daunting, despite the fact that the movie has already opened in Australia and several other territories to what studio executives say are good results.
Reviews for "Green Zone" have been tepid, with aggregator Rotten Tomatoes scoring the film at 51 percent "fresh."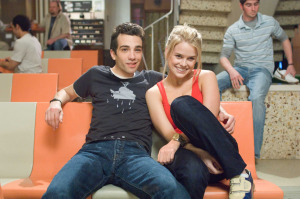 If it's not able to significantly outperform pre-release tracking, "Green Zone" should put the final kibosh on Iraq War-themed cinema, especially given the fact that even a Best Picture winner like "The Hurt Locker" has grossed only $21.4 million in global ticket sales. (With that film out on DVD, Summit was able to secure a post-Oscars re-engagement for the war film in a mere 349 North American theaters this weekend.)
Meanwhile, competing for younger audiences with less on the line are "Remember Me" and "She's Out of My League."
Shot for $16 million and opening in 2,212 theaters, Summit officials are hoping for a domestic debut of somewhere between $8 million and $10 million for the Pattinson film, a PG-13-rated, romance-themed family drama.
Clearly, they hope Pattinson is a draw. "Like 'Twilight,' we're targeting young girls and older females," said Richie Fay, president of domestic theatrical distribution for Summit. "We view this as a date movie. Hopefully, we'll get good word-of-mouth on Friday that will continue to generate buzz through the weekend."
Added one rival-studio distribution official, noting the 80 percent female audience skew of "The Twilight Saga: New Moon": "I don't think you'll get a whiff of a male anywhere near that film."
Competing for that same date-night audience, and written by Sean Anders and John Morris — relative unknowns who also have the whimsical "Hot Tub Time Machine" opening for MGM on March 26 — "She's Out of My League" will start out in 2,956 theaters with an R rating. Pre-release tracking suggests an opening in the $6 million to $8 million range.
Meanwhile, debuting in 1,605 locations, "Our Family Wedding" has been narrowly targeted toward ethnic audiences, with the PG-13-rated ensemble comedy — which also stars America Ferrera, Carlos Mencia and Taye Diggs — focused on the familial ramifications of a Latino/African-American interracial marriage.
Fox Searchlight officials are hoping for an initial start of just under $10 million.