Saturday Update:
Universal's "Robin Hood" shot straight in terms of meeting its pre-release tracking Friday, opening to $13.1 million at the domestic box office and getting off to a pace that will give it about $37 million for its premiere weekend, according to studio estimates.
Universal is also projecting international grosses of around $76 million for "Hood," giving the film — which the studio says was produced for $155 million — what should be a first-weekend global gross of more than $110 million.
Overall, the domestic box office is pacing to be about flat with the same weekend last year, which saw the release of Sony's "Da Vinci Code" follow-up "Angels and Demons."
In its second weekend, Marvel's superhero sequel "Iron Man 2" eked by Russell Crowe and Ridley Scott's "Hood" to take the top spot at the box office on Friday, grossing $14.9 million but dropping a whopping 71 percent week to week.
The sequel is projected to pull in $49.9 million in 4,390 locations. That will put the film over the $200 million mark domestically.
In it's second week of release in 2008, "Iron Man" had only netted $177 million domestically. However, if these number hold, the original "Iron Man will have actually had a stronger follow up weekend than its sequel, grossing $51 million and slipping a mere 48 percent.
Sliding in at number three is Summit's "Letters to Juliet" with $5 million, on pace for $14.5 million for the weekend. The mid-budget Summit romantic drama played in 1,680 locations. Like "Made of Honor" and "What Happens in Vegas," female-centric films that opened in May against blockbusters, "Juliet" successfully positioned itself as an alternative to the big budget tentpoles. The relatively strong opening comes on the heels of Seyfried's similarly themed "Dear John," which took in $80 million this spring.
The weekend's third wide release, Fox Searchlight's Queen Latifah vehicle "Just Wright," grossed $2.8 million at 1,831 theaters, putting it on pace for an $8 million weekend, which will also meet tracking.

Here's your top ten list for Friday:
1.) "Iron Man 2" ($14.9 million)
2.) "Robin Hood" ($13 million)
3.) "Letter's to Juliet" ($5 million)
4.) "Just Wright" ($2.8 million)
5.) "Nightmare on Elm Street" ($1.6 million)
6.) "Date Night" ($1.2 million)
7.)"How to Train Your Dragon" ($1.2 million)
8.)"The Back-Up Plan" ($774,000)
9.)"Furry Vengence" ($526,000)
10.)"Clash of the Titans" ($338,000)
Thursday Preview:
He robs from the rich and gives to the poor.
In other words — so Universal hopes — he takes market share from "Iron Man 2."
The studio will open its PG-13-rated period-adventure "Robin Hood" in 3,503 theaters in the U.S. and Canada Friday – and more than 10,000 locations globally – with studio officials optimistic about a domestic opening in the $35 million-$40 million range.
Indeed, tracking is solid for the Brian Grazer-produced, Ridley Scott-directed film, which stars Russell Crowe and Cate Blanchett — even though reviews (and chatter from its Cannes premiere) have been mixed.
With the film opening day-and-date abroad, Universal officials expect to see a global first-weekend gross of $95 million-$100 million.
However, success for the film is hardly guaranteed, given the film's $200 million price tag after tax breaks.
Notably, the weekend will be fairly competitive.
Summit Entertainment will premiere youth drama "Letters to Juliet," targeting the younger female demo with the same emerging star, Amanda Seyfried, who led Sony's "Dear John" to sleeper-hit status ($94.1 million worldwide) in February.
Opening in 2,968 theaters, the moderately budgeted "Juliet" is projected to take in between $16-$18 million its first weekend out.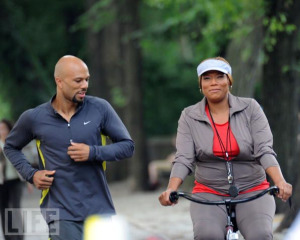 "We feel like we have a rising star in Amanda," said Summit distribution chief Richie Fay. (See TheWrap's "Will 'Juliet' Make Seyfried the New Julia Roberts?")
Also opening wide this weekend at 1,831 theaters, Fox Searchlight's "Just Wright" starring Queen Latifah and rapper Common is looking to score an opening of just under $10 million.
The real question, however, will be how much Marvel hit "Iron Man 2" drops from its $128.1 million opening in its second weekend.
Even if it declines as much many anticipate it will — the projected drop is in the 55 percent range — the Paramount-distributed sequel will still win the weekend with more than $55 million in domestic gross.
"Whatever 'Robin Hood' does will come out of (Paramount's) pockets, and vice-versa," said one rival-studio official. "There's a lot of overlap between these two movies."
This executive noted that the 55 percent decline projection might be high for "Iron Man 2," given that the film scored an impressive "A" grade from movie word-of-mouth tracker CinemaScore.
For Universal, "Iron Man's" competitiveness isn't the only source of anxiety, with "Robin Hood's" high budget figure rendering profitability a tough bull's-eye to hit.
And even with the mixed reviews, the tracking isn't bad, with its "unaided awareness" quotient scoring highly (that means moviegoers know about the movie, even if they haven't seen any trailers or TV commercials for it).
"Their unaided awareness is in the 20s, which is good, but let's face it — it's 'Robin Hood,' not 'Max Hood' or 'Paul Hood,' " a rival-studio executive added. "People know what this story is all about."
For comparable models, a Universal official suggested Sony's 2006 remake of James Bond franchise hit "Casino Royale," which opened to $40.8 million domestically on the way to a $594.2 million global performance.
Also mentioned was Sony's 2009 "Da Vinci Code" follow-up "Angels and Demons," which started out at $46.2 million domestically on the way to 485.9 million globally.
Released 10 years ago, director Scott and star Crowe's seminal collaboration, "Gladiator," has been brought up for comparison, too.
Not brought up, however, was their last film together, Warner's "Body of Lies," which floundered out the gate to a $12.8 million opening and topped out at $115.1 million worldwide.