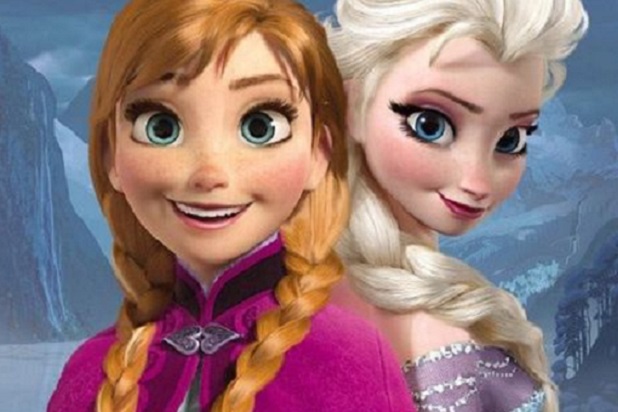 It'll be a battle of fire and ice – probably in that order – over the Thanksgiving holiday weekend, as Disney Animation's 3D family film "Frozen" takes on reigning champ "The Hunger Games: Catching Fire," beginning Wednesday.
Both movies target females, but decidedly different age groups, so they shouldn't cut into each other's audiences.
The PG-rated "Frozen," which targets the young crowd and their parents, is tracking strongly and could hit $70 million for the five days. On Tuesday, its pre-sales on Fandango were outstripping those of two other Disney animated hits that targeted young girls, 2010's "Tangled" and 2012's "Brave."
Also read: 'Frozen,' 'The Croods,' 'The Wind Rises' Top Oscar Slate of 19 Animated Films
It's hard to bet against an animated Disney film at Thanksgiving – 83 percent of respondents in a Fandango survey said seeing one was a family tradition – but "The Hunger Games: Catching Fire" and Jennifer Lawrence will be extremely tough competition.
Even if it drops 65 percent from last week's $158 million opening weekend – a record for November – it will take in $55 million over the three days. Add in another $20 million or so from Wednesday and Thursday and you're at $75 million for the long holiday.
"I don't think that it will fall that much," BoxOffice.com editor-in-chief Phil Contrino told TheWrap. "The word of mouth has been great, it's playing surprisingly well with men and it has some major momentum right now. I think a lot of people who didn't want to brave the opening crowds will come out this weekend."
Also read: 'Hunger Games: Catching Fire': What's Better for Lionsgate Than Box-Office Records? A Whole Lot
If Monday's very strong $12.2 million haul is an indicator, he's probably right. "Catching Fire" has taken in more than $170 million domestically and $319 million worldwide in less than a week.
"Frozen" looks formidable, however. The reviews have been strong (87 percent fresh on Rotten Tomatoes) and TheWrap's critic Alonso Duralde called it the best Disney musical since "Beauty and the Beast" in his review.
Like "The Little Mermaid," it's loosely based on a tale by Hans Christian Andersen. In it, fearless optimist Anna (voiced by Kristen Bell) teams up with Kristoff (Jonathan Groff) in an epic journey, encountering Everest-like conditions, and a silly snowman named Olaf (Josh Gad) in a race to find Anna's sister Elsa (Idina Menzel), whose icy powers have trapped the kingdom in eternal winter.
Disney gave it a special release last weekend at the El Capitan theater in Hollywood and it took in an eye-popping $243,000 over the three days.
"That really was a great start," said Disney's distribution chief Dave Hollis Tuesday. "I think that showing increased anticipation that was high to begin with, so we're really looking forward to this weekend."
The opening aside, "Frozen' should show some staying power. It's the year's last animated release and will have the holiday season largely to itself.
Disney will open it in 3,742 theaters, with 3,057 of those 3D.
"Catching Fire" and "Frozen" will dominate the holiday, but there are three other films opening nationwide: the musical "Black Nativity," the thriller "Homeland" and Spike Lee's "Oldboy." The Weinstein Company is rolling out Oscar hopeful "Mandela: Long Walk to Freedom" in limited release and expanding "Philomena," while Fox is going nationwide with "The Book Thief."
Also read: Will 2013 Break the Domestic Box Office Record? All Hope Lies With the Holidays
Kasi Lemons adapted and directs the musical drama "Black Nativity," which analysts project will finish in the $10 million range. It's based on a play by Langston Hughes and features an ensemble cast that includes Forest Whitaker, Angela Bassett, Tyrese Gibson, Jennifer Hudson, Mary Blige, Jacob Latimore, Vondie Curtis-Hall and Nas.
In it, a street-wise teen from Baltimore (Latimore) who has been raised by a single mother (Hudson) travels to New York City to spend the Christmas holiday with his estranged relatives, where he embarks on a surprising and inspirational journey.
It's the second of three holiday movies targeting African-American audiences this season. "The Best Man Holiday" heads into its third week having taken in $51 million domestically, and Lionsgate will release "Tyler Perry's Madea Christmas" on Dec. 13.
Fox Searchlight has the PG-rated "Black Nativity" in roughly 1,500 theaters.
In the R-rated thriller "Homeland," low-level DEA agent Phil Broker (Jason Statham) sees his quiet family life turned upside down when his path crosses with a band of drug traffickers, led by Gator (James Franco), a meth kingpin. Winona Ryder and Kate Bosworth co-star.
Sylvester Stallone wrote the script, adapted from Chuck Logan's novel, and produced along with Avi Lerner. It's directed by Gary Fleder, a TV and film veteran whose last feature was "The Express" in 2008. Open Road will have it in roughly 2,500 theaters, and would be glad to see it hit $10 million for the five days.
Lee's "Old Boy" stars Josh Brolin as an advertising executive who is kidnapped and held in solitary confinement for 20 years. When suddenly released, he goes on a mission to find the person responsible. Elizabeth Olsen, Sharlto Copley and Samuel L. Jackson co-star.
Also read: Spike Lee on George Zimmerman Tweets He's Being Sued Over: 'I Did a Stupid Thing' (Video)
It's a remake of a 2003 cult hit from South Korea, which was inspired by a Japanese manga, and was adapted by Mark David Protosevich ("I am Legend"). The R-rated thriller, produced by Focus Features chief executive Peter Schlessel, will be in roughly 580 theaters — not a lot for what will be the last film distributed by Film District, which has merged with Focus.
Lee's last commercial hit was 2006's "Inside Man." Neither last year's "Red Hook Summer" nor 2008's "Miracle at St. Anna" connected with mainstream crowds, and this probably won't, either.
On the specialty front, the Weinstein Company is rolling out the Oscar hopeful "Mandela: Long Walk to Freedom," on two theaters in New York and two in L.A.
Also read: 'Mandela: Long Walk to Freedom' Review: Idris Elba Finds Icon's Humanity in This Moving, Stolid Biopic
Idris Elba stars as the iconic South African statesman in this tale that follows his journey from childhood in a rural village to his inauguration as his country's first democratically elected president. The U.K.'s Justin Chadwick directs and Naomie Harris and Terry Pheto co-star. It's rated PG-13.
TWC is also expanding the Judi Dench drama "Philomena" into a greater-than-expected 753  theaters. It averaged $32,000 in four theaters in its debut last weekend.
Fox is taking a major step up with "The Book Thief," expanding it from 70 theaters to around 1,234 this weekend. The period drama based on Markus Zusak's novel has taken in $1.3 million so far.