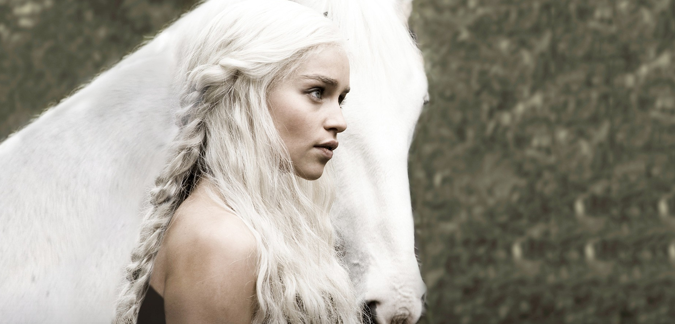 The third-season finale of "Game of Thrones" arrived the day after a horse named Palace Malice won the third race in the Triple Crown.
But nothing does Palace Malice like "Game of Thrones" — so now's the time to place some odds on the show's bloody field as we see it now. (The horse, by the way, faced 13:1 odds — much better odds than some of the key players in the war in Westeros.)
Also read: 'Game of Thrones' Red Wedding: The Empire Strikes Back
As Queen Regent Cersei Lannister noted in Sunday's episode, the war in Westeros will go on for a long, long time. So handicapping it is always a difficult business.
And when we say handicapping, we aren't talking about cutting off more hands — or, in the case of Theon Greyjoy, losing something even more essential.
I'm placing odds on the different "GoT" players, by the way, without having read the books, so those of you who have are free to laugh at my naivete.
What are the odds of each contender in Westeros to claim (or keep) power? Here's how I see them.
HOUSE STARK
100:1 odds of claiming power.
Robb, his mother and most of their men are dead. Arya is great with a dagger, though Sansa isn't much help in that department. Crippled Bran, meanwhile, is becoming a powerhouse, given his way with ultra-relevant ghost stories and new powers to control animals and giants. And if three arrows can't put down Jon Snow, what can?
We aren't counting the Starks out. (By the way, special recognition to Jon's horse for getting him to safety. Can Palace Malice do that?)
DAENERYS
2:1 odds of claiming power.
The obvious bet has to be on the dragon mother at this point, given her fast-growing army of former slaves. But fortunes have a way of changing fast on "Game of Thrones." And she may have too many lieutenants at this point, some of which she doesn't know very well.
Still: As Stannis Baratheon noted Sunday, one of Daenerys' ancestors claimed power with only a small Army, magic, and three dragons — exactly the number Daenerys happens to have.
HOUSE LANNISTER
4:1 odds of keeping power.
The Lannisters have wealth, a well-fortified city, and a ruthless, brilliant leader in Tywin Lannister. They also have one son who hates his siblings, Cersei and Jaime about to resume their icky relationship and a child-king who is a fool (and supposedly a Baratheon, but we know the truth).
Add to that enemies on several fronts, and White Walkers for which they seem utterly unprepared. The best thing in their favor is that we, the viewers, don't like them in power, and nothing on "Game of Thrones" seems to go the way we want.
STANNIS BARATHEON
30:1 odds of gaining power.
He has magic, like the elder Targaryen. It is helpful that the Red Priestess Melisandre proved herself to be pretty grounded in the real world, as well as the spritual one, when she spared Davos Seaworth. And she astutely noted that the White Walkers may be a greater threat than any rival kingdom.
But come on: Does anyone trust her to let him keep power even if he gets it?
THE WHITE WALKERS
1,000:1 odds of gaining power.
They don't seem to want to "seize power" so much as they just want to "just kill people." Also, Samwell has already proven they can be killed. Samwell. Great guy, fast writer, but not known for his violent streak.
But we'd rather see the White Walkers win than see one of our favorite shows end with all the houses teaming up to fight a common computer-generated enemy. It's not going that way, is it? Nevermind, don't tell me.