For a movie slimed well in advance of anyone actually seeing it, the new female-driven "Ghostbusters" wins by sheer dint of being exceedingly good-natured and skillfully made, having the sharp sense to tickle us into submission before the ubiquitous hammer of CGI comes down. But until then, it boasts exuberantly funny performances from its key quartet — Melissa McCarthy, Kristen Wiig, Kate McKinnon and Leslie Jones — and a satisfying blend of wackiness, camaraderie and paranormal pizzazz.
One could even argue that "Bridesmaids"/"Spy" director-co-writer Paul Feig's curatorial sideline paying homage to the 1984 action-comedy juggernaut (via story beats, design elements, and many cameo pop-ups) almost becomes an unnecessary distraction.
See Video: 'Ghostbusters' International Trailer Brings Way More Jokes Than US Teasers
What tickled audiences 32 years ago was a polygamous marriage between effects-laden Hollywood bloat, sci-fi nerd power, and Bill Murray's vaudeville of cynicism. What Richard Lester began by adding flecks of mockery to "Superman II" became, with the Ivan Reitman-directed, Murray-commandeered "Ghostbusters," an all-in case of winking and wisecracking in the face of big-budget apocalypse.
Decades later, Feig, co-screenwriter Katie Dippold and their stellar cast are shrewd enough to know that that type of smash/bang/one-liner humor is so commonplace — it's been Robert Downey Jr.'s full time job of late — that by instead focusing on the charmingly zany interplay of their tight-knit eccentrics, they've set their X-chromosome version apart. No romantic interests (save one played-for-laughs crush), just a love affair between women and science, and an infectious teamwork. Even die-hards need to admit that Murray and his co-stars weren't exactly a hotbed of interpersonal chemistry.
Also Read: Fallout Boy Releases New 'Ghostbusters' Theme Song - And These People Really Hate It (Audio)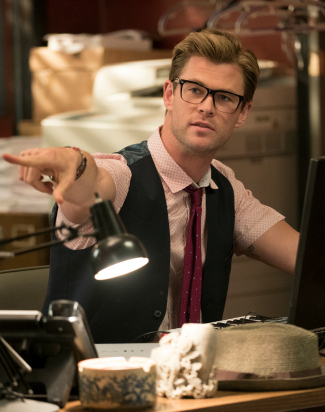 The relationship at the core of this "Ghostbusters" is between Wiig's college professor Erin and McCarthy's paranormal-believing scientist Abby. A long-ago friendship between two geeky ghost-believers turned sour when Erin took the academic route. (An early running gag has to do with tenure-seeking Erin embarrassed about having once written a they're-out-there tome.) When strange happenings at a historical mansion — shown in a witty-scary prologue featuring a drolly funny Zach Woods ("Veep") — lead Erin to believe in ghosts again, and back into contact with Abby, the pair join forces, a decision made easier when they're both fired from their respective jobs.
With Abby's nuclear-savvy engineer cohort Jillian (Kate McKinnon) in tow, the trio set up shop above a Chinese restaurant as supernatural researchers/investigators/trappers for hire. (The misogynist online trolling that marred this movie's advance hype is even addressed when Abby warns Erin against reading the online comments about them.)
Also Read: 'Ghostbusters' Director Paul Feig Told to Expect 'Catfights' Working With Female Leads
They're quickly joined by ex-MTA employee Patty (Leslie Jones), a ghost eyewitness whose knowledge of the city above- and below-ground comes in handy, as well as a himbo receptionist named Kevin, played with breezy cluelessness by Chris Hemsworth. When a gathering threat involving the unleashing of a ghost flood appears imminent, the gang get their first test of mettle and citywide respect, which puts them at odds with the mayor (a very funny Andy Garcia).
The getting-to-know-them is the best part of this "Ghostbusters": these women are a true democratic caucus of funny. That leaves the aforementioned bloat — CGI bigness and the current vogue for drawn-out showdowns — the only nagging glitch, although it's all slickly rendered by the visual effects team. McCarthy and company are up to the task, too, kicking more ghost butt and wielding more proton-blasting hardware than the original menfolk ever did.
See Video: Old 'Ghostbusters' Team Up With New Cast on Kimmel: 'These Girls Were Funny'
But these mostly third-act mayhem beats aren't nearly as entertaining as the small-scale goofiness — McKinnon's oddball interjections during any social interaction, Wiig's awkward mooniness around Hemsworth, Jones's tell-it-like-it-is attitude — or the clever mergings of digital wizardry and human behavior. A raucous melee with a large, winged, Gremlin-looking apparition during a rock concert, for example, leads to a hilarious bit when the freaky ghost stops to perch on Jones's shoulders. Her reaction is comedy gold.
As for the attention-must-be-paid nods, they range from amusing to appeasing. Bill Murray's appearance (ironically, playing the type of naysayer his Peter Venkman would have merrily derided) feels like the ultimate stamp of approval, and elsewhere one can find Annie Potts, Dan Aykroyd, Ernie Hudson, Sigourney Weaver and a bust of the late Harold Ramis (to whom the film is dedicated). But there are also location cameos (the Hook & Ladder firehouse), a gag explaining the creation of the no-ghosts logo, and visual effects shout-outs, including a reappearance by hot-dog-gobbling ghost Slimer, who in the movie's silliest tip of the hat to gender inclusiveness, gets a similarly fluorescent-green girlfriend.
Also Read: 'Ghostbusters,' 'Hotel Transylvania' Animated Series in the Works From Sony
Whether the reboot's mix of diverting newness and nostalgia-tour respect makes for another zeitgeist-y hit remains to be seen. Even the dual use of the old synth-pop Ray Parker Jr. theme and the more jagged Missy Elliott reinvention feels like an internal battle for hearts, ears, and funny bones.
It's understandable that this franchise relaunch would want to remind you of the original, but there's no getting around that this new A-team of ghostbusters are fresh and funny enough to have earned space in the summer comedy firmament. And should it come to further installments, improving on "Ghostbusters II" wouldn't be that hard.