It was a rebound weekend at the box office.
Though ticket sales slowed down from a hot Friday start, Paramount's "G.I. Joe: The Rise of Cobra" still will finish the weekend with $56.2 million, according to studio estimates.
And Sony's decision to counter-program the action film with a smart comedy — the Nora Ephron-directed "Julie and Julia" starring Meryl Streep as cooking legend Julia Child — paid off handsomely. The PG-13-rated film, which Sony said cost $38 million to produce, took in $20.1 million for the weekend.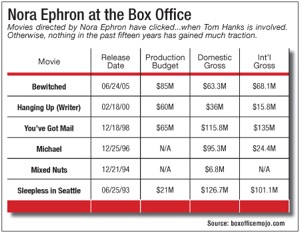 It was good news after last weekend, which had only one film, Universal's "Funny People," do over $20 million — and only slightly ($22.6 million), at that.
On pace to exceed $60 million for the weekend, "Joe" slowed 18 percent Saturday, taking in $18.3 million in 4,007 North American theaters. Still, it ended up the second biggest opening for a non-sequel in August. ("Signs" opened to $60.1 million in 2002.)
Paramount also expects that "Joe" will finish the weekend with $44 million internationally, where it opened in 75 percent of foreign territories this weekend.
"It looks like the movie will be in good shape from a (profit and loss) standpoint," Don Harris, executive VP of distribution for Paramount, told TheWrap. "You need the entire world for a movie as expensive as this."
With the audience registering 60 percent male, and those under 25 giving the film an "A" Cinemascore grade, Harris said "Joe" was aided by a large turnout from Hispanic audience members, who made up a quarter of all ticket-buyers. Family audiences, meanwhile, made up a third of the take.
"The audience took this movie for what it was," Harris said, "a big piece of popcorn fun."
The film's audience was a polar opposite of "Julie and Julia." Audience members for the Meryl Streep/Amy Adams food comedy split evenly among gender and 64 percent of filmgoers aged 35 and older. Notably, the movie garnered an "A" Cinemascore rating from these older audience members, signaling good word-of-mouth that which helped it increase its performance on Saturday by 17 percent to $7.6 million.
The weekend's other major release was Rogue Pictures' thriller "A Perfect Getaway." Distributed by Universal under service agreement and starring Timothy Olyphant and Milla Jovovich, the film will finish the weekend in seventh place with $5.8 million, within expectations for a movie with a $14 million budget.
In its third weekend, Disney's 3D Jerry Bruckheimer film, "G-Force," finished third with $9.8 million.
An expensive film blending CGI and live action, and featuring voice performances from Nicolas Cage, Tracy Morgan and Penelope Cruz, among others, "G-Force" has now totaled $86.1 million domestically, with most of its foreign grosses still to come.
In fourth place, Warner's "Harry Potter and the Half-Blood Prince" added another $8.8 million to its domestic take, upping its cume to $273.8 million. The film dropped 51 percent from the weekend prior, but none of the other "Potter" movies grossed as much domestically after four weeks.
Universal's "Funny People" finished in fifth place with $7.9 million, dropping 65 percent for its premiere weekend and putting the Judd Apatow comedy's cume at $40.4 million on a production budget of $91.5 million. Universal's slump continues.
Among independents, Fox Searchlight's "500 Days of Summer" took in $3.8 million after a major expansion into 817 venues. Its four-week total now stands at $12.4 million, well ahead of where Searchlight's similarly slow-built hit "Slumdog Millionaire" stood at the same period last year.
Still, the big story for at the weekend box office remained "G.I. Joe," which will likely cap a summer movie season for Paramount during which all its major releases — "Star Trek" and "Transformers: Revenge of the Fallen" included — exceeded domestic revenue of $100 million.