Glen Campbell, the Grammy-winning singer, songwriter, guitarist, actor and TV show host whose performing career was as panoramic as his talents, died Tuesday. He was 81.
A tweet on Campbell's official account stated, "It is with the heaviest of hearts that we announce the passing of Glen Travis Campbell, at the age of 81."
Campbell, who had been living in a long-term care facility in Tennessee, was diagnosed with the degenerative brain disorder Alzheimer's disease in late 2010, and it was announced publicly in June 2011.
It is with the heaviest of hearts that we announce the passing of Glen Travis Campbell, at the age of 81 https://t.co/zSv4RqjK4H

— Glen Campbell (@GlenCampbell) August 8, 2017
Also Read: Robert Hardy, 'Harry Potter' Star, Dies at 91
Over his career, Campbell — perhaps best known for the 1975 hit "Rhinestone Cowboy" — released more than 60 albums and sold 45 million records, many achieving gold, platinum and double-platinum status  and posting hit singles on the country and adult contemporary charts. He won 10 Academy of Country Music Awards, six competitive Grammy Awards and a Grammy Lifetime Achievement Award in 2012.
Born April 22, 1936 in Billstown, Arkansas, Campbell began playing guitar while still a boy, and moved to Albuquerque, New Mexico, to join a relative's band. He formed his first group, the Western Wranglers, in 1958, and then to Los Angeles in 1960.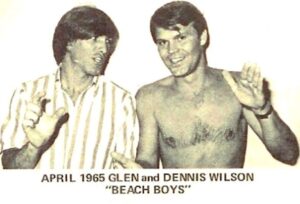 Campbell found quick success as a session player, working with Bobby Darin, Dean Martin and Frank Sinatra, among others. He became a master of the ballad, the wry lyric and of the guitar, playing with a finger-picking style that typified his country roots. But he brandished a versatility that went beyond country; he even played with the Beach Boys in late 1964 and early 1965, subbing on tour for Brian Wilson, and singing on the Beach Boys' legendary album "Pet Sounds."
Some songs from the '60s became instant classics. Campbell recorded three by the composer Jimmy Webb — "By the Time I Get to Phoenix," "Wichita Lineman" and "Galveston" — that struck a chord with a public saturated with the edge and intensity of rock music of the day. Campbell won Grammy Awards for "Gentle on My Mind" and "By the Time I Get to Phoenix." Two music magazines picked "Wichita Lineman," released in 1968, as one of the greatest songs of the 20th century.
Also Read: Review: Glen Campbell's 'Ghost' a Moving -- But Not Entirely Satisfying -- Farewell
Campbell's wide appeal and photogenic presence made him a natural for television. After hosting a replacement for CBS's popular "Smothers Brothers Comedy Hour," Campbell got his own show, "The Glen Campbell Goodtime Hour," which ran on CBS for three seasons (Rob Reiner was a staff writer). Campbell also hosted the American Music Awards from 1976 to 1978, and was host of "The Glen Campbell Music Show," a syndicated program that ran from 1982 to 1983.
Over time, Campbell went beyond country and pop for inspiration. On his 2008 album, "Meet Glen Campbell," fans were invited to the singer's reinvention, as he recorded music by U2, Tom Petty and the Heartbreakers, Green Day and Foo Fighters.
In 2011 he released "Ghost on the Canvas," whose contributors included Jakob Dylan, Chris Isaak and Paul Westerberg of the Replacements. It was part of an extended valedictory — a long goodbye — as he continued to perform in concerts even as his faculties declined.
Also Read: Glen Campbell 'Has Lost Most of His Language Skills' From Alzheimer's, Wife Says
"I still love making music," he told People Magazine in June 2011. "And I still love performing for my fans. I'd like to thank them for sticking with me through thick and thin." His last live performance was in Napa, California, in November 2012.
In September 2014, Campbell released a video for "I'm Not Gonna Miss You," a sobering ballad and the last song he would ever record. In the song, recorded in 2013, he describes his battle with Alzheimer's, and says farewell to family, friends and fans.
Ten days before the singer's 80th birthday, the documentary "I'll Be Me," a chronicle of Campbell's post-diagnosis life directed by James Keach, was nominated as a finalist for the Peabody Awards.
Last March, Kim Campbell, his wife, told the Tampa Bay Times that her husband's Alzheimer's had progressed to the point where he couldn't play guitar and had lost most of his language skills.
"I don't even know if he knows what (the guitar) is for," she said. "But our children come and play for him. It's hard to tell if he's responding to it much. Sometimes he'll listen and sometimes he's distracted. He's in his own world right now."
Also Read: Glen Campbell's Wife and Kids Battling in Court Over His Alzheimer's Care
According to a June 3, 2016 story in The Boot, a country-music news web site, Campbell secured new management committed to unearthing music that Campbell recorded but never released.
"There's a ton of unreleased music and the more you get into it the more you find," said TK Kimbrell, president of TKO Artist Management, whose clients include Toby Keith, Chris LeDoux and others. "There were years Glen played guitar or sang on 500 to 600 records per year. There are unreleased recordings of him with The Wrecking Crew – lots of them," Kimbrell said, referencing the legendary but largely unknown L.A. studio musicians who played on many of the 60's greatest hits.
"My goal," Kimbrell said, "is to make sure Glen's musical legacy lives on forever, and is passed down for generations to come."
Campbell is survived by his wife, Kim Campbell of Nashville, Tennessee, whom the singer married in 1982; their three children, Cal, Shannon and Ashley; his children from previous marriages, Debby, Kelli, Travis, Kane, and Dillon; 10 grandchildren, great- and great-great-grandchildren; sisters Barbara, Sandra, and Jane; and brothers John Wallace "Shorty" and Gerald.
In lieu of flowers, donations can be made to the Glen Campbell Memorial Fund at BrightFocus Foundation through the CareLiving.org donation page.