The nominee reaction quote is a delicate thing, a tightrope in which excitement must be conveyed without sounding too needy, pride must be subsumed, and one's colleagues must always receive a lion's share of the credit.
Golden Globe nominees were finessing their reactions all Tuesday morning, many in statements that came out of publicists' offices and were all but interchangeable.
Julianne Moore, for instance, is "honored and thrilled" to receive a Supporting Actress nod for "A Single Man." Kathryn Bigelow is "thrilled" for the respect shown to her, and her film "The Hurt Locker." "The Young Victoria" star Emily Blunt says it's "a massive thrill. "Nine" director Rob Marshall is "so thrilled," his leading man Daniel Day-Lewis is "delighted and very grateful," and co-star Penelope Cruz is "so honored," and also "thrilled" that "Broken Embraces" was nominated for Best Foreign Film …
"Crazy Heart" star Jeff Bridges, on the other hand, adopted an appropriately folksy tone: "The Hollywood Foreign Press has been mighty fine to me over the past 30 years, and this year is especially sweet." Fellow Best Actor – Drama nominee Colin Firth ("A Single Man") found a joke in it: "The Hollywood Foreign Press have just given me a time out from my 20 year midlife crisis. My heartfelt thanks to them." And supporting Actor nominee Christoph Waltz ("Inglourious Basterds") came up with a novel turn of phrase, thanking the HFPA for transporting him "from the unbelievable into the unimaginable."
Marc Webb, the director of "(500) Days of Summer," tapped into one of the keys to the Golden Globes ceremony with the last line of his statement: "we promise to drink a lot of vodka for the show." And George Clooney, naturally, got off a good, casual line that downplayed the whole thing without being dismissive: "Not a bad way to start a Tuesday."
Almost everybody praised the competition … and only "Crazy Heart" actor and producer Robert Duvall, bless him, tooted his own (or his film's own) horn: "This is a film that certainly deserves any and all recognition that it gets, both the film and Jeff Bridges' performance."
*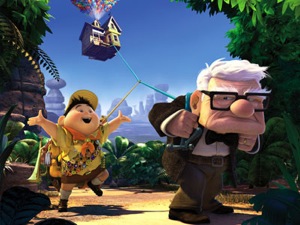 While those statements were being crafted in publicists' offices, other happy nominees got on the phone with the Wrap and recalled the work for which they'd been honored.
"Up" director Pete Docter, whose film was a presumed runaway winner in the Animated Feature category before Wes Anderson's "Fantastic Mr. Fox" and Henry Selick's "Coraline" picked up some critics' nods, said he found the new energy in the animated field refreshing.
"There's a lot of exciting stuff that's going on there, of all different types stylistically," he said. "Ultimately, I think that's good for everybody. It keeps everybody on their toes."
*
Lionsgate racked up total of nine awards, including for "Precious" and "Mad Men." Said Vice Chairman Michael Burns to TheWrap: "We're excited to have tremendous award recognition for both television and feature films. We're always about diversification. This is a record for us."
The two directors of another animated nominee, Disney's "The Princess and the Frog," spoke similarly of their admiration for what's happening in the world of animation.
"There's so much going on in so many different areas, with CG and puppet animation and everything else, that it's really a year to celebrate diversity in the field," says John Musker, whose film is an example of old-fashioned, hand-drawn 2D animation. "What it comes down to is the story and the characters, more than the medium."
"We always loved 2D, and [Disney animation chief] John Lasseter has always loved 2D," adds Ron Clements. "We definitely see a future for hand-drawn animation, at Disney and elsewhere."
And with CG-heavy films like "Avatar" on the horizon, Musker also sees some old distinctions fading. "The lines are getting blurry between live action and animation," he says. "The idea is to create an imaginary world, and characters that don't exist, and make you believe in them. That's the foundation of all animation, and of storytelling in general."
*
Mark Boal, the screenwriter and a producer on Best Picture nominee "The Hurt Locker," says he's still amazed at the string of critics' awards the film has racked up in the last week.
"It's been an incredible few days," he says. "I didn't even know there were so many critics groups, but to keep getting this kind of recognition for a film that came out in the summer but wasn't a tentpole, big studio movie, has been wonderful."
His experience after writing the relatively unsuccessful Paul Haggis film "In the Valley of Elah," he says, "definitely made me appreciate this so much more, because I know it doesn't always work out so well."
As for why "The Hurt Locker" has struck a nerve: "That's tough, but I think it shines a light on an insane situation in a way that's really dramatic and suspenseful. And that's a tribute to Kathryn."
*
"It's Complicated" director Nancy Meyers said she didn't wake up for the nominations ("I've been up watching in the past, and it didn't go well"), but was happy to be awakened by a phone call telling her that the film had been nominated for Best Motion Picture – Comedy or Musical, and that Meryl Streep had picked up a pair of nominations, one for Meyers' film and one for "Julie & Julia."
The nomination, she hopes, will give a boxoffice boost to her film, which opens on Christmas Day against some steep competition. "You know what else is out there," she says. "One of the films has the words Sherlock and Holmes in the title, and Robert [Downey Jr.]. And then there's 'Avatar.' So anything that shines a little light on us is great."
And will she be upset if her leading lady wins for the other film? "I just think it's wonderful that she was nominated for two comedic roles in the same year. Twenty years ago I don't think anybody thought of her as a comedic actress."
*
Ryan Bingham, the co-writer of the nominated song "The Weary Kind (Theme from Crazy Heart)," had forgotten about the Globes announcement and was fast asleep when, he says, his phone started ringing "like there was a fire or something."
"I'm telling Ryan to enjoy this, because it's going to happen one way or the other," says his co-writer, T Bone Burnett, who's been nominated and gone through the awards circus in the past. "You make of it what you will – but I have to say, the Golden Globes party is a really fun way to start things off."
Their nominated song came when Bingham read the script about a down-on-his-luck country singer. "I was just trying to get in that guy's head," says the 28-year-old singer-songwriter. "I started writing it in the van, to the rhythm of the road, and it just came out."
"A great song has a certain ring to it, maybe the ring of truth," says Burnett, who worked with Bingham to finish the tune. "And from the moment I heard it, I knew this was one of those songs. It sounds to me like one of those classic movie songs, like 'Do Not Forsake Me Oh My Darling (High Noon)" or "The Man Who Shot Liberty Valance."
*
Sarah Siegel-Magness, one of the producers of "Precious," was in Los Angeles when news came in of the film's three nominations, including Best Motion Picture – Drama. The film's director, Lee Daniels, was in New York.
"I think everybody in between could hear us, the way we were jumping up and down," she says.
The gritty drama, she says, was a very delicate undertaking. "We always talked about it like we had a very small opening, and we had to fit a pin through that opening," she says. "We could very easily have missed on one side or another, and it would have been a movie people didn't want to see.
"The key was being faithful to the feeling of Sapphire's book, and also to Lee's vision. We focused every step of the way to make sure we were following his vision, because he had exactly in his mind what he wanted the film to be. And we spent every waking moment for two years making sure he was able to do that."