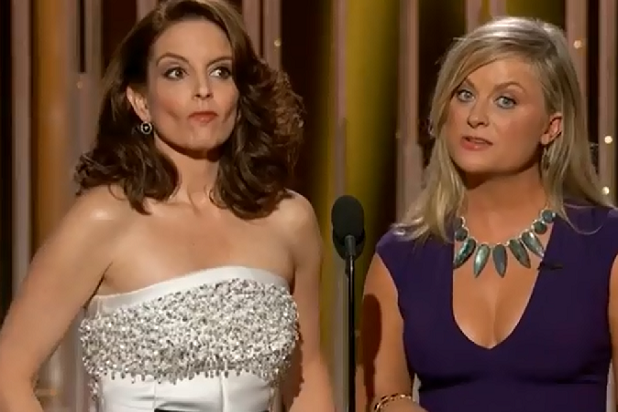 There's no love lost between Tina Fey and Amy Poehler and their former employer the Hollywood Foreign Press Association, judging by this year's Golden Globes nominations.
While the comedy duo rode high for three years as hosts of the awards show, various projects from the beloved pair were ignored this year.
Notably snubbed was Poehler for her last qualifying run as Best Actress in a Comedy Series for NBC's "Parks and Recreation," for which she earned a Screen Actors Guild nomination on Wednesday and won the Globe in 2014.
Also Read: Golden Globes: The Complete List of Nominees
 The Fey-created Netflix series "Unbreakable Kimmy Schmidt" went wholly ignored in acting categories for favorites Ellie Kemper and Tituss Burgess, and for comedy series overall.
Fey and Poehler's upcoming Universal comedy "Sisters" sent awards screeners out to the industry but, alas, no love for the twosome in writing, acting or comedy motion picture categories.
In the HFPA's defense, it's a crowded year. In Fey and Poehler's defense, there were plenty of other snubs.
Also Read: Golden Globes: 'The Big Short' Stands Tall as Amy Schumer, Melissa McCarthy Crash Party
Taking the reigns as host this year is Ricky Gervais, the award-winning comedian whose acidic brand of comedy would probably delight in the HPFA shading Fey and Poehler.
The 73rd Annual Golden Globe Awards will air live, coast-to-coast, Jan. 10 on NBC.