"A Good Day to Die Hard" took over the lead at the President's Day weekend box office with an estimated $7.3 million take Friday. That lifted it past No. 2 "Safe Haven" and put it on pace for a five-day total of around $36 million.
That means Fox's R-rated Bruce Willis action film, the fifth entry in the franchise and the first since 2007, is running a little below studio expectations and well off the most bullish analysts' projections, which were as high as $50 million for the five days. The previous best opening for the "Die Hard" franchise was the $33 million three-day haul taken in by "Live Free or Die Hard" in 2007.
Also read: 'A Good Day to Die Hard' Reviews: Does Bruce Willis Still Have It?
"Good Day to Die Hard" was in 3,552 locations, 302 of which are Imax, and was off just 7 percent from its Valentine's Day opening on Thursday, when Relativity's Nicholas Sparks romance was No. 1. Both "Good Day" and "Safe Haven" earned a B+ grade from opening night audiences, according to CinemaScore, and could get boost from word of mouth over the next three days.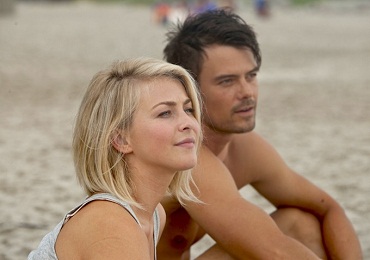 "Safe Haven." which stars Josh Duhamel and Julianne Hough and was in 3,223 theaters, did better than expected Friday with $7.1 million. If it can keep up that pace it could go as high as $35 million for the five days, well ahead of projections.
Also read: 'Safe Haven' Edges Past 'Good Day to Die Hard' to Win Valentine's Day Box Office
The strong performance of "Safe Haven" was likely hurting "Beautiful Creatures," which also debuted Thursday. Alcon Entertainment's supernatural romance, like "Safe Haven," targets female audiences but was running sixth after managing just $2.4 million Friday. That puts it on track for a five-day total of around $11 million, just over half of what analysts has predicted for the film, which distributor Warner Bros. had hoped would tap into the young "Twilight" crowd.
The weekend's other wide opener, the Weinstein Company's 3D computer-animated "Escape From Planet Earth," was fourth after debuting with $3.6 million Friday. The reviews have been poor and it wasn't heavily marketed, but "Escape" is the first animated feature to hit the market this year. It should do better over the weekend with kids out of school Monday, and could hit $21 million for the five days. The voices of Brendan Fraser, Jessica Alba, Sarah Jessica Parker, Rob Corddry and William Shatner are featured.
Also read: 'Escape from Planet Earth' Review: A Black Hole of Entertainment
In third was last weekend's No. 1 film, "Identity Thief," which took in $6.4 million Friday. The R-rated Melissa McCarthy-Jason Bateman comedy is looking at around $30 million over five days in its second weekend.
The zombie romantic comedy "Warn Bodies" was fifth. It added $2.6 million in its third week of release for Summit Entertainment and is on pace for $10.5 million for the long weekend. Then came "Beautiful Creatures" and Open Road Films' pharmaceutical thriller "Side Effects," which took in $1.6 million Friday and should finish the weekend at around $7.5 million.
Weinstein's "Silver Linings Playbook" is poised to become the sixth Best Picture Oscar nominee to cross the $100 million mark this weekend, after adding $1.5 million Friday. That translates to a five-day total of around $7 million. The other Best Picture nominees in the $100 million club at the box office are "Lincoln," "Django Unchained," "Les Miserables," "Argo" and "Life of Pi."
Also read: 'Silver Linings Playbook' Oscar Nominee Jennifer Lawrence Shares Her Acting Secret: Never Sweat
Rounding out the top ten was "Hansel and Gretel: Witch Hunters," which took in $800,000 Friday and is looking at a $4 million weekend, and Sony's "Zero Dark Thirty." Director Kathryn Bigelow's Best Picture Oscar nominee brought in $675,000 and now has a domestic total of $85.6 million.