In this morning's roundup of Oscar news 'n' notes from around the web, Mo'Nique gets Oscar campaigning lessons, and the celebrity "Precious" producers won't be taking home the gold.
Scott Feinberg has video and transcripts from an episode of Mo'Nique's talk show where she quizzes past Oscar nominees Terrence Howard and Taraji P. Henson on what it takes to campaign for an Academy Award, something Mo'Nique has at times seemed reluctant to do despite her performance in "Precious." Howard and Henson compare it to a political campaign, while Mo'Nique wonders, "What are you campaigning for, though? That's what I need to understand." They tell her the point is to get Academy voters to pay attention to the work, and Mo'Nique finally gets to the bottom line: "What does it mean financially?" Howard tells her the financial rewards will come later – "it's like planting a seed that's being watered." If Academy members watched "The Mo'Nique Show," the conversation probably wouldn't help her cause … (And the Winner Is … )
Tom O'Neil discovers that the two most high-profile producers of "Precious," Oprah Winfrey and Tyler Perry, will not be eligible for Oscars if the film wins best picture. Oscar rules only allow three producers, and they must be creatively involved in the production of the film; Winfrey and Perry came onboard after "Precious" was finished. A Lionsgate source tells O'Neil that the producers whose names have been submitted to the Academy are Lee Daniels, Sarah Siegel-Magness and Gary Magness. (Gold Derby)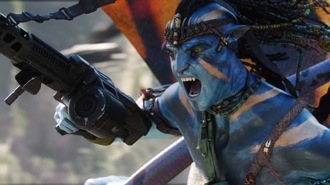 Greg Ellwood talks to "very reliable sources" who tell him that the Golden Globes voters' response to "Avatar" (right) was "incredibly positive" at the Hollywood Foreign Press screening last week. He now sees it winning nominations in the Globes' Best Picture – Drama and Best Director categories, in the process perhaps pushing out "The Hurt Locker" or "An Education." Without having seen "Avatar," I would say that's unacceptable. (Awards Campaign)
Kris Tapley, who's now seen "The Lovely Bones" four times, calls it Peter Jackson's best work and a "meticulously crafted masterwork." (In Contention)
Dave Karger, who likes "Up in the Air" quite a bit, looks at the film's victories in the National Board of Review and Washington D.C. critics votes, and says he can't bear another year like last year, when "Slumdog Millionaire" won all the early awards and breezed to Oscar victory. (Oscar Watch)
Pete Hammond asks if Jim Carrey could become the first motion-capture Oscar nominee for his role in "Disney's A Christmas Carol." Um, no. (Notes on a Season)
Variety takes off from a quote by critic David Thomson: "The list of people who never got an Oscar is so illustrious, anybody would be proud to be a part of it." They look at the role of sentiment in awarding Oscars to actors who'd never before been honored, and ask if that'll help Jeff Bridges and Christopher Plummer this year, and decide that sentiment hasn't been playing much of a part at the Oscars recently.