In this morning's roundup of Oscar news 'n' notes from around the web, the Screen Actors Guild rounds up the usual suspects.
Tom O'Neil compiles "expert" predictions on who'll win this Saturday's Screen Actors Guild Awards. All 19 pundits go out on a limb and say that Christoph Waltz will win the Supporting Actor trophy for "Inglourious Basterds," and Mo'Nique will win Supporting Actress for "Precious." Best Actor goes overwhelmingly (if not unanimously) to Jeff Bridges, while Best Actress is by far the closest race, with Meryl Streep edging Sandra Bullock 11-8. In the Best Ensemble Cast category, "Inglourious Basterds" has a slight lead over "Precious" and "The Hurt Locker." (Gold Derby)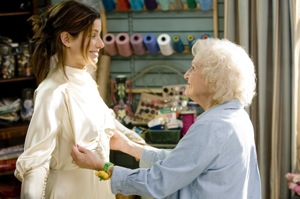 Susan Wloszcznya talks to SAG's Life Achievement Award honoree, Betty White, age 88. (With Sandra Bullock in "The Proposal," right.) White lobbies for more experienced writers on TV: "Older writers are more subtle. And subtlety is a rare commodity." (USA Today)
MSNBC looks at that awards-show staple, the montage, talking to Quinn Monahan about the packages he's putting together for Saturday's SAG Awards. He and his staff watched more than 1,000 movies and TV shows to assemble a two-and-a-half minute salute to onscreen comedy. The idea, he says, is to make viewers say, "Oh, this is different. This is something I haven't seen before." Given the number of awards shows out there, and the number of montages on those shows, good luck with that. (MSNBC.com)
Vanity Fair compares the BAFTA nominees to the likely Oscar contenders, and celebrates the ones that got love from the Brits but will probably go unrewarded by the Academy: directors Neill Blomkamp ("District 9"), Lone Scherfig ("An Education") and Duncan Jones ("Moon"), actress Audrey Tatou ("Coco Before Chanel") and a couple of music-themed films that have yet to be released stateside, "Nowhere Boy" and "Sex & Drugs & Rock & Roll." (Little Gold Men)
I missed this when it first ran on Wednesday, but it's worth going back to: Mack Rawden explains why "Up in the Air" is "the only real Oscar choice." No, it's not because it captures the mood of a country reeling from the economic crisis, not because it nails the zeitgeist; it's because, he says, it was better than the other movies released in 2009. "It is the best Hollywood had to offer, and it's about time we started celebrating all the reasons why it's really, really good." (Cinema Blend)
Nikki Finke says the Oscars are considering adding a third host alongside Steve Martin and Alec Baldwin. But that they might decide not to. So if it doesn't happen, that doesn't mean she was wrong. (Deadline Hollywood)
For his site's "Tech Support" feature, Kris Tapley talks to Greg P. Russell, the sound mixer for "Transformers: Revenge of the Fallen." For me, the most interesting part of the piece is when Russell handicaps the rest of the field: he liked "Star Trek" and "2012," mostly liked "The Hurt Locker," and was disappointed in "Nine." Weren't we all. (In Contention)
Guy Lodge posted this Thursday at In Contention, but in my book you can never get too much "Weary Kind" – so here's the official video for the Ryan Bingham/T Bone Burnett song that had better win the Oscar this year. A prominent fellow Oscar blogger once tried to tell me that he loves the song when Colin Farrell sings it in "Crazy Heart," but he thinks that Bingham ruins it with his gravelly voice. If Stanley Tucci hadn't come along to interrupt us at that moment, I would have begged to differ … politely but forcefully.