In this weekend's roundup of Oscar news 'n' notes from around the web, everybody's predicting the Globes, and Jason Reitman takes a hit.
Everywhere you turn, Golden Globes predictions. Gold Derby gathers 25 pundits and gets our input, which collectively says that "Up in the Air" will win Best Motion Picture – Drama over "Avatar," and that "It's Complicated" will take the award for Best Motion Picture – Comedy or Drama. (Gold Derby) Then Awards Daily does its own roundup of predictions, which polls many of the same people (though fewer than half as many) and comes up with a completely different list of forecasts. "Avatar" and "(500) Days of Summer" emerge on top, though it's worth nothing that every single entry in the Best Motion Picture – Comedy or Musical category got at least one vote, from a field of only 11 prognosticators. As somebody who participated in both the Gold Derby and Awards Daily polls, I think it's pretty easy to figure out why the results were so different: Awards Daily asked for predictions a couple of days ago, while Gold Derby did so a week or two before that. I voted "Up in the Air" in the first poll, but have since decided that "Avatar" will take it; and I changed several other of my votes as well. (Awards Daily)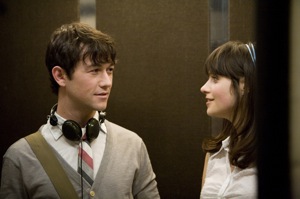 More Globes predictions. At OMG, Matt Whitfield picks "Up in the Air" and "Nine," the latter of which would be a salute to the campaigning acumen of Harvey Weinstein, who definitely knows how to woo this particular group of voters. He also picks "An Education" actress Carey Mulligan to beat Sandra Bullock for Best Actress – Drama. I don't think he's right, but I fervently hope he is. (OMG) Plus: Scott Feinstein: "Avatar," "Nine." (And the Winner Is) Dave Karger: "Up in the Air," "(500) Days of Summer" (left). (Oscar Watch) Danny King: "Avatar," "(500) Days of Summer." (The King Bulletin)
The "Mo'Nique is hurting her chances because she's a diva" non-story continues to live on, first because in the press room at the Critics Choice Movie Awards, Tom O'Neil asked her about her failure to appear at a couple of film festivals and the New York Film Critics Circle Awards ceremony. She deflected the inquiry and let her husband and manager answer for her, which he didn't do especially well. (Gold Derby). This prompted the wrath of Jeff Wells, who's on a crusade of sorts to bring her down. (Hollywood-Elsewhere) I'm convinced that Oscar voters don't care a whit about her real or imagined transgressions, and that as long as she gives a gracious speech tonight at the Globes (which she certainly did Friday night at the CCMAs), she's an Oscar lock.
The Los Angeles Times' 24 Frames blog takes a significant shot at "Up in the Air" writer-director Jason Reitman, detailing the problems with Reitman's story of how he came to write the script . Steven Zeitchik points out that Sheldon Turner had written an entire draft before Reitman got involved, and that the finished script incorporated enough of Turner's elements that a Writers Guild arbitration panel ruled that Turner should receive credit. It certainly doesn't help Reitman's formerly sterling image that on Friday night, after "Up in the Air" won the Critics Choice Movie Award for adapted screenplay, Reitman gave a lengthy speech but Turner was cut off before he could say a word. You can bet your bottom dollar that if the pair win a Golden Globe tonight (as they probably will), Turner will get to talk. (24 Frames)
Kris Tapley spotlights the impeccable art direction, cinematography, costume design and music. Of course, flashy is what gets nominated far more often than impeccable … but one can dream. (In Contention)
"Only one film," says Sasha Stone, "has hit every marker necessary to win Best Picture." That film is "The Hurt Locker." Kathryn Bigelow's film, she points out, has all the guilds and most of the critics, while "Inglourious Basterds" is missing an Editors Guild nominaton, and "Avatar" and "Up in the Air" didn't get SAG ensemble nominations. This doesn't feel like a by-the-numbers kind of year – and the miniscule-by-best-pic-standards $12 million gross for "Hurt Locker" is problematic – but I have a feeling she's probably right. I also like a point made by one of her readers, "The Other James D.," who says that if "The Hurt Locker" had big grosses, people would declare it a prohibitive favorite and that would start a backlash; its lack of commercial clout allows the film to remain the underdog, and thus a sentimental favorite. (Awards Daily)